Meet The First Woman To Summit One Of The Most Difficult Mountains In The World
mbg Contributor
By Leigh Weingus
mbg Contributor
Leigh Weingus is a New York City based freelance journalist writing about health, wellness, feminism, entertainment, personal finance, and more. She received her bachelor's in English and Communication from the University of California, Davis.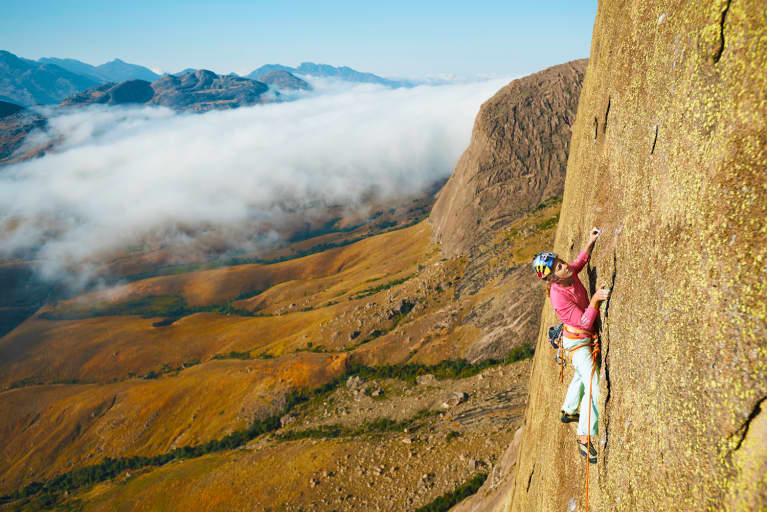 On July 20, 2017, professional rock climber Sasha DiGiulian became the first woman to summit Mora Mora, a mountain in Madagascar that is one of the most difficult free-pitch climbs in the world. Oh, and she's only 24.
"When we summited, I almost didn't believe it actually happened. I was kind of stunned," Sasha told mbg just days after her climb, her voice light and happy. "I felt like I was going to wake up and have not actually reached the top and still have three full days ahead of me of trying to do this thing."
All in all, the climb took Sasha nearly three weeks, and she says one of the most terrifying parts was looking down. "At about 1,500 feet up, you're really exposed to this sheer cliff drop below you," she remembers. "At first I was afraid to fall, but if you think too much about being scared, you'll never do it. I definitely had this moment when I was totally gripped and didn't know if I could proceed upward, so I had to mentally flip a switch from 'I'm so scared to fall' to 'I'm not thinking about falling.'"
It may have been the most difficult one to date, but this climb is one of the hundreds Sasha has done. She's been climbing her entire life, and having this physical toolbox has given her an admirable set of mental skills, too.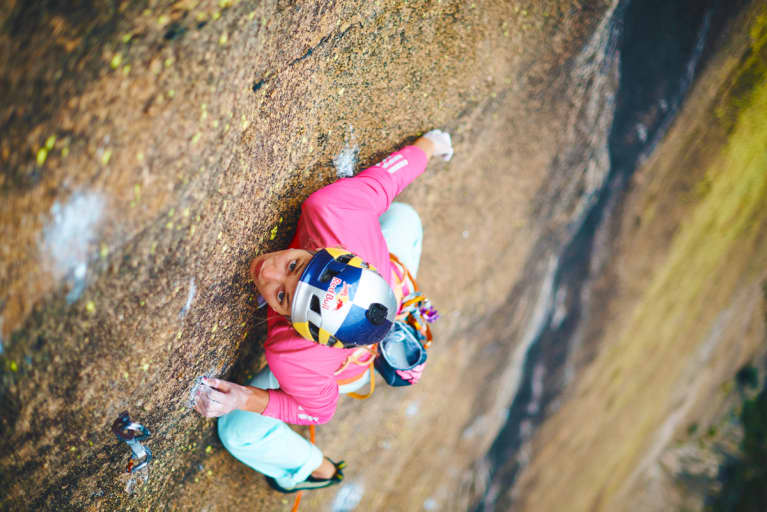 How the process of climbing helps her master other areas of her life.
As a recent Columbia graduate, Sasha has taken her fair share of exams. And she went into every single one with the same attitude she applies to all of her climbs. "When I was at Columbia stepping into an exam, I never thought, 'have I studied enough?' I just had to go in there and know I take it page by page and that everything I knew was all I could do," she says. "It's about silencing the doubt. If you break it down into smaller segments, it's doable."
She applies this philosophy outside the classroom, too. "It's the same thing as taking a test or having a busy schedule with meetings," she says. "When I'm looking at an upcoming week and it's packed with meetings, I just think about breaking it into smaller pieces and beating the doubt. You just have to be at ease with that moment and feel confident about where you're at."
While Sasha has never suffered from any extreme anxiety or depression, she has noticed one thing: She's a lot more anxious on the days when she doesn't exercise. "If I feel like I have too much on my plate, the worst thing I can do is skip a workout," she says. "Even if I only have 30 minutes, I need to use that time to exercise. Exercise is the healthiest thing I can do in that moment for my body and mind. There's an extreme connection between physical health and mental health."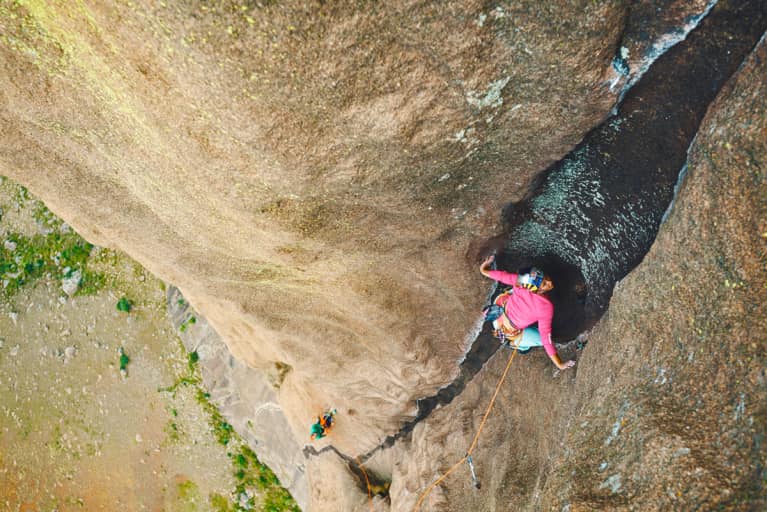 "The proof is in the pudding."
While most of the people Sasha climbs with are supportive, rock climbing is a male-dominated sport—and she's been met with her fair share of sexism. "I've definitely faced people who have said things to me like, 'little girls don't belong on this mountain' or people who have told me that I should check out an easier area that's more my speed," she says. "Typically the climbing partners that I choose are more positive, and while they're mostly men, the popularity of the sport among females is growing. I'm pretty happy about that."
As much as those negative comments bother Sasha, they also motivate her. "My philosophy is, 'the proof is in the pudding,'" she says. "When someone tells me I can't do something, it motivates me to put my head down and work a little bit harder and prove myself. The rest of my community is so strong that it helps me. I didn't always have such a strong sense of confidence, but I'm really glad I've figured it out. There will always be internet trolls and people telling you what you can and can't do, but they're just sitting behind their computer screens. They can't control you."
Inspired by Sasha's story? Read about the woman who hiked the PCT and met the love of her life along the way.