The Practice That Helped Me Leave An Abusive Relationship When Nothing Else Could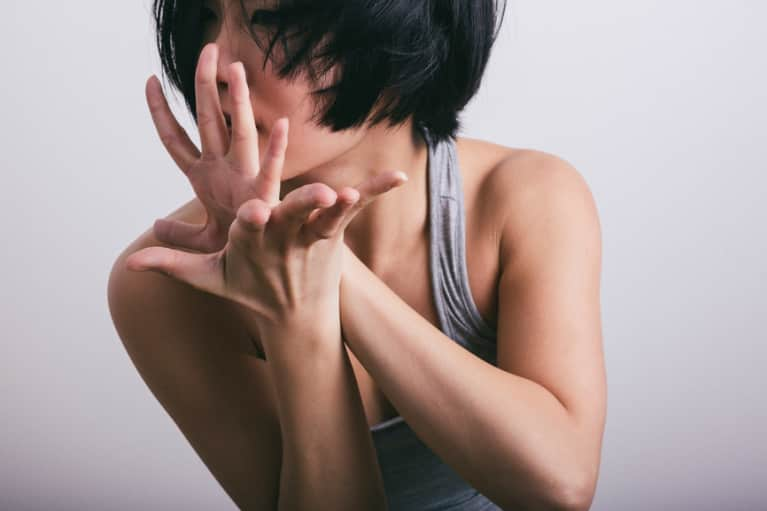 Our editors have independently chosen the products listed on this page. If you purchase something mentioned in this article, we may
earn a small commission
.
The tricky thing with emotional abuse is there are no bruises. And when you're criticized, then threatened, then blamed, then lied to, then apologized to, and then loved again, you wonder if you've imagined the whole thing. Perhaps the best clue that something is amiss, once you're in that deep, is that you start to think you've gone crazy. Even the therapists I spoke to missed it. Friends and family were enamored of my husband, charmed by how much he seemed to love me. And he probably did.
In fact, I don't believe he consciously knew what he was doing. Which led to my thinking the issue was some error of mine. When he'd yell and scream, I often found myself apologizing through tears. I'd drop everything to stay home and cook for him. I once returned a houseplant for fear it might set him off. I still can't believe it happened to a smart, strong woman like me. But it did.
In a healthy relationship, there should be a balance of power. When emotional abuse is involved, the scales are tipped to one side. In my case, it started slowly. I lost my confidence little by little with each insult. I didn't notice it was happening. I went from being an inspired, successful woman to simply feeling stuck, unsure what to do with myself. Is there even a problem? I found myself wondering.
My husband's criticism was often disguised as help, with expertly painted negative portrayals of everyone. "Your new friend is totally taking advantage of you," he'd say. "I'm only telling you because I'm trying to protect you." Or, "You should read some of my grammar books before you share your writing with anyone. Don't worry; it'll get there." And even, "That doctor just told you he wanted to see you twice a week because he wants money. I bet there's nothing even wrong with your back."
I slowly gave up my independence in order to sustain the relationship.
He encouraged me to quit my career. And while his intentions seemed noble and genuine, probably even to him, the messages were subtly destructive. Over time, I pulled back from people and projects I was excited about and stopped trusting my gut. Eventually, I completely relied on him financially, emotionally—to the point that I needed him to help me decide what to eat for dinner. According to Caroline Myss' Advanced Energy Anatomy: Co-Creation and Your Power of Choice, every criticism chips away at our power. Once we lose enough, the motivation and resolve to help ourselves out of the situation dissolves altogether.
I started to find my way back only when I took up qigong, a powerful practice of self-healing. I'd done yoga, meditation, and tried many other spiritual practices for years, but no practice ever brought about such profound and rapid change. In my first class, I stood beside a woman practicing qigong to help combat Parkinson's. Our teacher led us through a series of slow, meditative movements. The practice seemed easy—almost like doing nothing. Afterward, I felt more grounded, balanced, and alive than I had in years. Beyond that, the tension I'd been ignoring in my back was gone.
So, what exactly is qigong?
Qigong is one of the branches of Traditional Chinese Medicine and has been around for thousands of years. It uses meditative movement, breath work, and visualization to move stagnant energy from the body, mind, and spirit, replenishing and aligning the various energy systems. It releases old emotional trauma stored in the body and blockages we may not even be aware we have. These things can manifest as destructive patterns, unhealthy perceptions, or physical pain. After a few weeks of practicing qigong regularly, I became clear and resilient when I was under attack at home. I was able to notice the patterns without getting stuck in them. My inner strength came back.
Later in the year, I met Minke de Vos and Michael Winn at Omega Institute's qigong summit. They were teaching a workshop called Healing Love, a Qigong series centered around masculine and feminine balance. Michael insisted I join. I didn't think I needed it, but I wanted to learn from him. Little did I know, his class would change my life.
You see, whether we realize it or not, we experience almost everything on this earth as polarity—hot and cold, good and bad, form and nebulousness. Michael and Minke were teaching how to harmonize the masculine and feminine, both within ourselves and in relationships. Within all of us is some mixture of yin (feminine) and yang (masculine). The yin-yang symbol shows yang within yin and yin within yang. It suggests that when balanced, the two create harmony. I understood the concept but wasn't sure how to achieve it in my own life.
True versus false in yin and yang.
When they brought up the concepts of true and false in yin and yang, things clicked for me. True yin is powerfully magnetic, receptive, cooperative, and nurturing, while true yang is protective, projects, and leads. Each supports the other. But then there are false yin and yang, with which many of us are familiar both on the individual and collective scales. False yang seeks to dominate, suppress, and control while false yin is victimized, disconnected, manipulative, and weak.
So, once you become aware of the imbalance, how do you remedy it?
The key to reaching and maintaining this balance is to tap into our true yin and true yang and then act according to their virtues. In class, we used movement, breath work, and visualization to tap into our inner and outer yin and yang. When one comes into balance, so, naturally, does the other.
So, what happened when I stepped into my true balance and began to love and respect myself for who I am?
Not two days after the Healing Love class ended, my husband left me. I felt nothing but relief. One week after that, as I simply went about my business, he came to me, acknowledged his behavior on his own, and signed himself up for intensive therapy with no prompting from me. I still don't know what the future holds, but I trust it because I feel empowered, inspired, and hopeful.
Want more insights on how to level up your life? Check out your July horoscope, then find out why holding on to past relationships is the worst thing you can do for yourself.