This Underrated Fruit Can Help Support Healthy Skin Aging — Here's How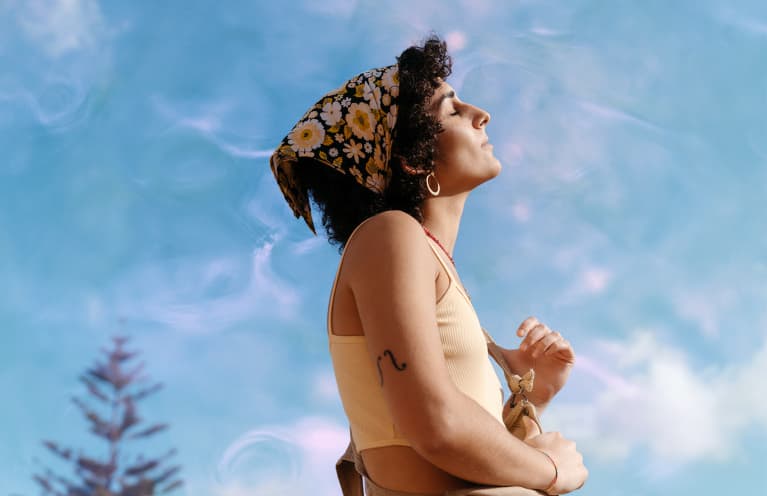 While sunscreen is essential for protecting your skin from UV rays, it's not the only player in the healthy skin aging game. Sure, sunscreen may be the first step when it comes to protecting your skin topically, but if you're looking to double down and support your skin health from the inside out? Well, that's where antioxidants come in handy, and one superstar fruit is chock-full of 'em: pomegranate. Below, find out why you should keep the ruby-red seeds on deck all summer long.
How pomegranate helps your skin deal with UV rays.
We know from research that when consumed, antioxidants help buffer the skin against photoaging by absorbing UV rays; and while many fruits contain antioxidants, pomegranate in particular has been studied with some impressive results. Clinical studies show that concentrated pomegranate extract has the ability to enhance photoprotection in the skin. In simpler terms, this means your skin cells are better equipped to react to UV rays and their subsequent effects.* Another randomized controlled trial even found that the pomegranate extract increased skin's resilience against UVB rays.*
The benefits don't stop there: Many people experience pigmentary changes after spending time in the sun, especially with repeated exposure. Well, a double-blind clinical trial showed that taking pomegranate extract in an oral supplement can actually help with sun-induced hyperpigmentation as well.*
Bonus benefit: Pomegranate extract also increased resiliency to changes in the skin microbiome.* The skin microbiome plays a significant role in skin health, as it communicates with our immune system and protects us from environmental stressors, among other perks you can read about here.*
While consuming pomegranates or pure pomegranate juice in your diet is great, getting enough of the important nutrients in pomegranates every single day isn't the easiest task. Not to mention, they're not in season everywhere during the summer. Luckily, you can find pomegranate extract in oral supplements, like mindbodygreen's cellular beauty+.
This beauty supplement contains 200 milligrams of 100% pomegranate whole fruit extract, a premium botanical concentrated in antioxidants.* From California pomegranates, this concentrated extract promotes cellular resilience and anti-inflammatory properties, which contribute to healthy skin aging, in addition to the photoprotection-related benefits discussed above.* Plus, the formula is packed with other superstar ingredients that support healthy skin, like ceramides, CoQ10, and astaxanthin—but you can read all about those here.*
If you're looking to spend long days in the sun this summer, you should definitely be mindful of the effects that UV exposure has on the skin. Wearing daily SPF is the first step, but you can kick up your skin's resiliency to UV rays by taking an oral supplement with concentrated pomegranate extract.* Believe it or not, pomegranate extract has even more benefits for the skin, all of which are included in this breakdown.*