I Was Diagnosed With Hashimoto's At Age 24. Here's How Outdoor Running Changed Everything
mbg Contributor
By Minna Lee
mbg Contributor
A jill of all trades, Minna Lee is a personal trainer, nutrition coach, wellness lifestyle blogger behind Living Minnaly, and founder of Live 24k. She holds a B.A. from New York University.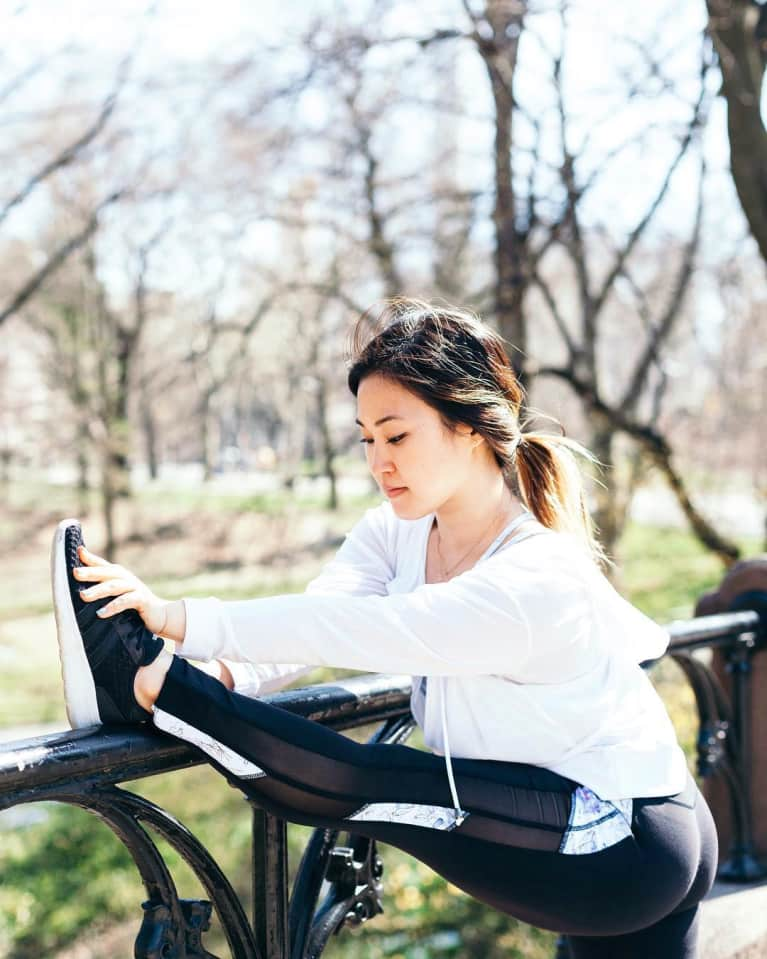 A few years ago, I was the last person you would call a runner. The concept of running as a social activity and chatting throughout? I could barely make it through a 3-mile run without wanting to keel over, let alone waste any of that precious oxygen on talking!
When I told people this, they were often confused because I was a personal trainer who had no problem doing 100 heavy kettlebell snatches in five minutes. Most people think running should come easily to me, but it didn't—and I'm sure it didn't help that when I was figure skating growing up my coaches wouldn't let me run for fear that I would injure myself.
During a particularly difficult time in my life a few years ago, I found myself reaching for my running shoes and heading to the West Side Highway in New York at a friend's suggestion. It wasn't easy, but I'm so glad I did it—because those outdoor runs quickly became my safe, happy place.
The diagnosis that changed everything.
I find quieting my mind to be difficult. I'm also a bit of an overachiever, I never stop working, and I have the habit of empathetically taking on the emotions of my coaching clients. That's a recipe for anxiety and stress!
When I was 24, I was diagnosed with Hashimoto's. That diagnosis was a huge blow for me, especially as I was still struggling with an eating disorder I had developed from my competitive skating years. Thanks to that diagnosis, I had to face the fact that stress management was no longer optional.
A friend who is an avid runner suggested running, so I gave treadmill running a shot. Ironically, I found myself back in my competitive, eating-disordered mindset of anxiously staring at those bright-red numbers and needing to beat my running times every time. Anytime I had a bad run, I was extremely hard on myself, and it started causing more anxiety for me, not less.
Letting go of goal-oriented exercise.
It was only when my therapist helped me realize that all the exercise I was doing was technically goal-oriented that I got the idea to give outdoor running a consistent effort. Stepping away from the treadmill helped me stop basing my satisfaction on numbers and helped me learn how to check in with my body. The beginning was an acclimation process that was mildly disorienting because it was so new to me, but I slowly came to look forward to my sunset runs for peace of mind.
Feeling the wind on my face, breathing in the freshest oxygen New York has to offer, my feet connecting with all the different terrains of pavement, dirt, and gravel and the views—oh, the views. Seeing the sun setting over the Hudson River while surrounded by greenery in the parks downtown and experiencing the change of the summer warmth to the crispness of fall in the city I love most gave me a sense of surrender. Before I knew it, my mind came to connect with my body more than it ever had before.
Running was time that was solely for me. It was a time when I could invigorate my body and let my mind run free for once. I quickly noticed the effects or running translating over to my anxiety responses to stressful situations in my day-to-day. I came to depend on my time running outdoors almost as a meditation.
Facing another difficult period.
Last year, my father passed away. Needless to say, that was another difficult period for me—and having that slice of time for myself, connecting with nature and my body simultaneously, was undoubtedly a huge help in managing my grief and emotional health.
My outdoor runs taught me that everything in life ebbs and flows and that you just have to accept that inevitability. Instead of trying to tame the waves, practice riding them. Every day wasn't going to be a stellar run or an easy one, but I found I didn't care. It no longer mattered to me how long I ran for or how quickly—it just mattered that I showed up for myself, every time.
Want to become a runner? Here's how to start when all you've been doing is yoga.