The One Habit That Has Helped Me Build More Resilience Than I Ever Thought Possible
I grew up in an era when outdoor play was the typical way to fill a day. When we weren't exploring, my brother and I used to set up running races on our street. I loved the feeling of freedom that running sparked within me.
During my school years, I followed in my brother's footsteps and found a true love for track and field. It was thrilling to believe I could run like the wind. My confidence soared when my teachers nicknamed me the Roadrunner for my quick speed.
But when I became a teenager, my love for running faded. It wasn't until I hit my 20s that I found my way inside a gym. I quickly remembered how good it felt to move and strengthen my body. But hopping on a treadmill and exercising inside simply didn't compare to the fresh air and freedom I'd experienced from running outside.
That was nearly two decades ago, and while I do still enjoy indoor strength training and yoga, nothing compares to running outside in the fresh air. Here are five powerful reasons why running has strengthened my spirit over the years, and why I continue to take my exercise outside.
1. Running outside helps me breathe.
The easiest way to move through the physical discomfort of running is to set a relaxed pace and focus on deep, intentional breathing. The first place my mind goes to when I'm headed up steep terrain is my breath and form. Anytime I feel like giving up, I tune into my breathing to quiet the stories running through my mind.
Over time, I've been able to carry mindful breathing into my everyday life. Now, when I find myself in stressful situations, my body automatically draws on conscious breathing as a resource to calm down.
2. I have greater resilience.
In my many years of running, there have been long stretches when I ran for pure enjoyment and didn't think about time or pace. These days, this is my preferred approach to running. I do have experience with revving things up by training for a race. I've trained for multiple half-marathons over the years. Training for these races has strengthened my spirit by allowing me to see firsthand how resilient my mind and body can be. Adding more mileage and seeing how my body and mindset adapt has given me a physical example that I can achieve what I believe.
During labor and delivery of my youngest son, I drew on my hill training from running in order to remind myself my body is powerful. With each contraction, I visualized myself running up a steep hill. I used my intentional breathing and running experience to extinguish stories that my delivery was going to be scary.
Running is so much more than exercise. It's an opportunity to physically and mentally prove to yourself how amazing and resilient the human spirit is.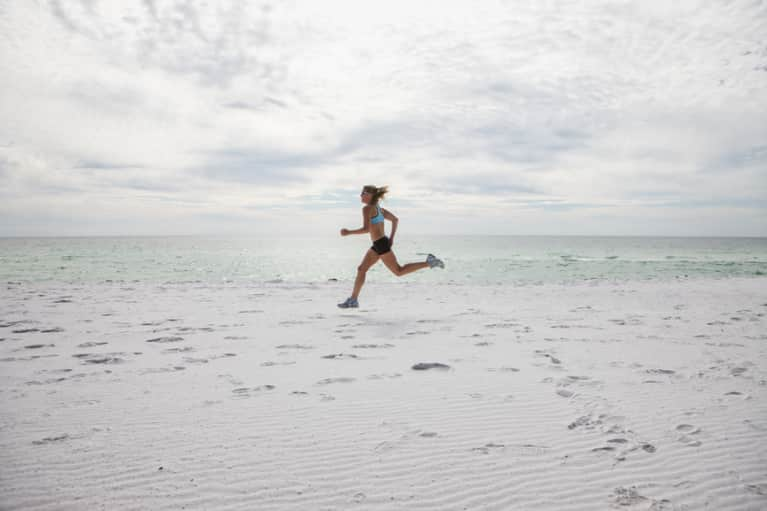 3. It reminds me that everything is temporary.
Sometimes the discomforts of running are all too real. Whether there is extreme weather, challenging terrain, or just an off day—some runs are ridiculously hard. But when these difficult runs come to an end (and they always do!), relief seems to erase the discomfort. Before you know it, you're lacing up your shoes to get outside for another run.
Life is kind of like that, too. It's not always smooth sailing. There are challenges and bumps in the road. Sometimes, it can feel like obstacles show up at every turn. When we remind ourselves everything in life is temporary, it helps us release our grip on the story that life is hard. All things, good and not so good, come to an end. That's part of the adventure.
4. I never feel more present than when I'm running outside.
One of the main reasons I love running outside is because it makes me feel truly alive. There is nothing else quite like fresh air and green space to awaken the senses. Whenever I'm outside running, I feel in tune with the natural elements. With my focus primarily on breath and form, my mind becomes still and I'm able to breathe in my surroundings. I often get some of my best creative ideas when I'm running because I'm open and not worrying or thinking about anything else.
Running outdoors has helped me expand presence in other areas of my life as well, because I have a powerful reference for what presence looks and feels like for me. I draw on my experience of feeling truly present in order to remind myself to let go and move with the natural flow of my life.
Nature is an incredible source of inspiration when we pay attention.
5. Outdoor running helps me practice gratitude.
There isn't a run I go on, whether it's my best or worst, when I don't pause and give thanks for my health and ability to put one foot in front of the other. Running has taught me to embrace life and not take my health for granted. There will be a day when my body no longer has what it takes to run. Thankfully, the lessons I've learned through my rich experience of running will carry me through until my last breath.
Whether you get outside to run, walk, or sit in the extraordinary beauty of your natural surroundings, give yourself the gift of regularly connecting with nature. Remind yourself often that every day you wake up is a gift and an opportunity to live fully.
Love the transformative effects of the outdoors? Here's how outdoor exercise healed Jordan Younger's gut.