There's A 'Food Apartheid' Happening In L.A. & You Can Help Stop It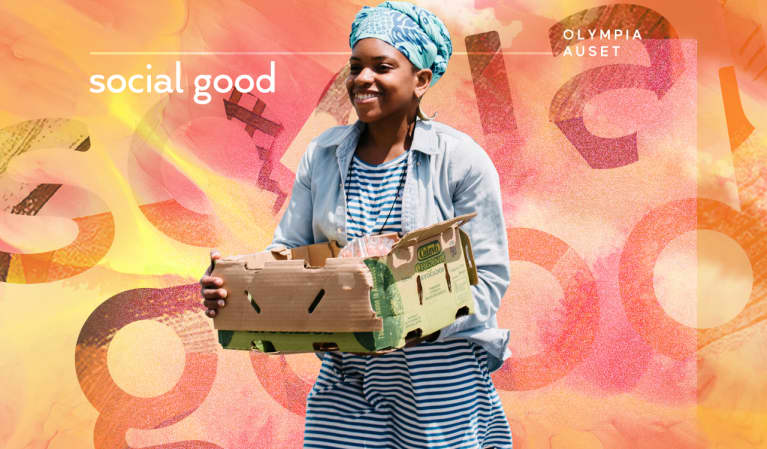 Growing up in South Central Los Angeles, Olympia Auset was one of over 40 million Americans lacking access to healthy food. To get her hands on fresh, plant-based fare, Auset—who eats a raw vegan diet—used to have to travel two hours by bus. She'd leave her neighborhood, dotted with convenience shops and liquor stores, and head into more affluent parts of the city, where there are roughly twice as many grocery stores for every person.
You could call South L.A. a food desert, but Auset prefers the term food apartheid. Deserts are man-made, while a mix of economic, political, and racial factors have shaped her local food landscape. It's no wonder, she says, that nearly twice as many adults are obese in South L.A. compared to citywide averages and significantly more likely to die of preventable diseases.
"Growing up, I'd hear statistics about how we're more prone to diabetes and things like that, but it didn't become real until people I cared about started passing away," Auset tells mbg. "It wasn't a statistic anymore—it was something I had to do something about."
How Süprmarkt is bringing wellness to residents of South L.A.
In 2016, Auset opened Süprmarkt, a low-cost traveling market for organic produce, to make healthy food more accessible in her area. In the years since, she's served over 30,000 pounds of produce to appreciative neighbors.
"'We need this here' is one comment that I hear often," Auset says of the typical response to Süprmarkt, which pops up in a number of low-income neighborhoods around L.A. and partners with local farmers and wholesalers to keep prices low. People can pop over to shop the market, sign up for a subscription box, try their hand at one of Süprmarkt's famous 10-day juice cleanses, or talk about how to prepare that week's veggies.
"A lot of these communities have gone decades without access to healthy foods, and they're not used to having fresh food in their diet. It's not just a matter of bringing the food; there have to be people there who are willing to support and lead them through the process," she says.
Eventually, Auset hopes to open a physical space to serve as a hub for healthy food and wellness in South L.A. It'll be the area's first full-service organic grocery store, complete with plenty of produce, prepared meals, and wellness goods from nearby makers. She envisions it as a place where local people can come to learn about nutrition, take a free yoga class, or just be with one another. "A lot of times in these neighborhoods, there isn't a place where you can just go sit down and be with friends and chill and use Wi-Fi," she says. "So it will also be a green, beautiful space with a small nursery in the back to help people connect with where they get their food."
Support Auset as she brings fresh food to the masses.
Auset, who started her first market with $100 and no outside funding to speak of, has since grown into somewhat of a local legend. She's appeared on TV, graced the front page of the LA Times, and has been covered by a number of international publications. She hopes that her success can inspire others to take on something similar in their area. "The most important thing is for people who live in [food insecure] areas to be empowered to create solutions."
You can support Auset's vision to bring real food into a community that needs it by donating to the fundraising campaign for her physical space and sharing her story with your network.
"Spread awareness and don't be monolithic with the stories that you tell," Auset says of what the wellness conversation needs more of right now. "That's what will really help people understand what everyone on this planet is experiencing when it comes to wellness—not just people who are well off."