This Is The Best Way To Clean Your Phone Naturally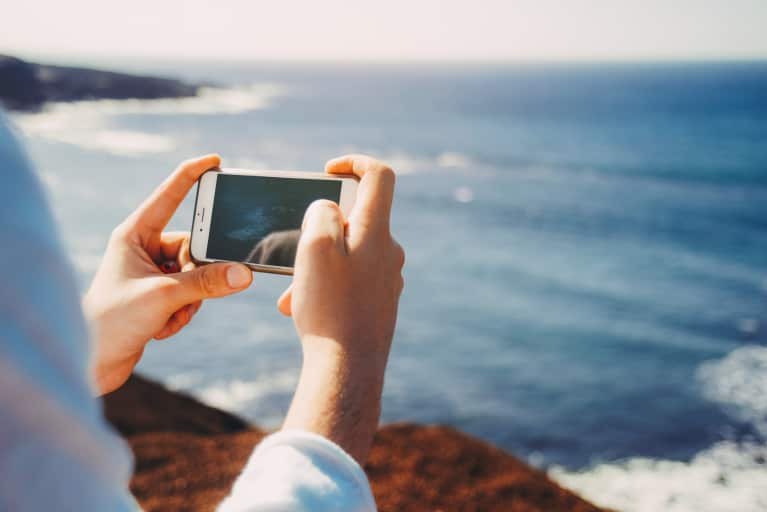 Last week, I picked up my cellphone an average of 110 times a day. I'm not proud of this little data set—partially because a lot of those pickups led to mindless scrolling that was a waste of time and not great for my mental health and partially because I never once cleaned my screen after using it.
I know, I know—I'm disgusting. But hey, how often are you wiping down your phone? A quick survey around the mindbodygreen office found that many on our staff of wellness all-stars were a little ashamed at how little their stellar health and hygiene practices translated to their digital devices.
So how often should you be cleaning your phone? It depends. But probably more than you are right now.
Most of the research being done on the cleanliness of cellphones has been conducted in places where disease can spread quickly, like hospitals. One 2017 study on non-health-care workers in hospitals found that nearly 50 percent of people had phones containing at least six different types of bacteria. Another on orthopedic surgeons' cellphones in particular concluded that 83 percent of them had pathogenic (meaning, it can cause disease) bacteria at the time of testing. And even when these phones were disinfected, a lot of bacteria showed up again less than a week later, causing study researchers to "recommend considering cellphone cleaning more frequently than once a week."
Those outside the hospital have germy phones too. Researchers who monitored the cellphones of high schoolers in 2017 found an average of 17,000 bacterial gene copies on each one and hypothesized that they might play a role in the spread of infection in a school setting. The University of Arizona went as far as to say the average person's cellphone has 10 times more bacteria than a toilet seat.
This makes sense when you consider that we tend to use our phones all the damn time—when we're prepping food, riding public transportation, and, yes, using the bathroom. It's important to remember, though, that not all types of bacteria are harmful. In fact, some are beneficial to our health.
How you can keep your phone cleaner for longer.
When mbg spoke to Rhea Mehta, Ph.D., about keeping up a healthy home environment, she reminded us that small everyday habits can go a long way in maintaining a clean home in the long run. "If you're practicing preventive measures every day: If you're ending your shower with a quick wipe or washing counters after every time you cook, you probably don't have to clean as much," she said.
The same goes for your phone. If you're someone who practices preventive measures to reduce the amount of germs you get on your device, you can probably get away with giving it a good clean about once a week.
"Instead of washing my phone often, I'll wash my hands using a non-antibacterial soap," says Gaye Browne, an environmental therapist and author of the upcoming book, Living With a Green Heart: How to Keep Your Body, Your Home, and the Planet Healthy in a Toxic World. In addition to washing up with a good soap (at mbg we love Soapply—it's natural, unscented, and uses a formula of aloe vera and food-grade organic oils), you should keep your phone out of germ-ridden areas like the kitchen and the bathroom whenever you can.
A natural cleaner that won't mess up your phone.
Functional wellness practitioner and essential oil expert Mariza Snyder, D.C., has a recipe for a gentle cleanser that's great for that once-a-week deeper clean. "Equal parts of water and white vinegar along with the dejunking power of lemon essential oil are an effective, gentle cleaner that will remove the gunk without damaging an electronic screen," she says.
Ingredients:
1½ ounces distilled water
1½ ounces white vinegar
10 drops of lemon or tea tree essential oil
4-ounce spray bottle
Directions:
Combine distilled water, vinegar, and essential oils in the 4-ounce glass spray bottle, shake several times, and spray 1 to 3 times on a microfiber cloth. Gently apply microfiber cloth to the phone and screen until clean. Never spray directly on the screen itself. Consider taking off the protective cover before cleaning to avoid liquid between the screen protector and phone. Avoid cleaning areas where there may be cracks in the screen.
Want to learn how feng shui can help you create a high-vibe home and set powerful intentions to manifest your dreams? This is feng shui the modern way - no superstitions, all good vibes. Our feng shui master Dana Claudat will guide you every step of the way. Click here to learn more about this incredible class!