This Is How Often You Should Weigh Yourself If You Want To Lose Weight (A Doctor Explains)
Family Practice Physician
By Rachel Carlton Abrams, M.D.
Family Practice Physician
Rachel Carlton Abrams, M.D., is a family practice physician with a specialty in integrative health, relationships and sexuality. She runs the award-winning Santa Cruz Integrative Medicine Clinic and has been voted "Best Doctor" in Santa Cruz County every year, from 2009–2019. She graduated Phi Beta Kappa from Stanford University and received her medical degree from UC San Fransisco.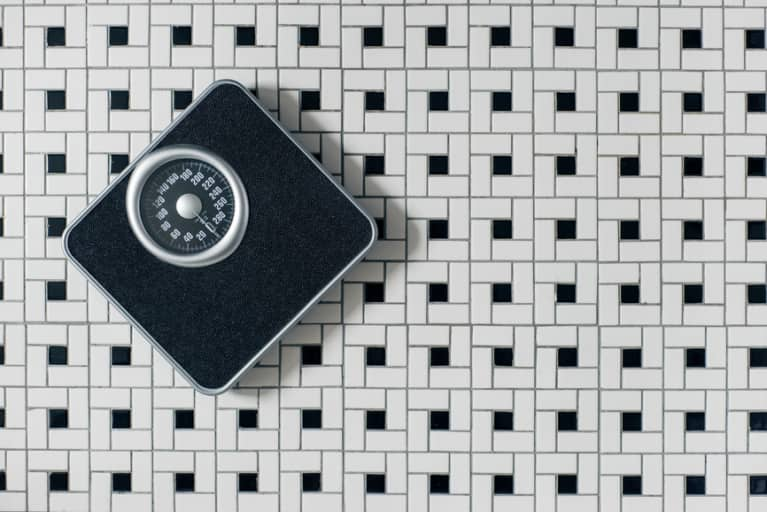 I'm a mother of twin teenage girls and I have actively kept a scale out of our home as they've grown up. As a mom, I wanted to do everything possible to keep these amazing young women from evaluating themselves based on the numbers on the scale. I personally have been tyrannized by the scale—as have many women—feeling my own self-worth and self-regard plummet as my weight increased even just a few pounds.
As a young woman, I nearly had an eating disorder, and a large part of my healing included eating what I wanted and avoiding the scale at all costs. As an adult, I weigh myself about once a year. I eat well and exercise and because I am also blessed with good genetics, my body doesn't change much, but this is not the case for many of my patients. Many women struggle with weight, even when they're eating well and exercising.
The tricky part? Weight DOES matter.
So I wrestled with this question when I set up my medical office. Should I weigh my patients? Should I weigh them at every visit? Is the cringe on their faces when they're being weighed counterbalanced by the information on their weight that I gather over time?
I also had to put their personal distress in context of fact. One-third of the world is overweight, and the U.S. in particular has a growing population of obesity, 13 percent and climbing. Most common diseases in the Western world—heart disease, cancer, stroke, diabetes, high blood pressure, high cholesterol—are driven, in part, by obesity. Weight does matter. If I can help my patients lower their high blood pressure by losing the weight they've gained in the last year, I want to be able to do that.
The most common way I use weight in my practice is helping patients who come in feeling self-critical about "all the weight they've gained, and being able to look back through their charts and say, "Actually, you've only gained two pounds! No big deal. Let's figure out how you can really care for yourself and eat and move in a way that is healing for your body." Still, if someone doesn't want to be weighed, we don't check a weight. And if someone has an eating disorder (or requests it), we do "blind weights," so I get the number, but the patient doesn't see.
Establishing clear boundaries is the key to using the scale in a healthy, helpful way.
So, what does this all this mean for how often each of us should weigh ourselves? First of all, it's important to understand that your weight is simply your gravitational pull here on this earth. It doesn't differentiate between fat, water, muscle or connective tissue—but each one of these has different implications for your health. We generally want more muscle mass and better cellular hydration, and many (not all) people need to lose a little fat. It is worth mentioning that the patients I most commonly ask to weigh themselves regularly are those who need to gain weight. It is extremely difficult for some people to keep weight on, and muscle building and a careful diet is necessary to assist in weight gain. But most of my patients would like to take off some weight.
"No one loses weight and keeps it off because they hate themselves."
Studies do show that weighing oneself regularly—somewhere between daily and once a week—does contribute to losing weight and keeping it off. I have a beautiful patient who does everything right: she exercises regularly, she eats beautifully, she is super smart and insightful, and yet she seriously struggles to keep weight off. The only way she has succeeded in doing so is by weighing herself regularly, as her petite body can gain weight with just a few more calories than it needs in a day. And because taking weight off is SO much harder than putting it on, it's useful to get more frequent feedback so she can change her behavior after gaining two pounds rather than after gaining 15.
So, how often should you weigh yourself?
I think once a year for everyone is a good idea. And if you're actively trying to lose or gain weight, it probably makes sense to weigh yourself weekly. But if stepping on the scale brings up dark feelings of self-hatred or failure, it really is fine to use other means! For example, measuring your waist circumference is a great way to track fat loss (more important than weight loss!), and might be less fraught with emotional ties. Or simply pay attention to how your clothes are fitting.
Remember that your worth as a human, as a soul, has nothing to do with the numbers on the scale, just as it has nothing to do with the dollars in your bank account. I have often said that no one loses weight and keeps it off because they hate themselves. Weight loss triggered by self-hatred inevitably backfires. We choose better health behaviors because we love ourselves, because we know we deserve to be healthy. If you can weigh yourself with self-care and self-love in mind, then go for it!
Want more? Here's how self-love led to one woman's 40-pound weight loss. If you're in the thick of it, join mbg's no-sugar challenge and get inspired by 99 mantras for weight loss.