This Supplement Helps Skin Look "More Radiant Than Ever," According To Reviewers
mbg Associate Editor
By Jamie Schneider
mbg Associate Editor
Jamie Schneider is the Associate Editor at mindbodygreen, covering beauty and health. She has a B.A. in Organizational Studies and English from the University of Michigan, and her work has appeared in Coveteur, The Chill Times, and Wyld Skincare.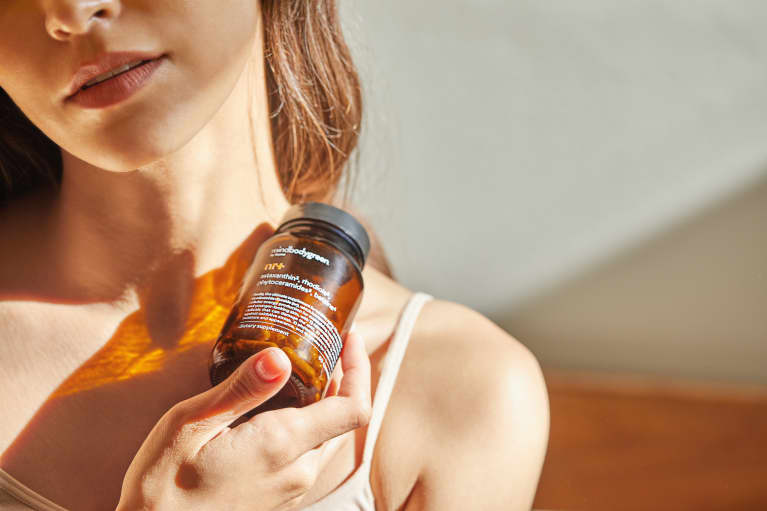 With skin care, so often we hear about the esteemed "healthy glow." No matter your specific goals (clearing up acne, smoothing fine lines, et al.), luminous, dewy skin always seems to be a top pursuit. So when a crowd of reviewers—of all ages, skin concerns, and lifestyles—say a supplement can promote radiant skin (and better yet, keep it that way)? We pay close attention.
mindbodygreen's nr+ has garnered—shall we say?—glowing reviews, with shoppers swearing by the supplement as a beauty-shelf staple.
How nr+ supports radiant skin. 
This skin-loving formula contains a powerhouse of ingredients, starting with the supplement's eponym, nicotinamide riboside (NR). It's a newly discovered form of vitamin B3 that converts into nicotinamide adenine dinucleotide (NAD+) in the body.* NAD+ is a coenzyme that is needed for proper mitochondrial function, and it's able to support your energy at the cellular level—and more energetic cells mean more youthful cells in the long run.
And those spry, youthful cells look supple and hydrated on the surface—think light-reflecting, dewy skin. One reviewer even noticed a difference after a month of use: "After one bottle (approximately 28 days), I have noticed a decrease in wrinkles, smoother texture, and brighter skin! Result: Addicted!"*
Moving on to the other star ingredients, nr+ also features astaxanthin, a potent antioxidant that tempers inflammation, neutralizes free radicals, and manages photodamage;* rhodiola, an adaptogen that helps manage oxidative stress;* and phytoceramides, which drench cells in hydration, enhance moisture levels, and smooth out skin texture.* It's this combination of smart, targeted ingredients that make nr+ a prize for all ages, skin types, and lifestyles.
"I am 30 (almost 31) years old but have been tanning for years and had acne in my young adult years. Those signs have pretty much been reversed. This is a wonderful supplement that truly works," one reviewer wrote, while another noted big improvements in moisture levels and elasticity on her arms and hands. "No more crepey 60-year-old skin."*
Even if you don't have a specific skin concern, per se, the supplement can enhance the glow you already have (and who doesn't want that?). Take it from this reviewer: "I have always had a healthy, glowy complexion, but after three months of incorporating nr+ into my daily supplement routine, my skin looks younger and more radiant than ever!"*
mindbodygreen's nr+ has certainly gained some attention—shoppers love how the supplement helps them glow, no matter their specific skin type or concerns. And with its list of smart, skin-loving ingredients, it's not difficult to see why the supplement plays an integral role in many beauty routines.*