The One Food Norwegians Rely On To Stay Happy & Energy-Filled During Long, Cold Winters
Contributing Food Editor
By Liz Moody
Contributing Food Editor
Liz Moody is a food editor, recipe developer and green smoothie enthusiast. She received her creative writing and psychology degree from The University of California, Berkeley. Moody is the author of two cookbooks: Healthier Together and Glow Pops and the host of the Healthier Together podcast.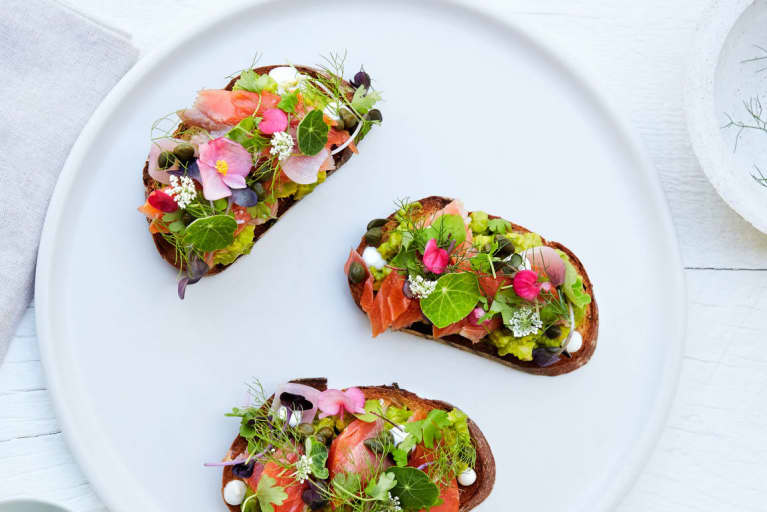 Our editors have independently chosen the products listed on this page. If you purchase something mentioned in this article, we may
earn a small commission
.
Norway is consistently ranked as one of the happiest countries in the world, despite having long, brutal winters with little daylight. So what's their secret? According to author Nevada Berg, who was born in America but moved to Numedal, Norway, where she lives with her Norwegian husband and son, the key lies in a hearty dose of nature and a steady Norwegian diet (yes, it includes bread AND dairy!). Berg recently published her first cookbook, North Wild Kitchen: Cooking From the Heart of Norway, which was named one of the New York Times' best cookbooks of fall 2018. Here, she shares the top 10 secrets to staying healthy, Norwegian-style:
1. Eat fish oil with breakfast and fish at least two times a week.
Whether it's straight from the bottle or in capsule form, fish oil is an important way to start the day with a ton of energy. Norwegians begin this early on with kids developing a habit of taking in their daily dose of omega-3. Most Norwegians also eat their fair quantity of fish for their meals, whether it's on bread or as a dinner.
2. Grains are key to life.
It's typical to eat a slice (or more) of bread with a topping for breakfast and lunch. Norwegians opt for bread filled with whole grains, nuts, and seeds and made with hearty flours. Even the flatbreads are made to the brim with healthy goodness. While white bread is available, it's not something you typically see people reaching for as their go-to-staple.
3. We all have a right to nature.
In Norway, there's the concept of allemannsretten ("every man's right"), which is the right to use nature freely, independent of who owns the property. Included in this tradition is the right to gather from the land. The main rule is to be respectful and careful of nature, as well as the people who might own the land and those who will come after to gather as well. People are free to pluck wild plants, flowers, bushes, and mushrooms. Wild nuts must be eaten on location, and collecting tree sap requires permission from the landowner. Kids and adults partake in this pastime of gathering in the seasons, whether it's just for a handful or to collect enough to last until the next season.
4. Balance is everything.
You won't pass up a waffle with jam and sour cream or a piece of mouthwatering cake with that coffee—nor should you. With so much physical activity and enjoyment of the outdoors, it's encouraged to celebrate once in a while with a treat and a good conversation.
5. Take care of your animals, and they'll take care of you.
In the summer, farmers bring their animals to summer farms or fields to graze freely until the autumn. They eat various grasses and wild berries and spend their days in stress-free environments. As a result, the quality of the milk and meat is some of the highest in the world.
6. There's no such thing as bad weather, only bad clothing.
Norwegians will remind you of this national saying when you look out the window with slight hesitation and consider staying inside. The outdoors is meant to be enjoyed, rain or shine, which means an active lifestyle and lots of fresh, clean air.
7. There's always a sustainable solution—if you know where to look.
Norway's emphasis on interacting with nature in a sustainable and nurturing way has resulted in the incredible preservation of its natural resources. A good example of this is with fish and seafood, since Norway is the second largest exporter in the world and known for its high quality. When you hear stories from local fisherman and divers, you begin to fully comprehend how deeply connected Norwegian culture is to its natural bounty and the care that goes into nurturing it.
8. Fat is your friend—and so is dairy.
Norwegian dairy products are typically high in fat, with percentages of fat (say in milk and creams) higher than in some countries. You will find lower-fat options, but having a higher fat content means more nutrient-dense products that help you have more sustained energy. Moderation is key, and Norwegians balance higher-fat products with an active lifestyle. High fat content also makes for some delicious dishes, like sour cream porridge.
9. A kitchen doesn't need walls.
While a lot of cooking is done in the home kitchen, a lot of cooking happens outside as well. A rugged landscape can easily be turned into an idyllic setting as nature evolves into a dynamic kitchen centered around an outdoor fire. This transformation is often referred to as bålkos, the atmosphere created by and around an outdoor fire, and what sets the tone and mood of the experience. A fire is more than just another method of cooking but rather a way of being. With this type of mindset, the possibilities of cooking outside of four walls are endless.
10. Tradition is important.
Recipes are passed down from generation to generation and often kept within the family. People still make traditional products from hand, like cured meats, flatbread, cheeses, and lefse, even though these are easily accessible to purchase. This preservation of older methods and recipes ensures the food culture is still rich with history and tradition. The knowledge that comes from making food by hand is powerful, and it's positive to see that more and more young people are wanting to engage in maintaining these types of recipes.