Chefs Love This Little-Known Anti-Inflammatory Pantry Staple
Contributing Food Editor
By Liz Moody
Contributing Food Editor
Liz Moody is a food editor, recipe developer and green smoothie enthusiast. She received her creative writing and psychology degree from The University of California, Berkeley. Moody is the author of two cookbooks: Healthier Together and Glow Pops and the host of the Healthier Together podcast.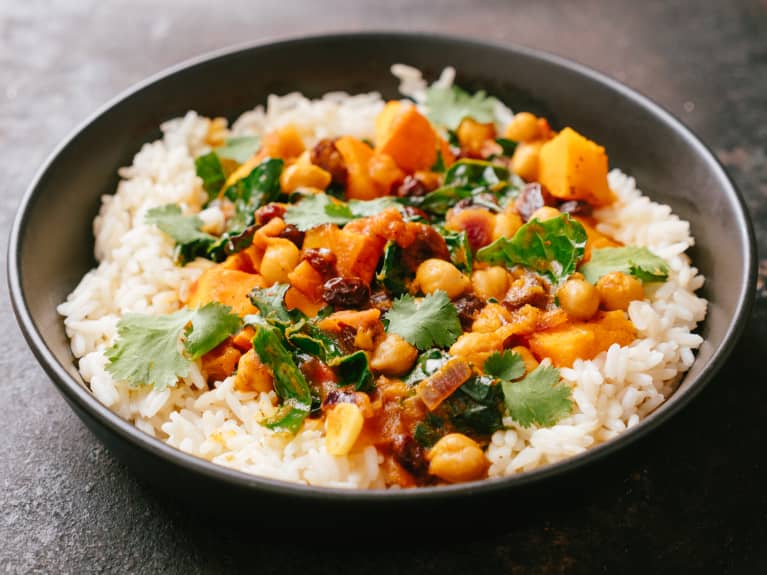 It's fair to say that Middle Eastern cuisine is having a moment in the U.S. Ushered in by chefs like Yotam Ottolenghi, who sang praises of unfamiliar-sounding spice blends (za'atar? Ha-whatta?), heretofore "exotic" ingredients are becoming more mainstream in kitchens across the country—and a husband-and-wife-owned Brooklyn company is leading that charge.
Leetal and Ron Arazi didn't set out to start a food company. When they moved to New York from Israel, they were surprised by how difficult their favorite spices and seasonings were to come by, even in a major metropolitan center. "It was hard for me to believe that we are in NYC, food hub of the world, and the za'atar I just purchased had food coloring in it," says Leetal. "Instead of complaining about it, we decided to do something about it. We felt the need to be proactive in keeping our food traditions alive."
It didn't hurt that their skill sets were perfectly suited to creating a consumable product. The couple actually met while working in a restaurant in Israel, where Ron was a chef and Leetal was a pastry cook who also did food styling and photography.
Their company, christened New York Shuk, contains five types of harissa, including both pastes and ground spices; a preserved lemon paste; and a line of Middle Eastern spices, including za'atar, baharat, shawarma, hawaij, and ras el hanout. The blends have won over everyone from Chrissy Teigen to Food Network star Molly Yeh with their high-quality, organic ingredients and bold, unique flavors.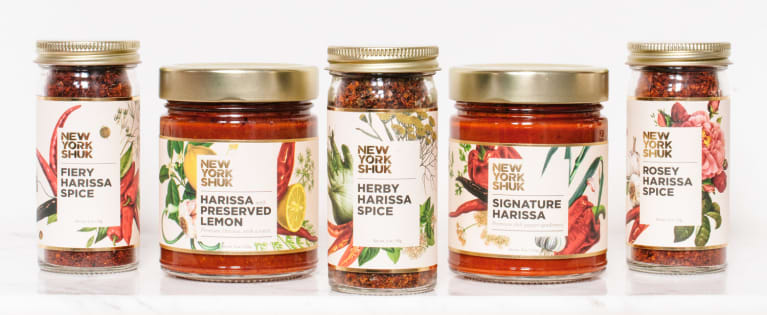 The couple hopes to encourage home cooks to think outside cuisine-specific cooking and utilize the spices in everyday meals. "We don't want folks to associate 'harissa' with 'couscous' and 'tagine' but use it as a tool to upgrade their cooking across all applications, cuisines, and ingredients," Leetal says.
The preserved lemon paste, for instance, "has been a game changer in our kitchen." Chefs love preserved lemon, which is just fermented, whole lemons, as a one-hit wonder way to add salt, umami, sourness, and acid to a dish, all with just one ingredient. Leetal loves to use it to bring greens to life: "Just a dollop of preserved lemon paste and a drizzle of olive oil, and you have the best salad dressing." It's also great over fish, in soups, or in pastas—essentially, anything that needs a brighter, poppier flavor.
Harissa is another staple for chefs including Anna Jones, who keeps it on hand to punch up weeknight meals like hummus or pasta with red sauce. Sumac adds a citrus zest to fresh-cut vegetables and works well in dressings and marinades, while hawaij, a turmeric-based blend, can be used to roast vegetables, as a rub for chicken or fish, in soups or stews, and more.
If your ears perked up at the mention of turmeric, a lauded anti-inflammatory spice, you're not wrong—all of the ingredients are rich in health benefits. The lemon paste is fermented and contains gut-healing Lactobacillus bacteria as such, alongside vitamin C from the lemons, making it an immune-boosting one-two punch. Harissa has a chili-pepper base, which means it contains capsaicin, shown in studies to boost metabolism, fight inflammation, and more. Sumac has been found to balance blood sugar, while hawaij, in addition to turmeric, contains cumin and cardamom, both of which are rich in anti-inflammatory polyphenols.
For Leetal, the wellness benefits extend far beyond what the studies show. "Our products are meant to help you cook more at home," she says. "It doesn't need to be fancy, just a simple home-cooked meal shared by family and friends. Gathering around the table and sharing a meal is sometimes more vital for our mental health than anything else."
New York Shuk spice blends, harissa, and preserved lemon paste are available on NYShuk.com.