Here's How Neil Patrick Harris Gets His Kids To Eat Healthy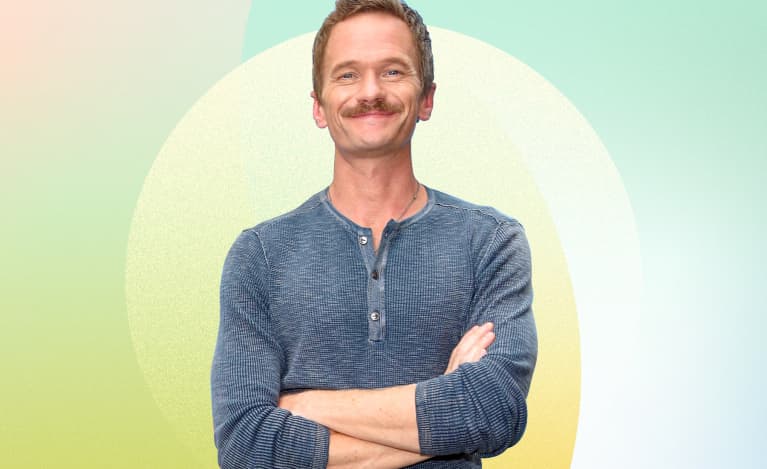 Our editors have independently chosen the products listed on this page. If you purchase something mentioned in this article, we may
earn a small commission
.
As far as multi-hyphenate stars of stage and screen go, Neil Patrick Harris is somehow equal parts a charismatic charmer, down-to-earth dad—and pretty mindful, too. I recently got a chance to chat with him about his healthy habits (it's all about balance!) and how he's teaching his kids to listen to their bodies.
He also shared how he gets his kids excited for school time again: "My twins are entering the third grade this year. That's really a pivotal time in schooling, and you really start to think about the classroom size, how the classes are structured, what these hardworking teachers are dealing with," says Harris. "You want the best for your kids, for all kids." To help, Harris partnered with Quaker Chewy and AdoptAClassroom.org about a new back-to-school initiative aiming to raise $250,000 for the nonprofit, which helps support teachers with much-needed supplies.
It was getting late in the day, and his husband and two kids were just about to swing by so they could all go to dinner together. Speaking of…
Family meals are a time to connect.
And to teach about the importance of healthy eating.
"I talk a lot about repercussions or consequences. Say, for example, one has trouble going to sleep at night. I'll explain to them, Well, you know, sometimes when we eat candy or dessert late at night it can mess with our energy, so we're not as tired around bedtime. Then we wake up tired, and the whole thing starts again. But if you eat healthy meals, then maybe you wake up feeling better. I think it helps explaining the 'why' behind it all—perhaps I'm logical to a fault. But my husband, he's much better at explaining the rest to them."
He has his own healthy routine, too.
"I eat a lot of small meals throughout the day: salads, almonds, things to snack on. For working out, I'm really trying to be well-rounded: think about my whole body and balance. For that I've been doing plyometrics lately. It reminds me of like circus moves, where you're engaging every muscle of your body, moving in interesting ways, and using your body weight. I don't need to be lifting huge weights at the gym: I figure I'm probably never going to be in a situation where I'm lifting a car off me, but I might find myself in a situation where I'm climbing a tree!"
Letting your kids explore is important.
"I get my kids excited for school by letting them explore their interests. I don't want to lead them in any direction, be it a favorite subject or hobby. I want them to be excited and unfocused in their interests. Try it all and have fun! I will, um, maybe not encourage them certain ways: Maybe I don't encourage them into competitive horse jumping—mainly because that just seems like an expensive hobby. Or maybe I won't direct them into, you know, putting on a helmet and hitting other people for a few hours. Nothing wrong with those sports, but I'd probably be more comfortable with them picking something else. I am trying to do a Jedi mind trick with that.
"It's also important to just let them be independent in general. I want to raise kids that learn for themselves: Maybe they're out playing, they try something, and they fall over. Well, now they've learned not to do it that way. You know, when we taught them to swim we didn't use floaties—and they're excellent swimmers."
And how to encourage kids to cut down on screen time.
"I'm torn on the screen time thing. I do see a benefit in having them engage in technology and learn those skills—but at the same time, I do see how easily it can become a problem. I have a new rule, though: For every new game or app they want to download, they have to get rid of two others. In the end, I really just want them to be creating and doing this with their hands, in real life. I'm always like, OK! Put down the screen; let's go make marionette dolls! Yes, I have a marionette doll station in my home."