How Much CBD Oil Should You Take for Pain?
Written by
Brooke V.
This content is produced in collaboration with an advertising partner and follows mindbodygreen's editorial guidelines. The content is written by a third party. Statements are not fact-checked by a medical expert.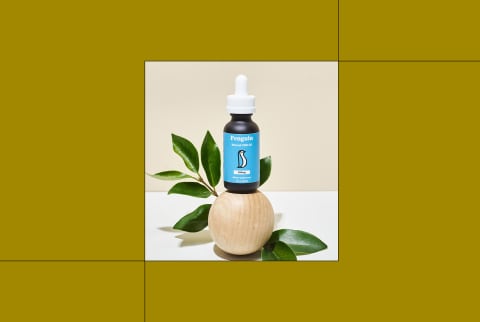 August 30, 2023
We carefully vet all products and services featured on mindbodygreen using our
commerce guidelines.
Our selections are never influenced by the commissions earned from our links.
Advertorial: This content is produced by a third-party advertiser. Statements are not fact checked by a medical professional.
Disclaimer: Our website includes general information and instruction relating to health and wellness topics. This content is not a substitute for medical advice from your healthcare provider. Hemp CBD products are derived from U.S. industrial hemp (less than 0.3% THC) and European hemp (less than 0.2% THC). While CBD products derived from the hemp plant (Cannabis sativa) are legal on a federal level in the U.S., some states have specific laws, so you'll want to check your state's laws.
Cannabidiol, commonly known as CBD, is a natural compound found in the cannabis plant. As people seek natural alternatives to manage their pain, CBD has gained vast popularity for its potential therapeutic benefits.* However, determining the appropriate CBD dosage for pain relief can be challenging, as it varies depending on several factors.
In this guide, we explore the factors that influence CBD dosing, some of the best CBD oils available, and key considerations to help you find the optimal dosage for your pain management needs.
How might CBD help alleviate pain?
CBD interacts1 with the body's endocannabinoid system (ECS), which plays a crucial role in regulating various physiological functions, including immunity and pain perception. By influencing the ECS, CBD may alleviate pain through its anti-inflammatory and pain-relieving properties.*
When it comes to pain relief, studies suggest that CBD may help manage chronic pain2 in conditions such as arthritis, neuropathy, multiple sclerosis, and fibromyalgia, or pain associated with cancer treatment.* However, it's important to note that CBD is not a one-size-fits-all solution, and its effectiveness may vary from person to person.
Factors Affecting CBD Dosage for Pain Relief:
Body Weight: A person's body weight can impact how CBD is processed and metabolized in their system. Generally, people with higher body weight may require a slightly higher dosage compared to those with lower body weight to experience the same level of pain relief.
Severity of Pain: The intensity and type of pain you're experiencing play a role in determining the appropriate CBD dosage. Those with severe or chronic pain may need a higher dosage, while individuals with mild or occasional pain may find relief with lower doses.
Tolerance to CBD: As with any substance, prolonged use of CBD may lead to a tolerance build-up. If you have been using CBD regularly, you may find that your body needs a higher dosage over time to achieve the same pain-relieving effects.
Individual Sensitivity: Each person's endocannabinoid system reacts differently to CBD, which means that some individuals may experience pain relief with a lower dosage, while others might require more significant amounts.
It's worth noting that in addition to the above, other factors may affect dosage3 as well, such as age, sex, or type of pain. However, more research is needed to determine the effects of these factors on dosage.
How much CBD oil should you take for pain?
There are no official recommendations on how much CBD oil to take for pain. However, a few studies have suggested taking 5 milligrams3 of CBD twice a day and then increasing it by 5 to 10 milligrams every 2 to 3 days until you reach the desired effect, or up to a maximum dose of 40 mg/day.
The World Health Organization (WHO) concluded that CBD is largely safe, even in high doses4 (up to 200 milligrams a day). However, taking too much CBD may cause minor side effects like diarrhea, loss of appetite, and sleepiness.
Ultimately, you need to find what works for you. As functional medicine doctor Amy Shah, M.D., told Mindbodygreen, start at the lowest dose possible (which can be even half of one dropper, depending on the product) and move up as needed. Check-in with your body and see how it responds to the dose. It can be useful to keep track of your pain levels in a diary and see how you feel after each dose adjustment.
How many times a day should you take CBD for pain?
The recommended frequency of taking CBD for pain can vary based on individual needs and the specific CBD product. There is no universal answer, as each person's response to CBD can differ.
Read the brand's label to get a general idea of what they recommend for their product intake. Each CBD oil product featured in this article will have labeling and Certificates of Analysis (COAs) that can help you better determine the best dose of CBD oil for pain.
CBD oils come in various concentrations, usually measured in milligrams of CBD per milliliter of oil. For example, a 30-milliliter bottle containing 1,000 milligrams of CBD would contain approximately 33.3 milligrams per 1-milliliter dropper. Understanding the concentration is key for accurate dosing and frequency.
You can also speak to a healthcare provider for advice on the best frequency of CBD oil for pain relief.
A few of our favorite CBD oils:
Advertisement
This ad is displayed using third party content and we do not control its accessibility features.
Advertisement
This ad is displayed using third party content and we do not control its accessibility features.
Takeaway
When it comes to CBD oil dosage for pain, it's best to start with a low dose and gradually increase it until you find the relief you're looking for. Pay attention to how your body responds and be patient, as it may take some time to discover the optimal dosage for your needs. Always consult a healthcare professional for personalized advice and guidance to ensure safe CBD use for pain management.* And if you're interested to find out how much CBD you need to relax, read our article here.
*These statements have not been evaluated by the Food and Drug Administration. These products are not intended to diagnose, treat, cure, or prevent any disease.
If you are pregnant, breastfeeding, or taking medications, consult with your doctor before starting a supplement routine. It is always optimal to consult with a health care provider when considering what supplements are right for you.
Meet The Experts
This content is produced in collaboration with an advertising partner and follows mindbodygreen's editorial guidelines. The content is written by a third party. Statements are not fact-checked by a medical expert.