How A Love Of Community Has Made Millennials The Fittest Generation Ever
mbg Contributor
By Leigh Weingus
mbg Contributor
Leigh Weingus is a New York City based freelance journalist writing about health, wellness, feminism, entertainment, personal finance, and more. She received her bachelor's in English and Communication from the University of California, Davis.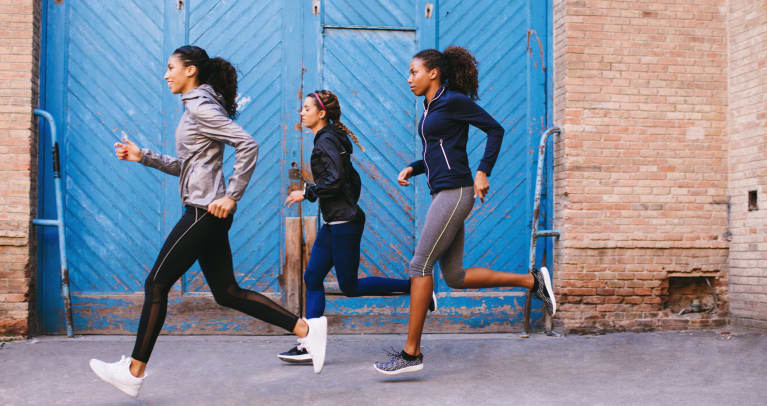 Our editors have independently chosen the products listed on this page. If you purchase something mentioned in this article, we may
earn a small commission
.
Welcome to the new mbg! We've relaunched and realigned ourselves with an evolved mission. Our take on wellness can be summed up in three words: You.We.All. You: You, yourself, are the foundation of wellness. We: We grow our spirit by nurturing our connection to our families, friends, and neighbors. All: All creation on our planet is interwoven and interdependent. To achieve true wellness, we need to nourish ourselves, our communities, and our planet. The time is now—rise with us. You. We. All.
Whereas once young adults turned to happy hour cocktails to bond with their buds, these days, the under-35 set is strengthening their relationships while they strengthen their cores. Exercising together as a form of community-building and socializing has become a part of millennial culture. One survey found that only 24 percent of millennials drink alcohol at least once a week, while 76 percent of them exercise at least once a week—a higher percentage than the two generations before them. Millennials' appreciation for community and for wellness have created a whole new fitness culture, one that keeps expanding.
The rise of the fitness class.
Once reserved for only the most serious of fitness enthusiasts or people of high socioeconomic status, workout classes got a lot more accessible when companies like ClassPass took off in 2013, with a diverse offering of classes—from aerial yoga downtown to a CrossFit gym way out in Brooklyn—for a fixed price.
Especially in cities, checking out a new class often means exploring a new neighborhood with a friend and potentially new nearby healthy restaurants. If you have a good chunk of time on a Saturday, getting together with a friend for back-to-back workout classes followed by brunch is hardly out of the question.
Additionally, working out can be a way to make new friends or even meet a partner. If you see the same person at your yoga class every Thursday, for example, why wouldn't you say hi?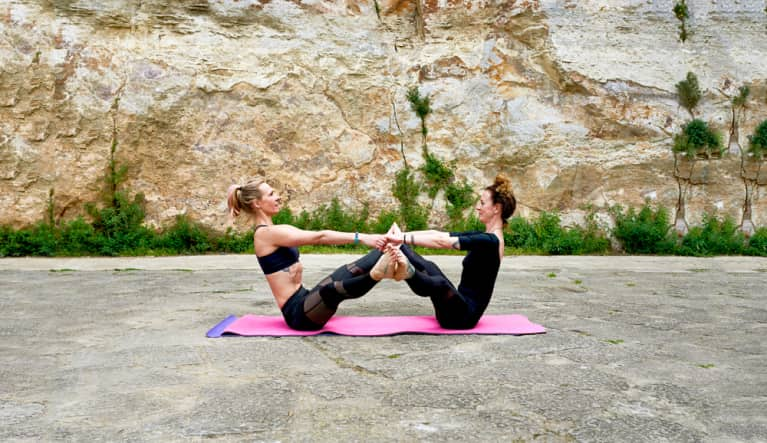 Exercising as a community makes you more likely to stick with it.
We've long known the power of having a workout buddy to hold you accountable, but if you know you'll get to see your friends at your Sunday morning Flywheel class, you're a lot more likely to actually get up when your alarm goes off. "Working out is no longer a grueling, boring, lonely activity on a treadmill," says Elizabeth Lombardo, psychotherapist and author of Better Than Perfect: 7 Strategies to Crush Your Inner Critic and Create a Life You Love. "With the increase in community activity comes more fun, which enhances the likelihood that people will stick with it. As such, it becomes a lifestyle, rather than a fad that you give up on January 8."
Psychotherapist Nathalie C. Theodore adds that the fact that millennials have found a way to incorporate fitness into their social lives is key, as studies show that people are less likely to stick with a fitness routine if it means sacrificing quality time with friends and family. "Planning a yoga date with friends followed by brunch gives you the best of both worlds," she says. "By making exercise a community activity, millennials have turned fitness into less of a chore and more of a lifestyle."
Yes, exercising together means more endorphins.
If a runners high isn't enough to get you to lace up your shoes and hit the pavement, consider this: Exercising with people means even more endorphins, which explains why millennials get so much joy out of exercising with their friends.
"We humans have a need to belong to a group, and class-based exercises allow us to feel a sense of belonging and purpose, and this translates to higher endorphins, a greater sense of contentment, and a positive association with exercise," explains neurologist Ilene Ruhoy, M.D., Ph.D., while Lombardo adds, "There is a chicken/egg scenario that goes on here. Exercise releases biochemicals that help you bond with those you are working out with, and being together in a community also releases bonding biochemicals. So really it is almost like a double dose of biochemicals, which helps to strengthen your sense of community."
Want to trigger more happy chemicals in your brain? Here's how to do it.