How Megababe Katie Sturino Is Inspiring Women To Stop Shaming Their Bodies
Contributing Wellness & Beauty Editor
By Lindsay Kellner
Contributing Wellness & Beauty Editor
Lindsay is a freelance writer and certified yoga instructor based in Brooklyn, NY. She holds a journalism and psychology degree from New York University. Kellner is the co-author of "The Spirit Almanac: A Modern Guide to Ancient Self Care," with mbg Sustainability Editor Emma Loewe.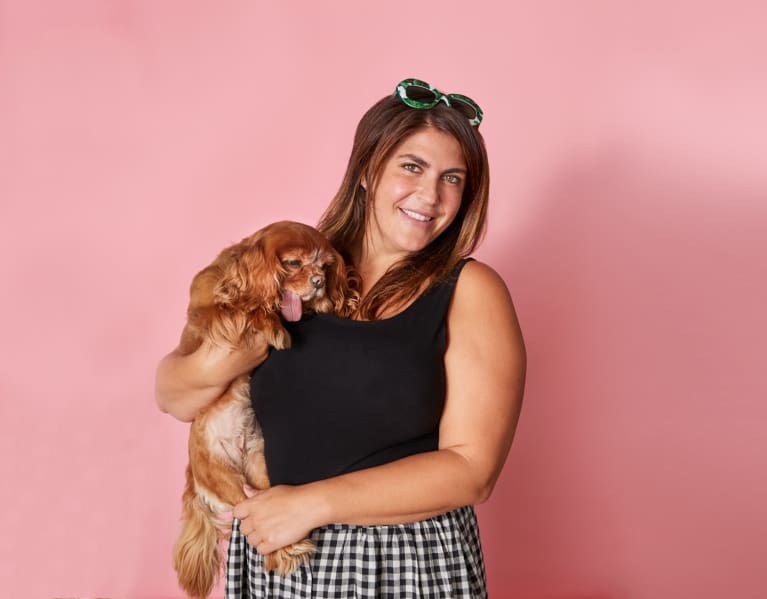 Katie Sturino's megawatt smile and grounded presence are magnetic, quietly and confidently demanding attention. Sturino is like the calm eye of a moving storm—her assistant handles her three adorable, Instagram-famous rescue pups Toast, Pants, and Muppet, as she seamlessly engages in conversation with the growing crowd of mbg-ers, posts to Instagram, and poses for photos within minutes of her arrival. "Oh, is Pants handing out her résumé already?" she quips. Each pup has her own made-up personality on Instagram, revealing Sturino's smart, refreshingly un-PC dry sense of humor. Toast, with almost 400,000 followers, is the diva; Muppet is usually wasted; and Pants is perpetually unemployed, shamelessly self-promoting with the hope of landing a new job.
Managing her dogs' Instagram accounts is a labor of love, a fun way for her to spend time with her pups while bringing attention to a cause she strongly supports: championing rescue pet adoption. When she's not with them, she's running her empowering blog, the 12-ish Style, designed for "12ish to 18ish girls living in a size 2 world," or appearing as a guest host of Project Runway's Behind the Seams, a YouTube show that gives passionate fans the inside scoop. But the newest venture to capture her imagination is her recently launched, all-natural beauty line, megababe.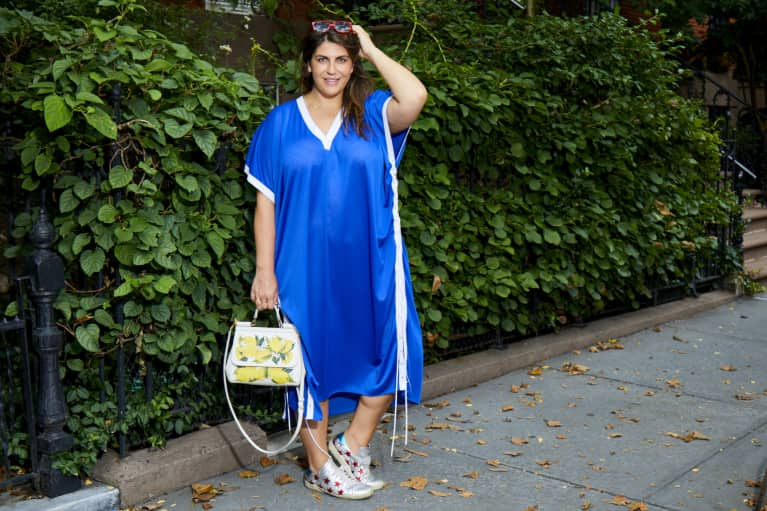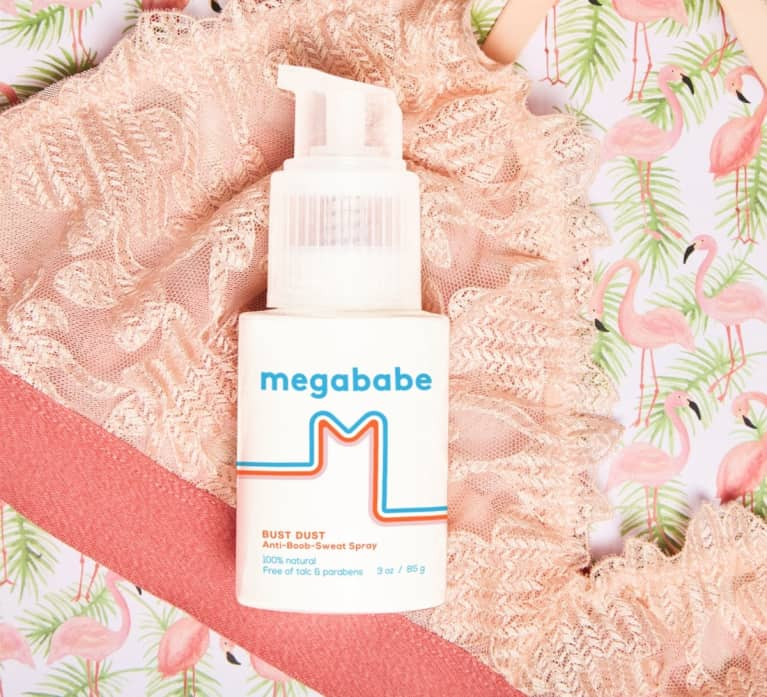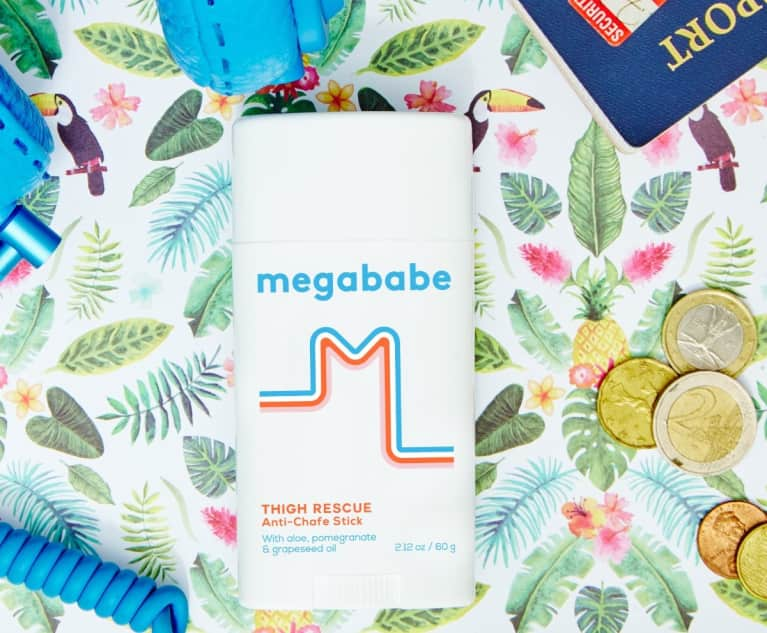 Before megababe, the only personal care products available to women suffering from chafing or boob sweat was Body Glide, Gold Bond, and DZ Nuts, all of which are geared toward men. Sturino used Gold Bond and for years but wished there was a better option for women. Enter: megababe.
Thigh Rescue, an anti-chafing stick for anyone without a thigh gap, and Bust Dust, a spray to reduce boob sweat, are the debut products. The response has been overwhelming—there are more than 60 customer reviews between the two, and every single one is five stars. "I'm more proud of megababe than anything I've ever done," Sturino said. "I turned a shameful problem into something to talk about and celebrate."
"I would like women to be allowed to stop hating themselves so much."
"The 'I'm not eating because I'm going on vacation,' mentality, it's that kind of thing that needs to stop. Enough!" She references a constant preoccupation with wishing our bodies were different and explains that it's simply a waste of time. "I feel terrible for people who commit so much mental energy to their bodies," she said with empathy. She's moved on from that point in her life, thanks to fashion. "I try to shift the inner conversation off of the mental ticker in your brain that's saying things like, 'You don't deserve to be here,' or 'Everyone hates you because you're fat,'" she said. "I change it to something I like about what I'm wearing."
Now she identifies as body neutral, even though her blog and personal brand are associated with the labels of plus size and body positivity. "The term 'body positivity' is starting to become a synonym for plus size," she observed. "Body positivity means feeling good about your body, no matter your size."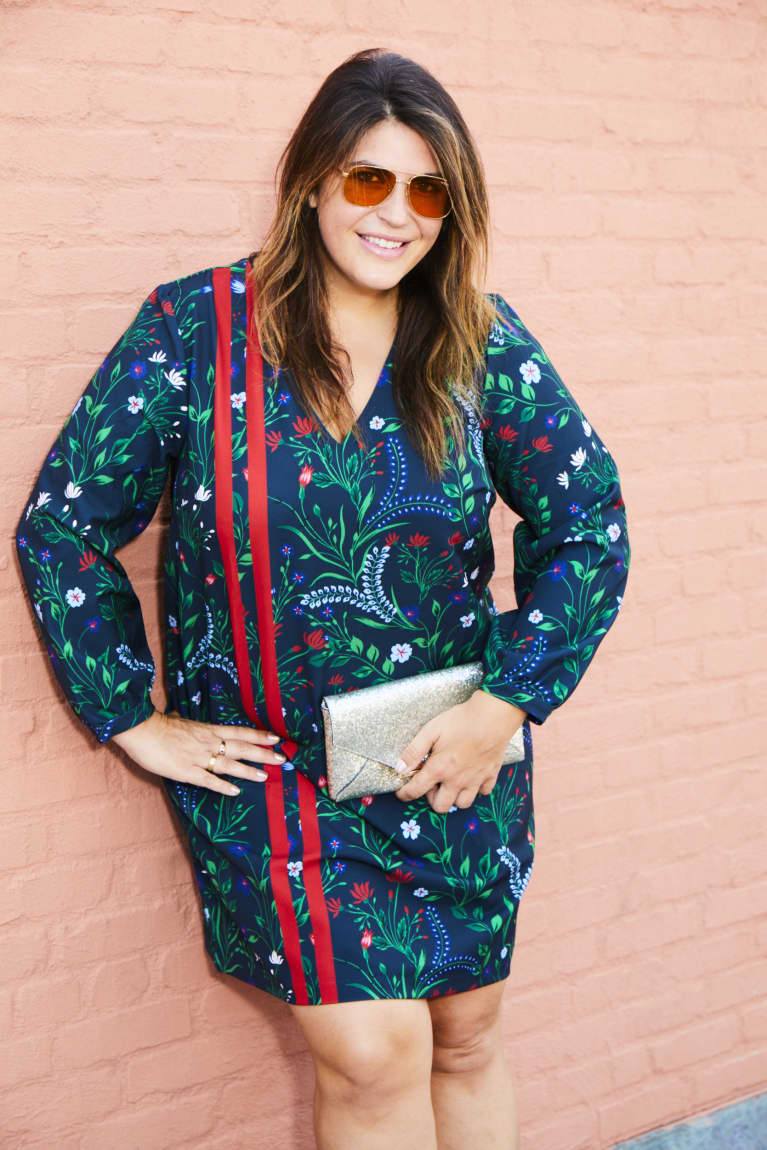 To be sure, this kind of labeling is tricky at best—but Sturino doesn't mind being called plus-sized or body positive if it's in the name of progress. "Sometimes labels are helpful because it points people in the direction of what you're doing," she said. "I'm not trying to rename everything. I'm just trying to get through this conversation." And it's not easy, when brands are exploiting the plus-size community as a marketing campaign. "I find it very embarrassing when companies try to be inclusive but just don't do it," Sturino said. "Get a size 20 in the room and make a pair of jeans for her. Don't just offer a size 12 in your range and feel like you did something different. If you're making a statement, be authentic," she urged.
When it comes to body-positivity inspiration, she loves following Allison Kimmey. She's a mom of two and simply posts her normal life. "She'll post her body in a string bikini, and women go nuts for it," which underscores a need for more authenticity like this, she noted. For plus-size menswear inspiration, she recommends Ryan of Extra Extra Style.
The growth of megababe and her personal brand means that Sturino is always on, but she insists that it's her preference. "I don't share things unless I want to share them," she said. She uses travel, which she does quite a bit, as an excuse to unplug and abandons her phone for as long as she can—sometimes it's one hour, but sometimes it's five. She walks her dogs along Manhattan's Highline every morning for a moment of solitude, which she prefers over going to workout classes because you don't have to be "on," and there's no one demanding her attention.
If Sturino's rising success is any indication, the future is decidedly more inclusive, productive, and authentic. "It is actually a really bold thing to say that you like yourself," Sturino said, and we couldn't agree more.