How mbg's nr+ Helps Users Feel More Awake & Have Vibrant Skin
mbg Beauty Director
By Alexandra Engler
mbg Beauty Director
Alexandra Engler is the Beauty Director. Previously she worked at Harper's Bazaar, Marie Claire, SELF, and Cosmopolitan; her byline has appeared in Esquire, Sports Illustrated, and Allure.com.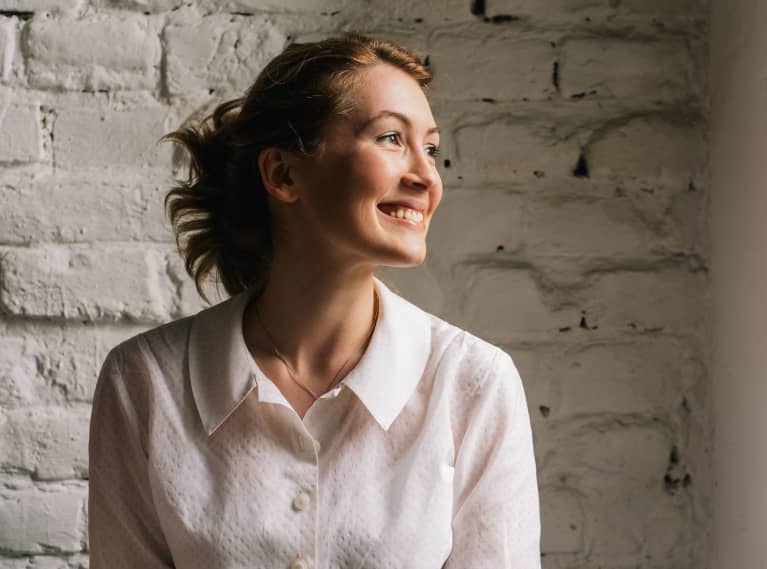 If there is one thing that signifies health, perhaps it's energy. And for some, looking and feeling refreshed can feel like an elusive goal. That's because there are a lot of things that can zap us of energy regularly. A bad night's sleep will set us back. Stress does a number on us mentally and physically. Not getting adequate nutrition means our bodies can't fuel up. If we don't move our bodies with regularity, we'll feel sluggish. These things, I'm sure, you know.
And in a perfect world, we'd live in such a way that we could keep these all in check. But ultimately, life happens, and so, we turn to supplements to help. While there are a plethora of options out there—many particularly suited specifically for sleep, stress, and so on—one well-rounded option is mindbodygreen's nr+, which users say helps them look and feel more awake. Allow us to explain.
How this supplement helps users "feel more awake" & look it, too.
minbodygreen's nr+ contains a comprehensive list of ingredients to help support longevity, energy levels, cognitive function, and skin health (hence, the "look it," too).
The namesake ingredient is nicotinamide riboside (NR), a form of vitamin B3 that is converted into the coenzyme nicotinamide adenine dinucleotide (NAD+). NAD+ actually helps regulate energy levels in the cell by supporting your mitochondria. "I take every morning and have noticed a significant difference in my energy levels throughout the day—no more everyday 3 p.m. afternoon slump," says user Alison S. And according to recent (preliminary) research, it can also help enhance memory and manage cognitive decline.*
Additionally, the ingredient may help fitness goals—thanks, again, to prompting cellular energy and rejuvenation.* "This gives me stamina. I'm a runner, and running while using nr+ I hope will give me exactly what I need to excel with all the benefits inside and out," says user Nat R. In fact, one animal study found that supplementing with NAD+ precursors can help manage muscle repair.*
Then there are phytoceramides, plant-derived lipids shown in studies to enhance moisture levels in the skin and smooth fine lines.* "What a difference this has made to my skin! I'm 53 and hated how dry my skin has become. Well, since using this product for only a month so far, my skin's texture has changed to become so much softer and plumper," says user Michele V. "I see fine lines disappearing, and my neck is looking so much better. Needless to say, I recommended this to my sister, and now she is hooked too." And according to clinical trials, we know this to be true: In one study, participants with clinically dry skin who took a phytoceramide-rich supplement for three months saw up to a 35% improvement in skin hydration.*
But as for that refreshing glow? That may be traced back to astaxanthin, a potent antioxidant that has been shown to have great skin care benefits. "My skin looks and feels wonderful! Wearing no makeup is not a problem because my skin looks great," says user Rebecca E. In fact, studies show astaxanthin delays UV-exposure-induced damage, which means less painful bright red skin now and fewer wrinkles later.* Additionally, in a 16-week clinical trial, participants saw improvements in skin elasticity, while those who did not supplement saw worsening wrinkles.*
Looking and feeling your best doesn't have to be a struggle. Obviously, do your best to tend to lifestyle habits that are zapping you of energy—but you can turn to supplements to optimize energy as well.*