You'll Want To Steal This Chef's Secret To Always Having A Healthy Dinner On Hand (It's Not Batch Cooking!)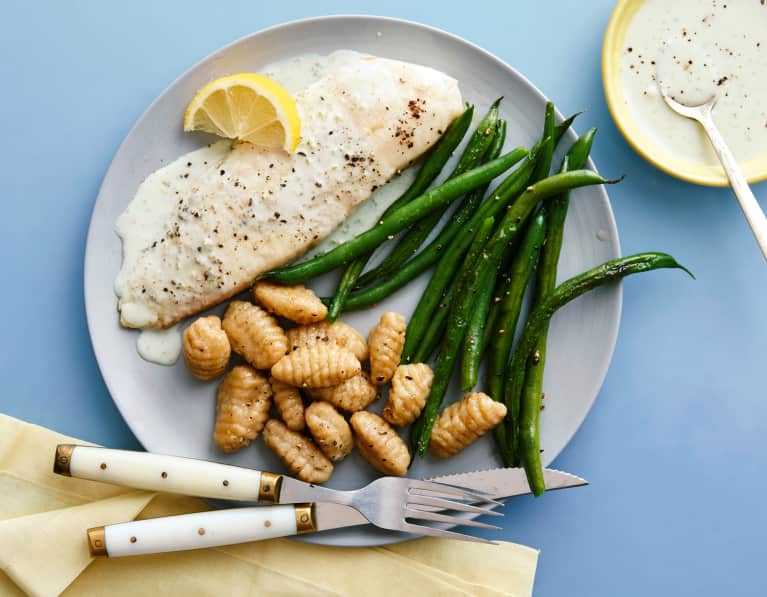 Our editors have independently chosen the products listed on this page. If you purchase something mentioned in this article, we may
earn a small commission
.
Chef Elisabeth Bailey thinks the secret is in the sauce—literally. The Nova Scotia–based chef and author of the just-released The Make-Ahead Sauce Solution thinks stockpiling sauces is the best way to always have a healthy, easy homemade meal—even when you have no time or energy.
"On the weekend, when I have time to cook and the energy to feel like cooking, I make a big batch of a sauce, (which I call) flavor bombs," she says. "On a weekday night, I add them to a basic staple—which I've cooked quickly and easily—and voilà! I've made a delicious, homemade meal with the same amount of energy and forethought I'd given frozen pizza." Because of the super-concentrated flavor in the sauce, the rest of the meal can be super basic—think plain quinoa or roasted vegetables and legumes.
Sauces also store really easily in zip-top or eco-friendly Stasher bags, making it easy to stock a bunch of different flavor profiles in your freezer. "Once you've built up a library of sauces, you can easily mix and match with different staples to have a variety of meals at a moment's notice," says Bailey. Here, she shares one of her favorite (vegan!) sauces, a Coconut Lemon variety, and 10 ways she likes to use it.
"I usually serve this unique, no-cook sauce on fish, but it is great on just about anything," says Bailey. "If you don't like a lot of heat, try two chiles or just one. It's best with fresh lemon juice, but bottled will do in a pinch."
Makes about 6 cups
Ingredients
6 garlic cloves, minced or pressed
3 chiles, seeded and minced
3 tablespoons peanut oil
1 teaspoon salt
2 cups packed chopped fresh basil
3 (12-ounce) cans coconut milk
¾ cup lemon juice
Combine the garlic, chiles, oil, and salt in a blender and pulse three or four times. Add the basil and coconut milk, and blend until smooth. Add the lemon juice and blend again.
Cool in the refrigerator, then transfer to freezer bags, removing as much air as possible before sealing. Freeze. The sauce will keep in the freezer for up to 6 months.
To serve, follow the directions below to heat your sauce, then enjoy it on any one of the bases recommended below.
How to defrost and reheat your sauce.
It's best to allow sauces to defrost in the fridge, but you can also go from freezer to stove. If you think of it, place the sauce in the fridge either the evening before or the morning of the day you'll be using it. When you're ready to make dinner, simply pour the sauce from the bag into a saucepan and warm over medium heat until it is hot throughout. If the sauce is still frozen, transfer it from the bag to a saucepan and warm over low heat, stirring gently but often, until the sauce is thawed. Then increase the heat to medium and finish heating.
WHAT IF...
The power goes out.
Don't panic. Leave your freezer door closed. The food should stay safe for 24 hours, especially if the freezer is full! If your power is out for more than a full day, however, I'm afraid you'll lose the contents.
I didn't finish the sauce. Can I refreeze it?
Yes, but make sure you heat the unused portion to a simmer, and then refreeze it to make sure you kill off any bacteria it may have picked up along the way.
It looks funny when I reheat it.
Depending on the quality of your freezer and how often the door is opened, some sauces may change texture slightly after being frozen and reheated. Those that contain dairy products can be especially tricky. Expect that sauces containing yogurt or sour cream will change texture slightly—this does not mean they've gone bad! When in doubt, test it. As you are reheating your sauce, give it a few big whiffs. Does it smell OK? If so, wait until the sauce is at a simmer, and then sample it. Does it taste good? Great—you're fine. If it doesn't smell or taste right, dump it.
10 meals you can make with your Coconut Lemon Sauce:
Using 1½ cups sauce per pound of pasta, toss sauce with cooked cavatappi. Serve with sautéed spinach.
Using ⅔ cup sauce per potato, spoon sauce over baked sweet or white potato. Serve with baked zucchini.
Using ½ cup sauce per cup of cooked rice, toss the sauce with cooked rice. Garnish with basil flowers and serve with baked winter squash.
Using 1 cup sauce per 14-ounce package of tofu, toss pan-fried tofu cubes with sauce. Serve with white rice and sautéed Asian greens.
Using 1 cup sauce per pound of chicken, toss sauce with sliced chicken. Serve with biscuits and steamed lima beans.
Using 1 cup sauce per pound of shrimp/scallops, toss sauce with pan-fried scallops. Serve with white rice and green salad.
Using 1 cup sauce per pound of fish, spoon sauce over pan-fried fillets. Serve with gnocchi and sautéed green beans.
Using 1 cup sauce per pound of pork, spoon sauce over sliced pork. Serve with sliced baguette and sautéed kale.
Using 1 cup sauce per pound of pastured beef, spoon sauce over sliced, cooked beef. Serve with mashed potatoes and roasted bell peppers.
Using ¼ cup sauce per sandwich, spread sauce evenly over horizontally sliced sourdough baguette. Top with sliced pastured chicken and roasted bell peppers