Transformative Travel: How A Trip To Hawaii Changed One Family's Entire Food Philosophy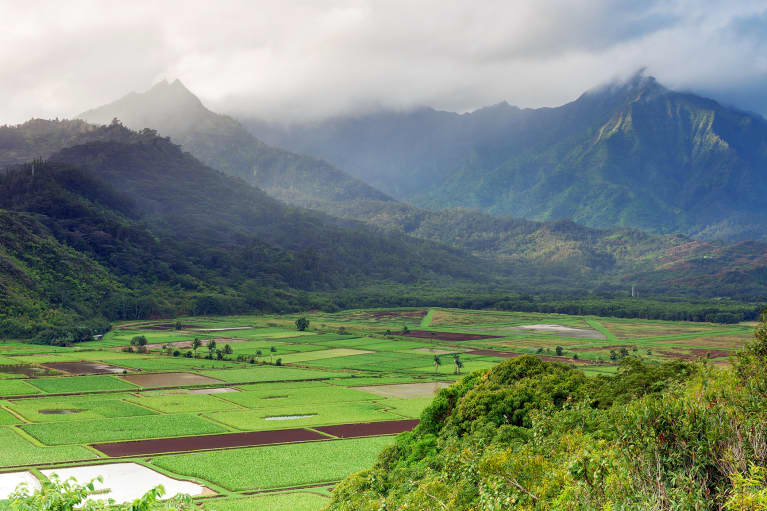 This summer, mbg is celebrating travel that really goes the distance. Our new Transformative Travel series will spotlight how to forge meaningful connections on the road and carry life-changing insights back home as souvenirs. Today, we're hearing from author and yogi Laura Roe Stevens on how a trip to Hawaii changed the way she and her young boys view food, sustainability, and community.
After living abroad for years and traveling extensively, I've come to appreciate the lessons learned when immersing in local cultures. That's why when I holiday with my own sons, I try to find ways to get off the beaten tourist path and get to know locals or volunteer for organizations in the area that are doing good. It takes a little effort and planning ahead of time, as well as a little in-the-moment networking with an open heart and open mind, but it is well worth it.
In an age when we hear nonstop frightening news, it's refreshing to find similarities to others around the world—rather than divisions and differences. When we connect and listen and keep an open mind about others' ways of life, we can foster understanding, empathy, friendship, and compassion.
As a parent, it's one of the most important gifts I can give my children: the ability to be open-minded, openhearted, compassionate, and accepting of others.
Farming for a healthier future.
Two months ago, I stumbled upon the website MA'O Organic—a gem of a sustainable farm and nonprofit that helps impoverished youth in Hawaii through mentoring, internships, and college scholarships. At the time, I was researching Hawaiian farms for a novel I'm working on about the region, and the thought of getting some writing inspiration while exploring the area with my own children was too good to pass up. I requested a visit, and the founders, surprisingly, said yes!
First, let me tell you, the impact driving the hour from Waikiki to Wai'anae had on the boys. We left tourist-ridden beaches and luxury boutiques and drove west until we arrived in a region reminiscent of poor farming areas on the mainland. While surrounded by lush natural beauty, the poverty was striking, with trash on the ground and abandoned cars on dirt roads leading up to the farm.
MA'O embraces the same philosophy and is one of the warmest and most openhearted "schools" I have had the pleasure of visiting. Walking up to the meetinghouse, I could see mango and banana trees farther ahead while my eyes kept catching painted rocks along the gravel path with sayings such as "You are special" and "Listen to your heart."
One of the farm's youth leaders, Lynn Batten, sat down with my two sons and one of their friends, beginning a chat similar to what she conducts three times a week with Wai'anae youth via the Farm 2 Fork (F2F) program. Questions ranged from what we want from life, what topics we like in school, to what makes us happy. Not typical questions to encounter during an organic farm visit, yet they are precisely in line with the mission to empower youth.
It's been over a month since we visited this farm, and the lessons have been profound for the boys.
MA'O is an acronym for mala ("garden"), 'ai ("food"), and 'opio ("youth"), affirming the belief that "when we reconnect and restore the relationship between the land and the people, we are able to return abundance and prosperity to youth, to their families, and to the community."
As we were tilling mulch for a new bed together (yes, my LA boys were put to work!), the boys complained, teased one another, snapped pictures for social media posts, and thoroughly enjoyed working for their lunch. From there, a lengthy tour of the farm allowed us to see some hurdles sustainable farming has: including the challenges with avoiding pesticides and the need to sometimes burn off fields to rid the area of pests.
We could see beds of greens that had been munched thoroughly by bugs and other beds that were left to rot between growth cycles. The most important part of our lesson intertwined the history and culture of Hawaii today. Once an abundant region, Wai'anae has suffered from socio-economic and political setbacks. Lynn pointed to the mountains in the distance and explained how the military, after taking hold of much of the Western land, diverted water supply that used to flow down the mountain, into the valley, and then into the ocean, creating a constant sustainable flow. Now that it's dry, farming on the western side of the island requires more planning and effort.
But one that is paying off! Beginning with 2 acres, now reaching 22, MA'O continues expansion via grants and partnerships. The farm currently supplies produce to more than 21 restaurants, a handful of farmers markets, and Whole Foods in Honolulu—helping the state become less dependent on more expensive imported fruits and vegetables.
Only 18 years old, MA'O's model is one that is catching the attention of celebrities and politicians alike, including visits and support by Michele Obama and Jack Johnson. Why? Because it matters. Because MA'O is not just another organic farm. It is one with organized programs to empower and to educate our youth—helping to create a better future for our planet and for our grandchildren.
I couldn't help think, as we were leaving, that this model is such a wonderful example to be replicated in other impoverished regions throughout America. States and counties also plagued by high incidences of high school dropout rates, teen substance abuse, teen pregnancy, and preventable health diseases such as diabetes and heart conditions could benefit significantly from a similar program.
The lessons I'm bringing home.
According to the USDA, there are more than 19,000 certified organic farms in America today, nearly all in Western states. While some offer internships and a few scholarship opportunities, I couldn't find any online (in my cursory search) with dedicated nonprofit status and established educational programs working weekly with pre-K through college students.
Donations, grants, and a partnership with Kauhale Enterprise allows MA'O to offer college scholarships, training (in a variety of subjects), and internship opportunities for those enrolled in its expanding Youth Leadership Training.
Once there, it was apparent to see the ripple effect, the positive impact the farm has on its community and the island as a whole.
It's been over a month since we visited this farm, and the lessons have been profound for the boys. In fact, they are excited to help mom with her own little vegetable garden this summer! Our weekly trips to the farmers market have become rituals now, and the boys actually request salads in their lunches. It's so important to allow children the chance to grow their own veggies and then help prepare dinner, as well as clean up. The time spent together is valuable, and they begin to respect what is being put into their bodies, as they begin to take better care of their bodies.
Even after hiking and seeing the sites in Honolulu, my boys said visiting the farm was the highlight of our Hawaii trip. Maybe it was because we slowed down and spent quality time together in nature? Maybe it was the cooking? Or perhaps it was the conversations, chatting about life goals—learning about struggles others have and finding ways to help. Whatever "it" was, we left with a new sense of community, a feeling of belonging, and a willingness to try to make a difference.
This Hawaii-inspired recipe is now a staple in our home.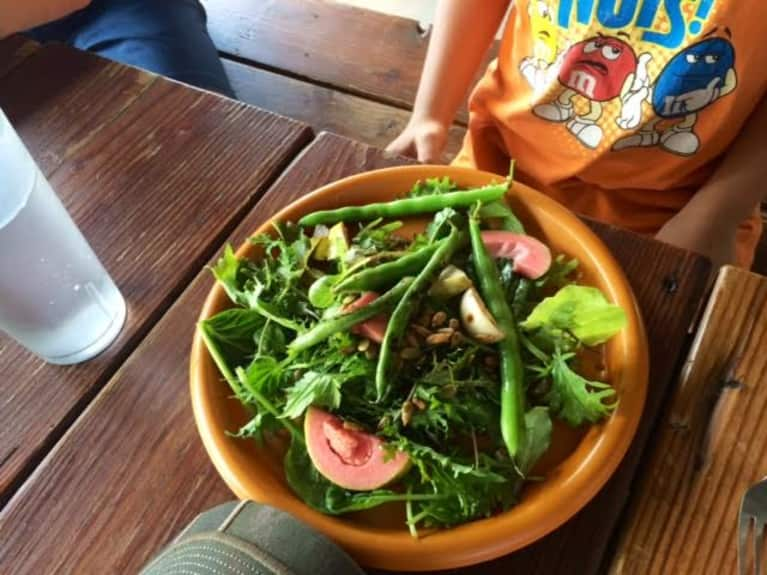 We made this spicy greens and grilled Japanese turnips dish together at MA'O. All ingredients came straight from their farm! It's a super delicious salad that is fun and easy for children to help prepare!
Spicy Greens and Grilled Japanese Turnips
12 ounces greens of your choosing
10 to 12 Japanese turnips, also known as Hakurei, cleaned, sliced
½ pound fresh green beans
4 tablespoons soy sauce or coconut aminos
3 tablespoons sesame oil
3 tablespoons balsamic vinegar
3 tablespoons citrus juice
6 to 10 guavas, quartered
Clean and mix a variety of greens: Lolla rosa, red oak, arugula, mizuna, tatsoi, red Russian kale, ruby streaks, and mustard greens are the farm favorites.
Grill green beans and turnips with garlic and oil of your choice (coconut works well). Add a splash of soy sauce or coconut aminos for seasoning.
Combine equal amounts of aminos, sesame oil, balsamic, and some citrus, such as orange or lime, into a dressing. Mix well; alter to taste.
Mix greens; top with green beans, turnips, and guava. Enjoy!
Check out this fresh perspective on why organic agriculture is so important, and read up on Hawaii's other sustainable initiatives here.