Here's How Long Your HIIT Intervals Should Be, According To Science
mbg Contributor
By Caroline Muggia
mbg Contributor
Caroline Muggia is a writer, environmental advocate, and registered yoga teacher (E-RYT) with a B.A. in Environmental Studies & Psychology from Middlebury College.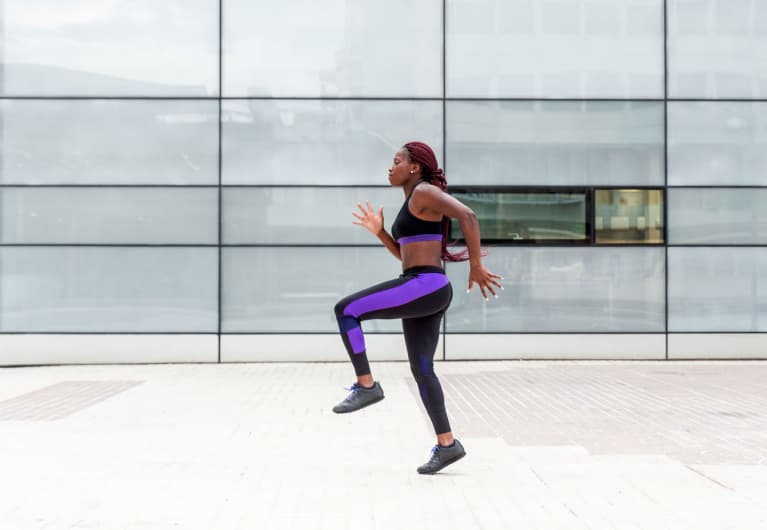 October 30, 2018 — 9:02 AM
High-intensity-interval-training (HIIT) workouts are famous for their time-saving benefits such as continuing to burn calories two hours after you're done with your exercise, not to mention serious results, fast. If you live for the adrenaline-inducing bursts of high-intensity movement and sweat during active recoveries, you know that timing is important. Actually, it's really important, according to new research from the University of Copenhagen that suggests there is an optimal time to push during intervals.
Twelve male cyclists were put through three different bike workouts on different days. Samples of their blood and muscles were taken before and after each workout. The first was a moderate consistent pace for 50 minutes, the second, five-second interval bursts with 30-second rest (repeated 18 times), and the third, 20-second bursts with two minutes recovery (repeated six times).
The study found that the workout with the 20-second intervals was more physiologically beneficial than the five-second interval. It released more adrenaline, which led to higher levels of protein in the body. It also released a metabolism-boosting protein called PGC-1alpha, and this created more mitochondria. Mitochondria fuel our cells with energy and therefore more of them means better health and fitness for us.
It's easy to create your own HIIT workout with 20-second intervals. First, pick a few exercises you'll do during your bursts. "Anything that gets your heart rate up is ideal, try burpees, squat jumps, step-ups, or mountain-climbers and think of them as your sprint", says Krista Stryker, founder of the 12-Minute Athlete. After your bursts, pick an active recovery like speed walking for twice the amount of time (40 seconds) or if you want to really keep things active — try holding a plank, says Stryker. There are tons of HIIT workouts online, all you need to do is tailor your interval and recovery times and you're on the way to bigger benefits.
Whether you're a longtime HIIT lover or new to the craze, knowing how long you should really push will make your workouts really worth the time.