How Learning A Second Language Can Improve Your Brain Health
mbg Editorial Assistant
By Abby Moore
mbg Editorial Assistant
Abby Moore is an Editorial Assistant at mindbodygreen. She earned a B.A. in Journalism from The University of Texas at Austin and has previously written for Tribeza magazine.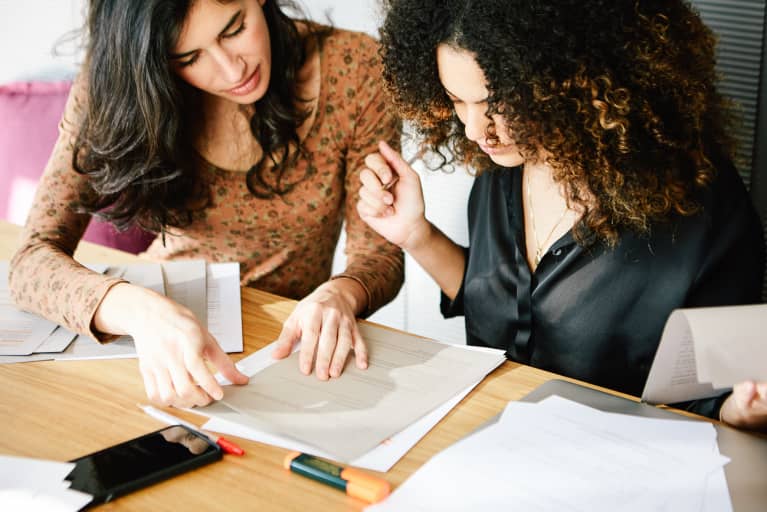 January 6, 2020 — 19:03 PM
New Year's resolutions don't have to be all about weight loss and exercise. They can also encourage you to learn something new, like a foreign language. Not only will the lessons serve as a new hobby, but a recent study found that learning a second language can also improve brain health.
The study published in PLOS One was primarily focused on adults with multiple sclerosis but found positive results in healthy participants as well. Learning a second language increased gray matter volume (GMV) in multiple areas of the brain, affecting short-term memory, learning, and environmental recognition in people with MS, as well as cognitive functioning, self-awareness, motor and emotion control in people without.
Researchers from the Medical University of Innsbruck in Austria studied 11 adults with relapsing-remitting multiple sclerosis (RRMS) with an average disability level of 1.5, according to the Expanded Disability Status Scale. These results were compared to 12 healthy individuals of the same age and sex.
The participants took an eight-week English learning course, in which they attended classes for three hours each week.
People with MS, who had reduced GMV before the course, "were as successful in learning a [second language] in terms of listening comprehension, speaking fluency and vocabulary scores as their healthy counterparts," according to the study.
Magnetic resonance imaging (MRI) scans were taken of all participants before and after the course, while only MS patients took a health-related quality-of-life survey. The MRI showed that patients with MS had increased GMV in three areas of the brain: the hippocampus, affecting short-term memory; the putamen, affecting learning; and the parahippocampus, affecting environment recognition.
Despite having normal GMV to begin with, the healthy people still benefited from learning a new language. The MRI scans from those 12 participants revealed increased gray matter in the insula, which influences cognitive functioning, self-awareness, and control over motor skills and emotion.
Multiple sclerosis affects 2.3 million Americans, primarily between the ages of 20 and 50 years old. The autoimmune disorder is the most common chronic neurological disease in young adults, according to this study.
These results, which can be achieved through attainable and drug-free means are promising for a majority of people diagnosed with MS, and the benefits for those without MS are just as positive.
The mental health scores reported in the quality-of-life survey also improved after taking the language course. The study suggests that "the positive experience of being capable to enhance [second language] proficiency might have increased self-efficacy and participation possibilities…" in patients with MS.
What's next for the research?
While the sample size was small, these results are promising for the many who suffer from gray matter decline as a result of MS. These findings can encourage further research to support language learning as a tool for neurological conditions.
For more ways to help alleviate symptoms of MS, try these six tips from an M.D.