mbg Sustainability Editor
By Emma Loewe
mbg Sustainability Editor
Emma is the Sustainability Editor at mindbodygreen and the author of "The Spirit Almanac: A Modern Guide To Ancient Self Care."
Our editors have independently chosen the products listed on this page. If you purchase something mentioned in this article, we may
earn a small commission
.
To say Kate Fagan and Kathryn Budig are a power couple would be an understatement. Kate, an ESPN sports reporter, is fresh off a New York Times best-seller, What Made Maddy Run, a haunting portrayal of mental illness on college campuses. And Kathryn continues to make waves in the yoga world with her strong, approachable, authentic style. Together, they host Free Cookies, a compelling podcast that touches on athletics, relationships, lifestyle, and pretty much everything in between.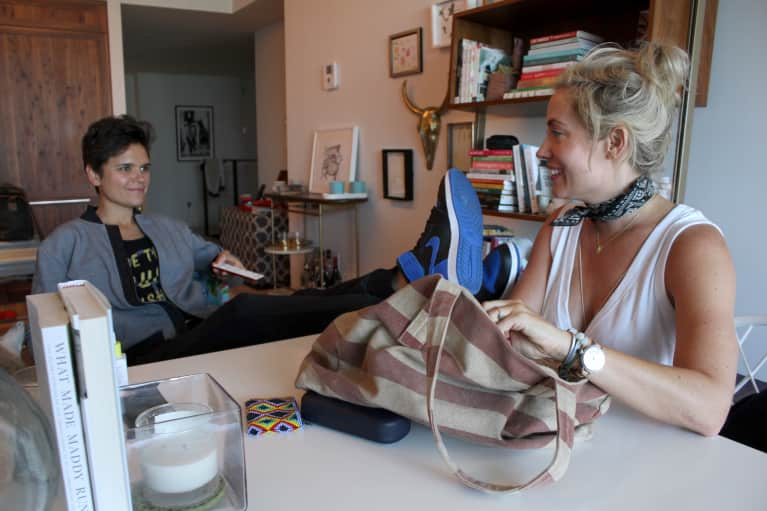 We can't wait to hang out with the duo at revitalize 2017—a three-day conference where the greatest minds in wellness will gather to hash out the future of health. This year, Kathryn will be leading a sweaty restorative yoga flow overlooking the Arizona desert, and Kate will take to the main stage to speak about how the way we approach mental health needs to change, especially in regards to young people.
In true jet-setting fashion, they're heading over to Tucson straight from a wedding in Napa and work trip for ESPN, so they're looking forward to some rejuvenating time in the desert. We caught up with them in their Dumbo pad right before the big event to get their packing list and travel hacks—and play with their adorable dogs. Here are the highlights: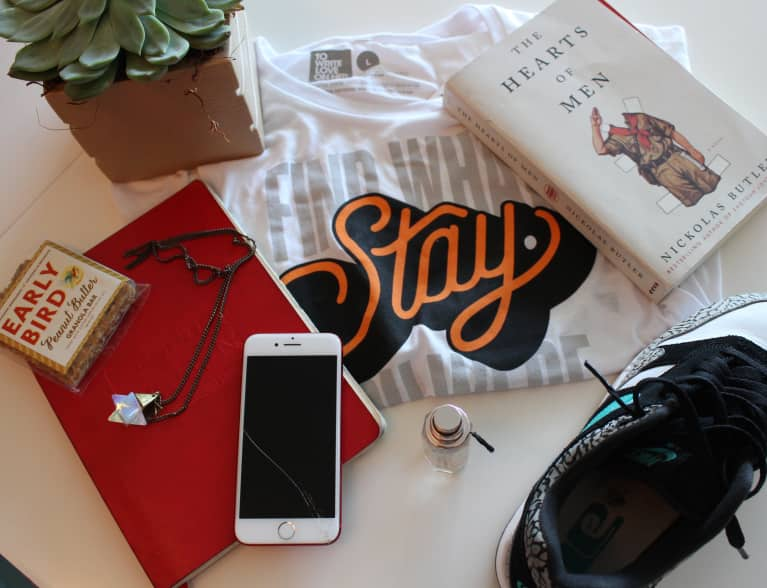 Sneakers are always high on Kate's packing list, so it's a good thing she owns upward of 25 pairs. (Her favorite Air Jordan 1 Chicagos might just be making an appearance on the revitalize stage.) Another wardrobe essential is apparel from To Write Love On Her Arms—a community for people with depression and suicidal thoughts. The nonprofit's message has always been close to Kate's heart, even more so since her latest book, and she'll be rocking its latest line of merch for this year's World Suicide Prevention Day in the desert.
As far as plane snacks go, she and Kathryn are both fans of easy-to-transport bars, and they love the clean ingredients in the PB granola flavor from Brooklyn purveyor Early Bird. Kate brings her journal and a book on every flight; currently it's The Hearts of Men, which she's digging. She is also an avid podcast consumer, which explains the phone. She and Kathryn easily rattled off their favorite pods, including Sam Harris' Waking Up, Pod Save America, Yogaland, 30 for 30, Dear Sugar, and, of course, Free Cookies!
Come takeoff, Kate will be clutching tight to her high-vibe stone necklace, and Kathryn is bringing her matching one too. Cue the "awww."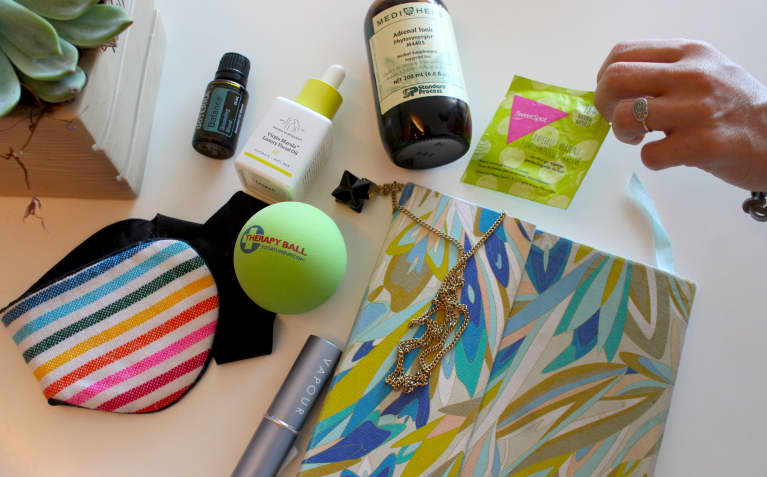 For Kathryn, it's all about tonics and easy-to-transport beauty products. Drunk Elephant's Virgin Marula face oil is her skin savior on long, drying flights, and she never travels without doTERRA essential oils. Their grounding blend promotes relaxation and is great for calming any pre-event jitters. She'll also throw in MediHerb's adrenal tonic for immune support, Sweet Spot wipes for a quick refresh, plenty of collagen, and a little bit of makeup for some natural color in the air. Currently, it's the Artemis shade she created with Vapour. Since she's constantly on the road, Kathryn tries to travel light with just a carry-on, making plenty of small containers a must for storing all her goodies.
Other revitalize travel essentials include fascia release balls for letting go of excess tension in the body after a flow or hike, reusable utensils and a water bottle for on-the-go eats, and a journal for some free-writing or planning. As far as natural sunscreen goes, she's still on the hunt for the perfect formula, but she thinks Supergoop comes pretty close.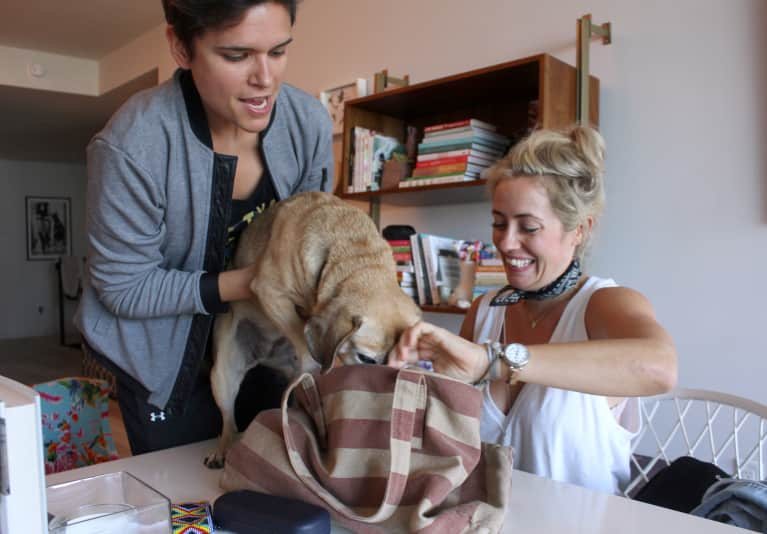 Though their packing lists may seem complete, they'll be keeping two crucial things behind: their husky, Keonah, and puggle, Ashi. Hey, at least they're leaving them well-fed with crockpot meals complete with organic meat, fresh veggies, and turmeric. If that doesn't scream wellness all-stars, I don't know what does.
For the full scoop on revitalize 2017—our annual event that brings together pioneers in the health space for a weekend of talks, healthy eats, and restorative workouts—check out this primer on all the fun. And be sure to tune in on Saturday, September 10, to join Kathryn, Kate, and hundreds of other wellness leaders on the livestream!