How I'm Instilling An Environmental Awareness In My Kids
Founder of Common Good
By Sacha Dunn
Founder of Common Good
Sacha Dunn is the founder and CEO of Common Good, a Brooklyn-based company that makes sustainable soaps and cleaners with plant-based ingredients.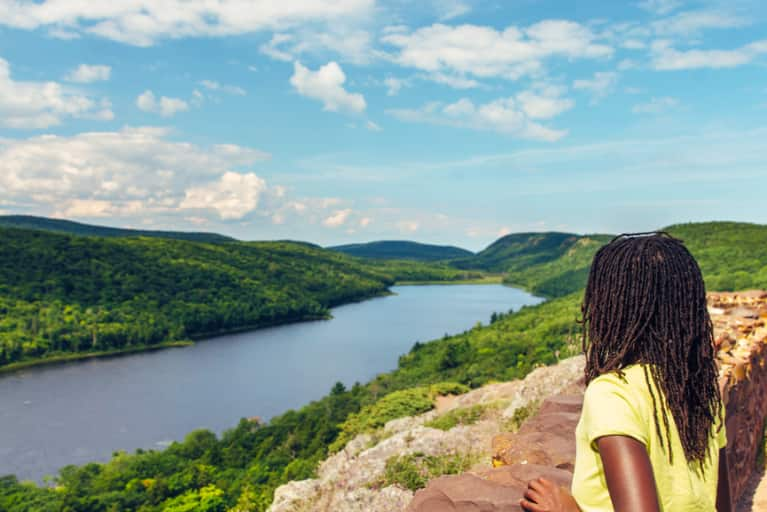 On August 21, the United States will witness a once-in-a-lifetime solar eclipse: a celestial event that will surely remind us that we live on a tiny blue-green planet in a much bigger universe. My kids and I will be hours from the "zone of totality," but we have our eclipse glasses and are ready to hike up a mountain to watch­ it unfold. NASA astronomers say that we'll drop to our knees at the spectacle, and that's got my kids pretty excited.
I'm excited for another reason: We're talking about the natural world in a positive way for a change. Most of our conversations about the environment involve climate change, disappearing animal habitats, and ocean plastic: all familiar topics to my kids given that our family business, Common Good, is trying to be a positive force for change in the amount of plastic packaging we use. We talk about this stuff a lot.
But at the same time, my husband and I are trying to teach our kids to care about the environment without scaring the s**t out of them. Here are a few ways we hope to turn them into little environmentalists:
The arts and crafts these kids bring home from school could fill a room! Not to mention their old toys, bits of broken kites, or roller skates that no longer fit. All this stuff has to go somewhere. When they were little, I'd recycle the stuff we didn't have room for (Oh, another papier-mâché Easter basket? Gee, thanks!). Now that they're older, they decide what to keep and what to recycle or give away. It's become much easier to donate gently used things to those who need them with services like this one.
We talk about how recycling is imperfect and the goal is to reduce and reuse first (plastic recycling rates are only around 30 percent in the United States). However, there's still plenty of recyclable stuff in our house. The kids are expected to separate it from the garbage, and my son Max is responsible for taking it out to the bin.
In an effort to take it a step further, my husband and daughter collected two big bags of trash on a recent trip to the beach. Yes, some stuff is too gross to collect: dead birds wrapped in plastic, toothbrushes, and tampon applicators. Mostly they picked up plastic bottles, curling ribbon, fishing line, and synthetic rope. They felt proud, and the beach was cleaner. Everyone wins.
2. Say no (thank you) to the straw.
Did you know that Americans use 500 million plastic straws daily? And 1 million plastic water bottles are bought, around the world, every minute? These are scandalous numbers that prompted us to try to avoid both this year. We're teaching our little ones how to say, "No straw, thanks!" when ordering that Shirley Temple. Who knows, maybe they can start a trend in which kids wouldn't be caught dead with a straw or plastic water bottle. They do love a chance to be sanctimonious.
3. Put your money where your mouth is.
Ron Leiber, finance columnist for the NYT suggests that kids should be splitting their pocket money into three jars (one for spending, one for saving, and one for giving away). I like this because they learn more about the causes they care about and then get involved by donating. When NoDapl was in the news every day, Max wanted to know all about it and chose to send money for tents to keep the protesters warm. Giving their own money helps them feel empowered in the same way as marching for climate change action but with a much further reach.
It's all scary and overwhelming. Kids have to learn to be responsible for their world without feeling bad about every little thing. Yes, we fly to visit grandparents in Australia, and that comes with a hefty carbon price tag, but it's important to see family. Let's just acknowledge that it costs more than the price of the ticket and do other things to help instead. When they see an image of a polar bear struggling to find ice, we remind them that wolves have made an amazing comeback in Yellowstone, which is renewing that whole ecosystem, plants and everything.
There are solutions to the problems we face, but it's going to take commitment and hard work (two things kids just love). Still, I am hopeful. At 5 years of age, our youngest chose to become vegetarian because she loves animals too much to eat them. None of us are vegetarian. Four years later she still will not eat meat, even though she loves hot dogs and chicken. So really, this kid already has the lowest environmental impact and can teach us a thing or two about living responsibly.