Dry, Itchy Skin Around The Nose Gets Worse In Drier Weather: This Supplement Can Keep Things Clear
mbg Associate Editor
By Jamie Schneider
mbg Associate Editor
Jamie Schneider is the Associate Editor at mindbodygreen, covering beauty and health. She has a B.A. in Organizational Studies and English from the University of Michigan, and her work has appeared in Coveteur, The Chill Times, and Wyld Skincare.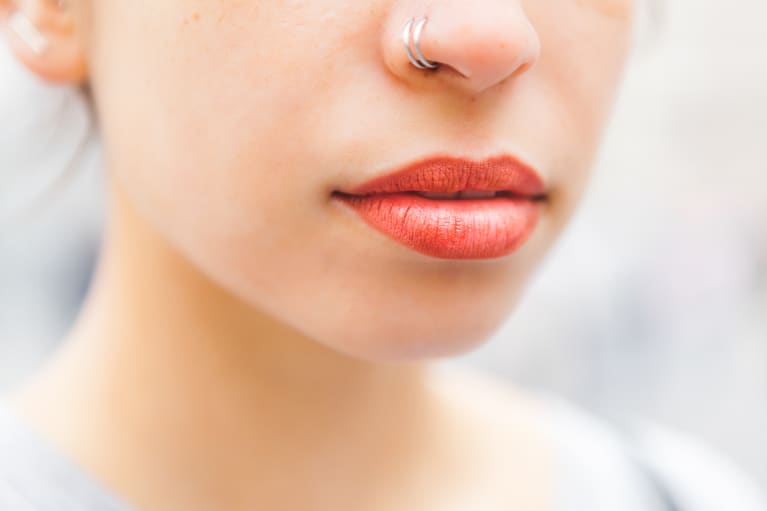 This article was produced to support the mindbodygreen supplements+ line. Our supplements adhere to the highest standards of ingredients and quality. We hope you enjoy these products, for more information
click here
.
The skin around your nose is a touchy area to treat. The pores along those crevices can easily build up with oil and grime, and they also tend to dry up—resulting in irritated, flaky skin protruding from the nostrils like painful little whiskers. Both are frustrating skin care woes in their own right, but the latter is most prominent when the weather turns cool and crisp—which is, oh, right about now.
Let's save your dry snout this fall: Here's exactly what you're dealing with and how a supplement can help.*
Why dry skin around the nose gets worse in drier weather. 
"Environmental conditions like cold or dry air, cold wind, windburn, sunburn, or chronic sun exposure can all irritate the sensitive skin around the nose and cause dryness," board-certified dermatologist Raechele Cochran Gathers, M.D., once told us about dry skin around the nose. While it can totally occur from sun damage (peeling sunburns on the nose is just the worst), the condition tends to afflict those in colder, arid environments, Cochran Gathers notes. That's because the nose is particularly vulnerable to the elements (i.e., dry, cold air), as it sticks out from the face—less so when you're wearing a face covering, but that mask-induced friction can cause some sensitivity as well.
Which brings us to our next point: As the temperature dips, seasonal allergies commence, and the sniffles come on full force (no matter how many immune-supporting teas you sip on), you likely have an endless supply of tissues at your disposal. "If you're constantly rubbing and blowing your nose with tissues, you'll be more prone to dryness and peeling," says Cochran Gathers. Turns out, a nose rubbed raw is one that easily flakes.
How a smart supplement can help.*
When people spot dry skin, oftentimes the immediate urge is to slough off all flakes in the hopes of bright, smooth skin underneath. While exfoliation can certainly help at times, dry skin around the nose might need a different plan of action, especially if you're dealing with environmental triggers: "When dryness appears, many people try to exfoliate, or peel off the dry skin, which usually makes it worse," board-certified dermatologist Ife J. Rodney, M.D., FAAD, founding director of Eternal Dermatology + Aesthetics, says about the condition.
Rather, you might want to focus on hydrating ingredients that simultaneously protect the skin's moisture barrier, like ceramides. You can, of course, slather on a buttery cream in the crevices of your nose, or you can support your skin's internal hydration levels from the get-go.* As Rodney reminds us, "For dry skin around the nose, prevention is easier than cure."
The crevices around your nose may be tiny, but irritated, itchy skin in the area is a huge drag. To help manage the issue, you'll want to focus on moisturizing the delicate skin—both with topical creams and a smart hydrating supplement.*