Study Finds Slightly Stressed-Out Plants May Be More Nutritious
mbg Editorial Assistant
By Eliza Sullivan
mbg Editorial Assistant
Eliza Sullivan is an Editorial Assistant at mindbodygreen. She has bachelor's degrees in journalism and english literature from Boston University.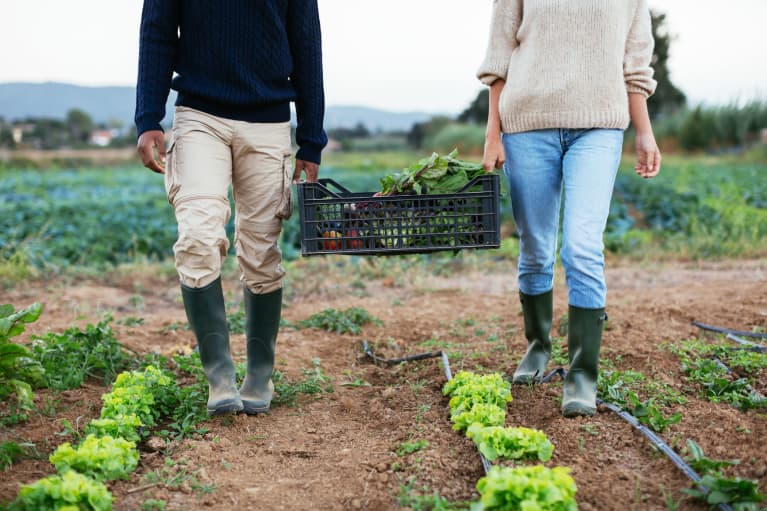 January 10, 2020 — 15:05 PM
For years the produce industry has done everything it can to limit how many bugs can get into our crops, but recent years have seen steady growth in the organic foods industry. And a recent study may have another reason to hop on the trend: Researchers found that a bit of "tough love" may actually help our crops and provide more nutrients to consumers.
Insect-induced injury to crops may not be a bad thing.
Researchers at Texas A&M AgriLife Research found that "wounding" the leaves of plants in the same way insects do resulted in fruit with higher antioxidant levels. While previous research has suggested such a connection, this study was able to find exact proof of these healthier results.
"There was the existing idea proposed by others that insects present in the field in organic farming could cause a stress response in the plant and increase antioxidant compounds," said Luis Cisneros-Zevallos, Ph.D., a horticulture and food scientist at AgriLife. "However, this hypothesis or concept was never tested until now, where we mimicked the damage caused by insects."
For the study, the researchers used strawberry plants, which they "wounded" the leaves of, at different severities, to see how the plants would respond. Plants have a second set of metabolic processes that they can launch as a defense, and in the crops studied, this process started a chain of events that resulted in a higher concentration of antioxidant compounds in the berries.
How does organic farming come into it?
While previously the emphasis may have been on perfect, untarnished plants, this research suggests that allowing for a bit of damage is actually in our favor by resulting in a more antioxidant-rich final product.
"Understanding how these antioxidants are produced by a simple stress like wounding can certainly transform the way the fresh produce industry operates," said Cisneros-Zevallos. "It may allow the industry to adopt novel tools based on pre-harvest stress to favor the accumulation of healthier antioxidants in fresh produce."
According to the report's introduction, the organic foods industry has grown around 15% more than the conventional food market in recent years, and those products have previously been found to have higher levels of polyphenols like flavonoids and phenolic acids. This study shows that those boosted nutrients are a result of stressors to the plants during growth, which occur more frequently in organic farming.
We already consider fruits and vegetables great sources of antioxidants, and the more colorful your antioxidant sources, the better. But finding out that previously titled "imperfect" fruits and vegetables may actually be packing an extra antioxidant punch? That's definitely exciting.