This Is How Getting Outside Heals Your Gut
mindbodygreen Editorial Assistant
By Sarah Regan
mindbodygreen Editorial Assistant
Sarah Regan is a writer, registered yoga instructor, and Editorial Assistant at mindbodygreen. She received her bachelor's in broadcasting and mass communication from SUNY Oswego, and lives in Brooklyn, New York.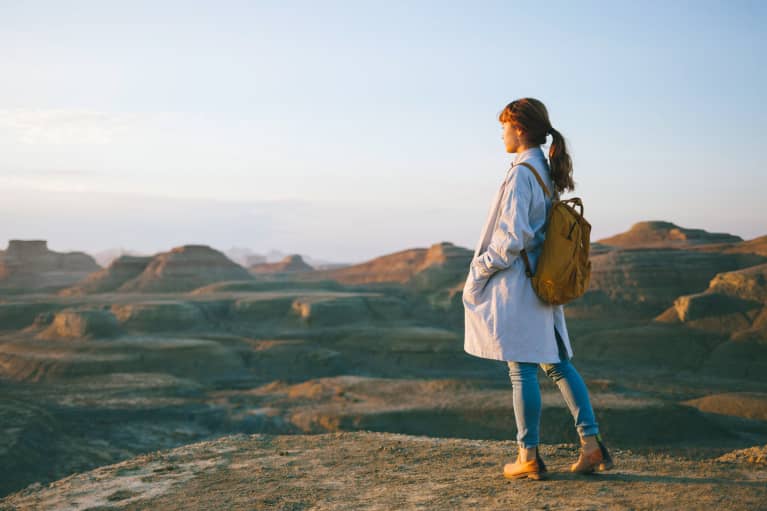 December 25, 2019 — 13:25 PM
From the food we eat to the stress in our lives, we know what happens in our gastrointestinal tract undoubtedly affects our mental health. And as we learn more about the importance of gut health as it relates to mood, a study by the University of Adelaide has revealed none other than Mother Nature as a friend to the mammalian microbiome.
The study was conducted on 54 mice in total, with 18 mice per group. The scientists wanted to look at how exposure to dust from soils with varying levels of biodiversity affected the guts of the mice.
And what they found suggests yet another reason to get some (real) fresh air.
Butyrate, a chemical known to be anti-inflammatory and improve the intestinal barrier, is produced in some soil by bacteria called K. alysoides. This kind of soil was used for one group of mice and compared against soil with little or no biodiversity.
The group of mice that were exposed to air containing the rich soil's particles experienced changes in their guts, which correlated with reduced anxiety. The mice who did not breathe the biodiverse air did not experience those same benefits.
The findings are a "significant step forward in showing that airborne exposure to natural biodiversity can influence the gut microbiome, and therefore, our health," says lead author of the study Craig Liddicoat, Ph.D.
We know living near green space can help prevent premature death, and just 20 minutes outside can reduce stress. It's also been shown to combat depression, lower inflammation, and reduce cortisol levels. These findings help explain why that is and hold promise in the public health sphere.
Liddicoat notes the study "may help explain many of the beneficial green space–human health associations that, until now, have lacked mechanistic understanding" and further, "with biodiverse urban green space that promotes the right kind of microbial exposures, we have potential for public health gains, while supporting our biodiversity at the same time."
The key here, though, is the level of biodiversity in the soil. Because while, yes, the biodiverse soil did reap gut and mental health benefits, the reverse did not. And as the study was sure to mention, "greater urbanization is associated with increased risk of mental health disorders."
"This work strengthens the argument for conserving and restoring biodiverse green space in our cities," Liddicoat adds.
With all the benefits nature has to offer, and gut health continually showing up as a crucial factor to health, we're happy to have one more reason to prioritize getting outside.