How Getting Injured Helped Me Become My Fittest, Happiest Self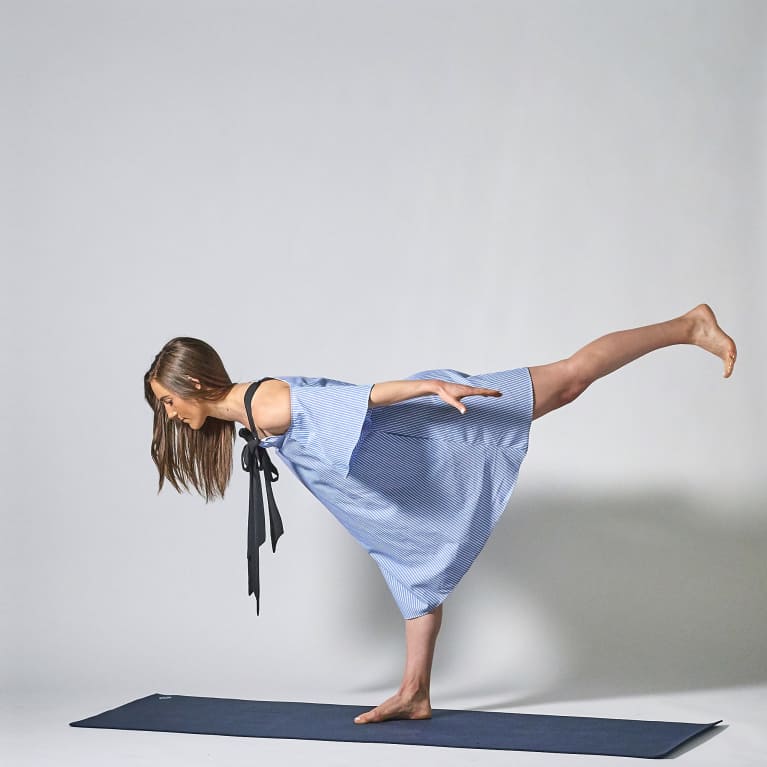 I've always been an active person. I grew up dancing year-round, skiing during the winters, and hiking on weekends. Activity was part of my life, and I never really thought about it. But when all of those things stopped being quite as possible courtesy of a real job in a big city and adult responsibilities, I did what most people do: I joined a gym.
I fell in love with the ritual of waking up at 6 a.m. and taking my favorite class before the day's demands rolled in. Soon, I was working out five days a week, and that quickly turned to six. Then seven. Then seven with a few days doing "doubles." And then my back started to hurt.
Being an incredibly type-A person, I worked through my pain. I didn't want to be a failure! As I felt simple movements like squats, backbends, and twists becoming more difficult, I was determined to be stronger than my pain and pushed through. When it became hard to bend over and put on shoes, I'd pop two Advil and head out the door anyway.
That is, until I woke up collapsed on my bathroom floor at 3 a.m. on a cold March evening. To be honest, I've never felt more alone than in that moment.
I crawled back to bed, cried, and got a handle on the fact that I actually couldn't move. As soon as 6 a.m. hit—a reasonable time, I thought—I dipped into my Who Wants to Be a Millionaire lifeline and phoned a friend. Later that day, I was diagnosed with two herniated discs that were also degenerated. Meaning that, at the bold age of 28, I'd successfully eliminated the gooey liquid from two discs in my lower back—something that never goes back to normal.
And when I was told to be on bedrest for two weeks, I thought life as I knew it was over. I'd lose all my hard-earned muscle! I'd surely gain 30 pounds! And most of all, my identity would be gone. But contrary to all the stories my monkey mind told, the opposite came true. Here's how my injury changed my relationship with fitness for the better:
1. I learned to appreciate the amazing things that the body can do—big or small.
After two weeks in bed, a hefty dose of medication, and the occasional trip to physical therapy, I slowly regained movement in my lower spine. I was able to do knee marches, pelvic tilts, and simple stretches. With each new movement, I was overcome with a rush of gratitude. What a gift it is to move.
2. I dropped my ego at the door and enjoyed movement for movement's sake—no expectations or judgments, just listening to my body.
I was slowly allowed to go back to the gym, where I walked at 3.5 mph on the treadmill for 20 minutes and then lifted 3-pound weights. And I was surprised to find that, after being forced to put my life on hold, if only for a few weeks, I was able to relish in these moments of movement. I felt more beautiful, confident, and accomplished than when I was doing two HIIT classes in a row just months before.
I recognized that we all are dealing with something in the dark, and what you're dealing with may just inspire someone else. As I continued my recovery and began group fitness again, I found the courage to approach instructors before classes and let them know that I had an injury and would be modifying. What I was surprised to find when I modified (something I would never have dreamed of doing before!) is that other students followed my lead. A few times, people even approached me after class saying that they had a back injury but were always scared to do something different from the group, thanking me for giving them permission to do so.
3. I became stronger than I ever was before.
By being forced to slow down, I relearned how to move properly. I engaged muscles I had previously ignored, and I engaged my core even when it would have been easier to swing into my back. I felt strong, powerful, and like a total badass.
4. I redefined what it means to exercise.
When I was recovering and even now, I made an effort to move every day for at least 30 minutes each day. But, contrary to my previous routines, my movement three to four days a week consisted of walking to or from work. Before, I would never have dreamed of counting that as my daily dose of exercise.
But the benefits I found in slowing down, clearing my mind, and taking in the sights of my city went far beyond a better physique. I became more calm and clearheaded. I set personal goals. I called my grandparents and invited friends on walks whom I hadn't seen in some time. I regained my sense of self. And you know what? I didn't gain a pound in the process.
5. I met my body where it was each day, and gave it thanks.
Even now, eight months after my injury, there are good days and bad days. Sometimes I wake up with the intention to do treadmill springs only to find myself doing 20 minutes of stretching. And you know what? That's OK. Because my body is a gift. It is perfect as is. And it is not the end-all-be-all of who I am; it is a vessel from which I can do the things I love: cook dinner with friends, visit a museum, and even write this article.
I am not my body, but now I finally, truly appreciate it.
Need to do some slowing down yourself? Here's how taking a slower approach to fitness completely changed Jordan Younger's body and perspective.