Work Addiction Is Real: Why Gabby Bernstein Doesn't Work That Hard (Anymore)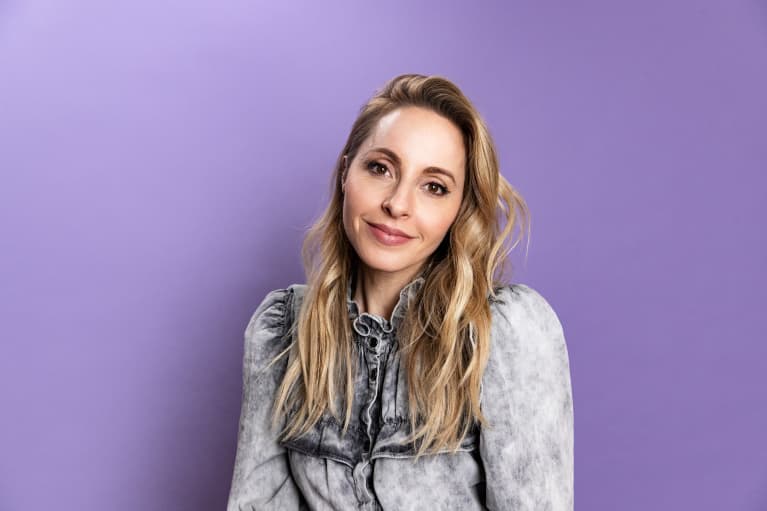 In today's fast-paced society, work can be addicting. Especially if you're passionate about what you do, you may want to be constantly bouncing off ideas or checking off tasks on your to-do list (and smartphones make it even easier to always be "on," wherever you are).
Gabrielle Bernstein, No. 1 New York Times bestselling author, has suffered from what she dubs a "work addiction." Yes, even the cohost of the Guinness World Record largest guided meditation (along with the famous Deepak Chopra) can experience some burnout!
It took some time to heal from overworking, but she now wholeheartedly believes that less truly is more. "I've done so much less in the last two years than ever in my life, and I've attracted far more than I could possibly imagine," she tells me on this episode of the mindbodygreen podcast.
Here's what a work addiction looks like, according to Bernstein. If you align with any of these signs, it may be time to take that personal day.
Bernstein used her work as a way of "running from fear."
"I have been sober 14 years, but when I put down the drink, I picked up work addiction," she tells me.
She reveals that she had immersed herself into her work as a way to run from memories she didn't want to remember. It makes total sense—keeping yourself busy and distracted is a common way people cope with certain traumas.
And instead of focusing on trauma healing, Bernstein focused on her work.
"I came to understand that it was a way of running—running from memories I didn't want to remember, running from fear," she says.
But it was difficult to recognize as she was receiving praise and success. 
It's rather difficult to take a step back from your work when you're using it to mask your traumatic memories, but it becomes even harder when you're praised for the work (and the amount) you do.
"You can't get out of the cycle, because everyone thinks you're doing so well," she states.
And when people praise you for work you're passionate about, it makes you feel great about the time you're putting in—it makes the time worth it, even when you know that overworking yourself can be harmful for your physical and mental health.
"I felt great about what I was creating because I served so many, but in my case, it was killing me. My health and well-being were affected," she says.
When her health suffered, she realized what was really driving her work addiction.
"It was trying to control things. It was saying yes; it was being understaffed and not doing anything about it, not trusting people, not letting people help me. My career was too big for me to be doing all the things that I was doing," Bernstein explains.
That said, the underlying factor of Bernstein's work addiction was to maintain a sense of control. She notes that her control kept her "safe" (from her memories and from fear) until she quite physically could not keep it up anymore: "I knew it wasn't sustainable, and I could not continue on like that."
According to Bernstein, it was a spiritual practice that helped bring her out of her work addiction. Diving deep into therapy, trauma healing, and a spiritual connection, she was able to release control over her work and begin to trust.
"I was committed to going deeper to heal the wounds that made me overwork in the first place," she says.
The bottom line? Even if you're doing what you love, there's still a fine line between a healthy passion and a work addiction. When it starts to take a toll on your mental and physical health, that's when it's time to take a step back and recognize whether your workflow is truly sustainable.
Take it from Bernstein, who feels she's finally at a happy, healthy medium: "I'm extremely passionate about what I do, and let me tell you, I don't think I work that hard."