This Personality Type Benefits The Most From A Super-Cozy Home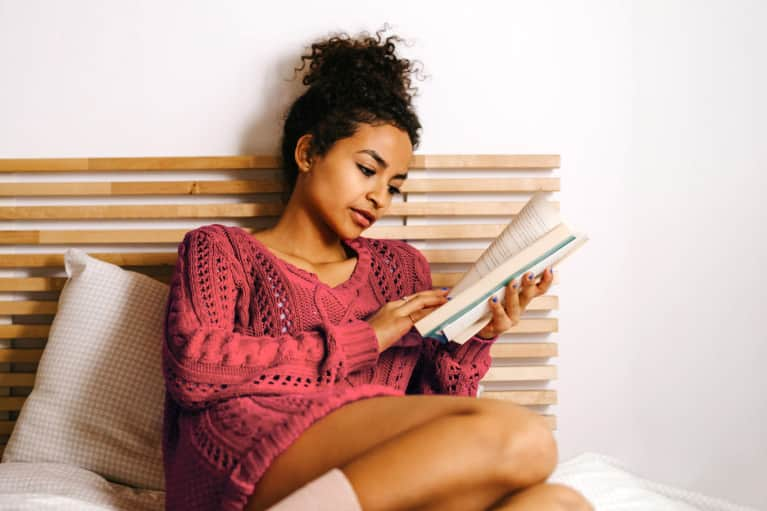 Our editors have independently chosen the products listed on this page. If you purchase something mentioned in this article, we may
earn a small commission
.
During the winter, when people typically spend more time indoors and open up their homes for holiday gatherings, there's a strong emphasis on creating a comfortable atmosphere. But as a professional intuitive, I believe that sensitive people (HSPs and empaths) benefit from upping their cozy quotient all year round.
The gift of being sensitive to energy is that you can quickly shift your own energy by creating an outer environment that mimics the one you'd like to experience internally. The more cozy energy you're surrounded by, the more you can feel emotionally content, physically comfortable, and energetically at ease. Here are some of my golden rules for creating a space that feels supportive and nurturing if you're an empath or HSP.
First things first: Set the intention to make your home, or a room in your home, a cozy sanctuary.
If you live alone or with a sensitive roommate or partner, this is easier to execute for larger areas of the home—common areas like kitchens and living rooms. If you live with small children or a bunch of family members or roommates, try to get them on board by explaining your intention to create cozy energy. Then, identify one room or corner of the house that you can really control, like a bedroom, basement, large bathroom, or study, to become your cozy sanctuary. Once you have the location nailed down, it's time to add the following touches:
1. Create physical comfort.
If your cozy zone is your bedroom, invest in soft, inviting sheets and blankets in colors you adore. I have a fuzzy Irish wool blanket I've owned for years in a patchwork pattern with pinks and oranges in all my favorite hues. After a hectic day, just snuggling into that throw feels like an energy shield! If you have a couch in your sanctuary, create a little nest of comfortable pillows to support yourself.
2. Emphasize low-stimulation activities.
HSPs and empaths tend to be hyper-perceptive and can easily pick up on subtle stimuli in their environments. Your cozy sanctuary is a place to decompress, so you want to have a low-stimulation environment. That means saving the loud music and action films for later. Instead, listen to soothing music and read uplifting books while in your sanctuary.
3. Call in a spirit guide to help chill your energy.
Because empaths are more sensitive to energy, they have a unique ability to connect with and feel the energy of spirit helpers like angels and spirit guides. As you prepare to enjoy some cozy sanctuary time, in your thoughts simply call on any spirit helpers you like to work with. Ask them to help you create a calm and uplifting energy in your sanctuary or in yourself. Angels are wonderful at creating this energy! If you'd like to learn more about working with angels, check out my latest book, Angel Intuition.
4. Have unscheduled time.
When you're trying to enjoy a cozy atmosphere, it's best not to be on alert—aware that in 15 minutes you have to walk out the door for work or put the kids to bed. The best time to mindfully let your energy sink into your cozy sanctuary is when you have some unscheduled time—a weekend afternoon or weeknight evening when there's not too much on the agenda. Sensitive people can be more prone to anticipatory stress, so it might be easier for them to fully enjoy and become refreshed by cozy energy when they can really let their guards down and not watch the clock.
5. Soften up your own energy.
Mindfully spending time in your cozy sanctuary on a regular basis could give you more stamina for handling higher stimulation levels out in the world. Try spending uninterrupted time in the space once a week and see if it improves your overall stress levels or your tolerance for stress. Whenever I'm having a particularly stressful time due to challenging life circumstances, I get as much cozy time as I possibly can to give my nervous system a break and create balance.