How Climbing Mount Kilimanjaro Helped Me Take Control Of My Panic Attacks
mbg Contributor
By Katina Mountanos
mbg Contributor
Katina Mountanos is the founder of On Adulting, a viral blog and community of over 23,000 millennials who are figuring out how to navigate adulthood in a conscious, happy way. She is an entrepreneur, writer, and mindset coach whose work has been featured on HuffPost, Teen Vogue, Elite Daily, Fast Company, and others.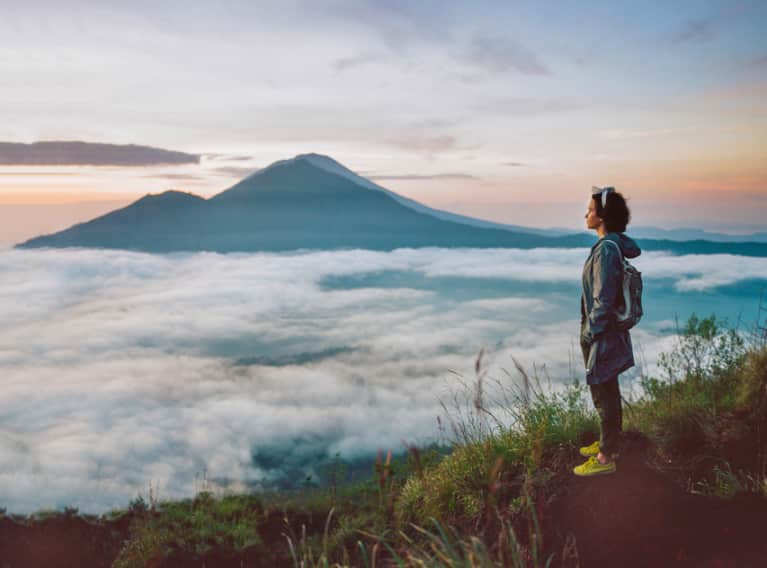 "Take a breath."
I repeated that little mantra 74,104 times in a row. As I climbed to the summit of Mount Kilimanjaro, I had to remind myself to breathe with every single step I took. It took 74,104 reminders, 37 miles, four nearly failed attempts, and two important people to show me that anxiety did not have to control me. It did not have to tell me what I could and couldn't accomplish. It did not have to hold me hostage, because I was afraid of all that could happen instead of what actually did.
At the top of that mountain, with the wind blowing and my eyes nearly clamped shut with snow, I saw it all so clearly: I am strong. I am capable. And, I can breathe—even 19,000 feet above the ground.
My panic attacks began in the winter of 2016. At the time, I was like any 23-year-old working woman in New York City: trying to balance my love of $34 yoga classes and Sunday brunch with the realities of paying rent. Finally, it felt like everything in my life was starting to fall into place—which is why I was so blindsided when I experienced my first panic attack that winter.
It happened in a cozy apartment party on a snowy, Sunday afternoon. One minute I was lounging on the couch, nestled by a blanket with a glass of merlot; the next I was gasping for air. Everything around me began to swirl at warp speed and slow motion at the same time. I had a smile plastered on my face, but inside, the emergency lights were flashing. My chest was collapsing, my heart was racing, and my mind was running through a million possibilities. My whole body was in chaos.
After what felt like forever, I gasped for a breath and leaned my head back on the couch. It was like all the energy had been sucked out of me. I saw the color return to my knuckles and heard some murmurs asking if I was OK. I nodded and excused myself, genuinely unsure of what had just happened to me.
I'd never had a panic attack before that moment—and frankly, had never given them much thought. I associated "anxiety" with my occasional stress over missing my alarm for work, or sending an email to the wrong Jim. Before my panic attacks began, I thought that anxiety was an easy fix—something you just get off your chest. I didn't realize it was a scary, possibly debilitating mental illness that affects 40 million adults in the United States alone.
It took me months to understand what having anxiety really meant—and coming to terms with having it myself. I wanted it all to disappear. I didn't tell anyone what was happening to me, since I thought that I could fix it by myself; whatever happened in those few moments that Sunday afternoon was a onetime thing.
But, as the weather got warmer, my anxiety levels heightened. I went from someone who thrived on adventure to someone who avoided it. It seemed like the person I had known my entire life was changing right in front of my eyes, and I didn't know how to fix her. I was watching my confident, independent, easygoing self turn into someone who shuddered at the slightest change in my routine.
Anxiety is invisible, so I carried this silent weight of shame and confusion with me at all times.
From the outside, it seemed like I had everything: a great job, an amazing boyfriend, a cool apartment in Brooklyn, and an exotic travel schedule. But, no one knew that on the subway each day, I prayed that we wouldn't get stuck in the tunnel so I could avoid a panic attack before breakfast. No one knew that each time I crossed the street, I was stuck at the intersection until I'd checked and rechecked and rechecked my surroundings to make sure that a car wasn't barreling down the road unexpectedly.
And, maybe no one knew because I didn't even admit those thoughts to myself. Each time I felt a panic attack coming on, I asked myself, "Are these feelings even real, or am I making them up? Am I bringing this whole thing on myself?"
And on and on the cycle went.
The hardest thing about anxiety, for me, is that I never know when it will show up. So, during a fit of impulsive decisions that summer, my boyfriend and I decided to book a trip to climb Mount Kilimanjaro. It was something we'd always talked about doing but never actually sat down to plan. We hadn't trained for it. But one day, we just decided to book it before my fear could creep up on me: We were going to summit Mount Kilimanjaro on New Year's Eve 2016—almost a year after my panic attacks began.
In the weeks leading up to our departure, I realized that this anxiety was something that wouldn't just go away if I ignored it long enough, so I committed to seeing a therapist when we got back from the climb—something I had been putting off for months. To me, making that appointment made my anxiety real in a way that other experiences never could.
But first I vowed to use this experience of climbing a mountain—something I was just starting to realize the intensity of—as a fresh start. The symbolic nature of it was almost too perfect: summiting a mountain on New Year's Day—what could be a better time for setting some goals and starting down the road to achieving them?
The climb itself was a seven-day experience that challenged me physically, mentally, and spiritually. It brought me to places that I didn't even know I could go. As a two-time marathoner, I thought that I understood the definition of perseverance. But that word took on a new meaning for me on the mountain. Because there were many, many times that I wanted to give up. There were many times that my feet hurt, or I was too cold, or the bathrooms were not of my caliber. There were many times that the altitude made me so nauseous, I couldn't stomach another meal of porridge. There were many times I felt like I couldn't breathe.
But I really understood what perseverance meant on Summit Night: the evening that we climbed 19,000 feet above sea level to reach the top of Mount Kilimanjaro.
That evening started out as a combination of nerves and excitement. My group of five fellow climbers, and our three guides—who all felt like family to me at that point—wished one another a Happy New Year and started on our overnight hike to the peak. The plan was to reach the top of the mountain at 6 a.m., a full six hours after departure.
About 15 minutes into our climb, my mind started to drift to a fearful place. I watched another woman, about the same age as me, turn around and head back to base camp. Almost immediately afterward, my thoughts began to spiral: If she can't do it, why would I be able to? What if I get stuck up here? What if I can't breathe?
I tried to keep going, but my legs started to get heavy, and my backpack, filled only with water and extra gloves felt like it weighed 1,000 pounds. My chest started to tighten. My heavy winter coat felt constricting. I called my guide over and turned to my boyfriend to tell them both that I was turning around.
I was giving up.
My guide, Lazaro, immediately took my backpack and told me that this was normal. I was not crazy—something that an anxious mind forces you to believe. Lazaro made sure that I knew that everyone on the climb felt this way, but I was brave enough to admit it. My boyfriend gave me a hug through our layers of clothes and told me that we were in this together. In that moment, I realized how important having a strong network of supporters around you truly is. These were my cheerleaders. And because they believed in me, I started to as well.
The remaining five hours of the hike were a constant struggle. Putting one foot in front of the other took monumental effort. With each one of those celebratory steps, I repeated my mantra: "Take a breath."
We approached the summit as it looked like the sun was giving birth to the earth. Even though my face was almost frozen, and I couldn't feel my feet, tears started rolling down my cheeks. My new mantra became: I am on top of the world.
All those feet above the ground, I realized that you are who you decide to be. In that moment, I was strong.
Climbing that mountain was a breakthrough experience for me in many ways. But, most importantly, it showed me that fear is what you make of it. It was a prime example that when you take control of your own mind, you can really do anything.
The purpose of sharing my story isn't to say, "Climb a mountain and you'll rid yourself of any mental baggage." By no means is my anxiety "cured" or completely gone. Some days are better than others, and I still get those inklings of worry when the subway gets a bit too crowded.
What I'm saying is that it is possible to feel better—to feel good, even. It is possible to be the person you are in the good moments more often than not. It is possible to push yourself more than you ever thought you could and come out on the other side still breathing, still feeling, still smiling.
So, this story is for everyone who struggles sometimes. Remember: That strong person is inside of you somewhere. It just takes a few deep breaths and a single step out of your comfort zone to find her.
Want more insights on how to level up your life? Check out your love horoscope, then find out why holding on to past relationships is the worst thing you can do for yourself.