The Two Random Foods That Cleared My Skin

mbg Contributor
By Rebecca Stump
mbg Contributor
Rebecca Stump is a Portand, Oregon-based registered yoga teacher and former Brand Experience Director at mbg. She received her bachelor's in business administration from Emory University's Goizueta Business School.

Medical review by
Sheeva Talebian, M.D.
Reproductive Endocrinologist
Sheeva Talebian, M.D., is a board-certified reproductive endocrinologist. She graduated from Columbia University and obtained her medical degree from Mount Sinai School of Medicine.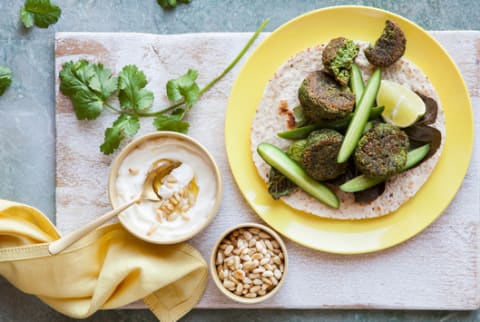 August 2, 2017
Throughout my adolescence and mid-20s, the most frequent compliment I received was on my beautiful skin. I rarely wore skin makeup (in fact, I didn't even own the stuff and only wore it when someone else applied it) and had a non-fussy skin-care routine (wash with a basic cleanser and moisturize).
So when my skin started acting up in January, it took me by surprise. Pimples popped up out of nowhere, and I felt helpless against the cause. The only thing that had changed was that I'd started consuming sunflower butter each afternoon with my daily apple snack, so I immediately gave my jar away and hoped things would improve. But they only got worse.
Advertisement
This ad is displayed using third party content and we do not control its accessibility features.
I knew that great skin starts with a great diet, and as an already clean eater, I started experimenting immediately. As a self-proclaimed "veggan" (a vegan who eats eggs—get it?), I tried introducing organic dairy into my diet. This made things worse. I began eating organic seafood, then added in grass-fed meat. Nothing. I stopped drinking for two months. I meditated every afternoon. I went back to being vegan. No change.
Then I read the book that changed everything.
Unrelated to my skin, I had been hearing a lot about the book Woman Code by Alisa Vitti, and talk of hormones and long-standing hormonal issues was becoming standard conversation among my group of girlfriends. Having dealt with many hormonal issues (hello, 11 years of progesterone-only birth control), I decided to give the book a read.
When I read a book as jam-packed with information as Woman Code, I try to take away one or two things I can immediately incorporate into my life. What most fascinated me was Alisa's approach to balancing your hormones to heal your skin. I was next-level jazzed about this approach. Like clockwork, the day after I finished the book, Alisa had a free call focused around—you guessed it—clear skin. I marked my calendar with a work meeting, took my organic salad into a conference room, and dialed in. There were two things Alisa suggested on the call that super resonated with me: adding cilantro and flax to your diet to clear up even the most problematic skin.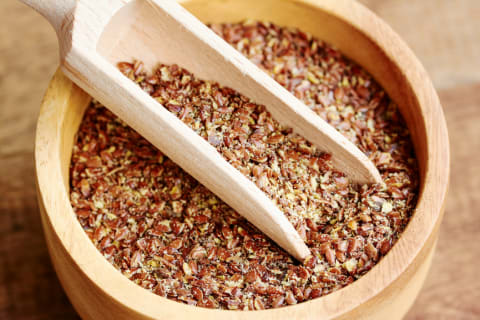 Advertisement
This ad is displayed using third party content and we do not control its accessibility features.
That night, I went to Whole Foods Market and purchased both items, neither of which I had bought before (I'm a habit shopper, so if it's not on my usual to-buy list, I'm not likely to reach for it). The next day, I added flax to my smoothie. I put cilantro on my eggs. I continued using both ingredients once a day for the next five days. And just like magic, my skin cleared!
I couldn't believe the difference.
Flax and cilantro! Two seemingly random, basic ingredients. No magic powders, dusts, or adaptogens. I was floored. I texted my mom, I called my friends, and I even told the super in my walk-up apartment building. I wanted to shout these two ingredients from the rooftops! So why did they clear my skin? Well, flax and cilantro are major liver detoxifiers.
Vitti explains, "Cilantro is a powerful medicinal food. It does many things, but from the point of view of the skin, it contains linalool, which helps detoxify the liver. It is rich in vitamin K, excellent for the skin and hair, as well as lowers blood sugar levels, helps balance the hormones in the cycle, and reduce PMS symptoms, all of which will work synergistically to help clear the skin. Flax, ground flaxseeds, help the liver to complete the process of elimination through the large intestine and decreasing the transit time of bowel movements, which will help decrease estrogen levels (in fact, there was recently a study released showing that women who had adequate daily fiber intake had a huge decrease in female cancers); it adds omega-3 fatty acids essential for the skin and hormone balancing." (Alisa also recommends cycle-syncing everything you eat with her MyFLO app for optimal results.)
It's been several months now, and my skin has maintained its effortlessly clear state. I now keep flax at the office to sprinkle on smoothie bowls and almond yogurt and plan to continue incorporating cilantro into my nightly dinners. Because if something this simple can help me put my best face forward sans expensive creams, facials, or toxic makeup—sign me up!
Advertisement
This ad is displayed using third party content and we do not control its accessibility features.
Reset Your Gut
Sign up for our FREE doctor-approved gut health guide featuring shopping lists, recipes, and tips