How Cancer Helped Me Love My Body, Finally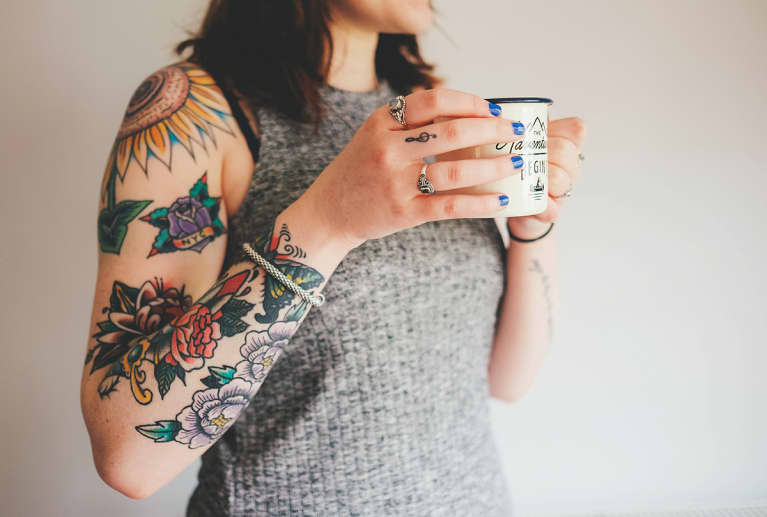 "If I had to have any kind of cancer, this is the one I'd pick." I sat there stunned, angrily thinking Well, you don't have cancer. I do.
There I was, a 20-year-old woman staring back at her middle-aged doctor baffled by his insensitive remarks and terrified of the road ahead. I didn't know it then, but that moment would go on to change my life forever.
I spent all of my teens and early 20s in a war with my body.
From as young as the age of 8, I remember hating my body. Puberty hit me like a tsunami. By the time I left elementary school I had the body of a full-grown woman and a menstrual cycle to match. Not a day went by that I didn't feel awkward and out of place in my body.
That feeling soon became more than a feeling; it became my truth. It was in middle school that I first began standing in front of the mirror poking, prodding, and pinching my body—tears rolling down my face, berating my body for not being good enough. I would watch makeover shows and dream of all the plastic surgery I would get if I were ever chosen for a show like that. And, by the end of middle school, I went on my first diet.
By the time I had started high school, that first diet had turned into an eating disorder. We didn't talk about it back then—not my family, friends, or teachers—but I know now that's exactly what it was. I was tormented by feelings of not being good enough—pretty enough, thin enough, smart enough, liked enough. It became my secret realm of control, perfectionism, and perceived safety.
The body war followed me to college.
It wouldn't let go. Then, one day during the summer before my junior year of college, I found myself sitting across from an insensitive doctor bluntly discussing the realities of cancer—the realities of the cancer that was ravaging my body.
This is the part where I'm supposed to tell you that I left the doctor's office that day and made radical shifts to transform my relationship to my body. However, that's simply not true. What I did do that day was leave that doctor's office, cry inside of a busy Dunkin' Donuts, drive to work, and continue crying in the parking lot until a co-worker found me. I spent the next year consumed by surgeries, radiation treatments, blood tests, doctor's appointments, and beginning my lifetime supply of hormone replacements.
Having cancer forced me to realize that tomorrow is not a guarantee.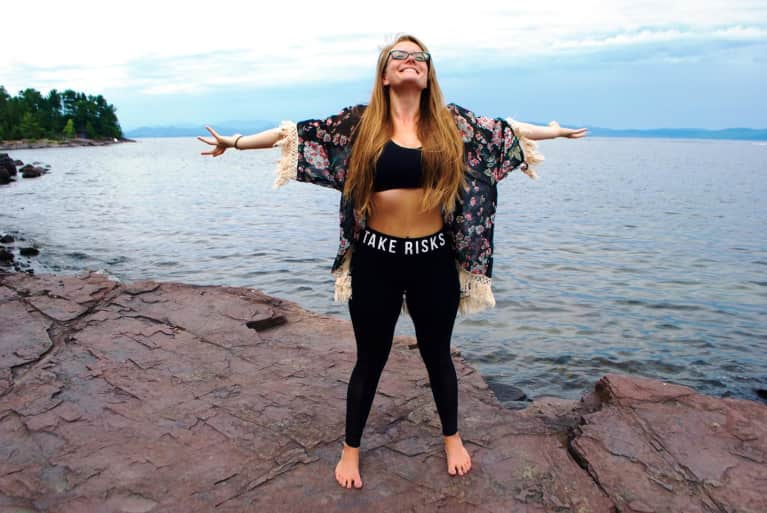 It wasn't until about three years after that stressful day in the doctor's office that I realized that my cancer actually helped me love my body. I looked around at the life I was living and realized how radically different it was from the life that I used to live. I hadn't counted a calorie or stepped on the scale in months. My workouts became an opportunity to experience joy in my body rather than punishment for what it had eaten. And that voice in my head that kept telling me my body wasn't good enough, well, it was barely recognizable.
How, exactly, did cancer help me love my body? It forced me to realize that tomorrow is not a guarantee. Of course, that's true of anyone, anywhere. For most of my life I have taken my body for granted. I assumed it would always be here. Cancer taught me that is simply not true. It showed me that a body is something to be treasured, nourished, and loved. Cancer taught me to never take for granted the simple joys of living life in this body. My experience with cancer made me realize that if my life could end at any moment, then I deserved to experience as much joy as possible in my body today. After a decade of eating disorders and negative body image, after a year of surgeries and radiation, after the years of hormone replacement struggles to follow, I was so tired of not feeling good in my body.
Then began my lifelong practice of self-study.
It was around this time that I discovered the yogic practice of svadhyaya, or self-study, and began to explore my body, my desires, and how I might begin to truly feel good in my body. I soon realized that I had spent nearly my entire life fixating on how I looked in my body rather than focusing on how I felt in my body. It was then that I decided to shift my attention from looking good in my body to feeling good in my body. This process required me to practice body awareness in order to recognize and understand what actually allows me to feel good in my body. I had spent years trying to ignore my body's signals in order to control it, and suddenly the key to learning to love my body was allowing myself to listen to, and trust, my body. That was not at all what I expected.
This quest for joy inspired me to follow workouts that bring me joy—no more treadmills for this girl!
In an effort to finally live a life of joy in my body after cancer and years of disordered eating, I began a process of self-reflection. I explored how my body enjoys moving, the activities it enjoys doing, the foods that make it feel good, and the things that allow me to experience joy. I went on a quest for joy, and I've never looked back.
This quest for joy inspired me to follow workouts that bring me joy—no more treadmills for this girl! It also taught me which foods actually feel good in my body, which on some days is cake and on other days is carrots. Most importantly, my quest for joy showed me that it is so much easier to love your body when you feel good in it. And to feel good in your body you have to prioritize your own joy.
Here's exactly how to look and feel super confident in your swimsuit this summer. If body positivity doesn't work for you, try body neutrality.