The Practice I Use To Quickly De-Stress In The Middle Of Busy Workdays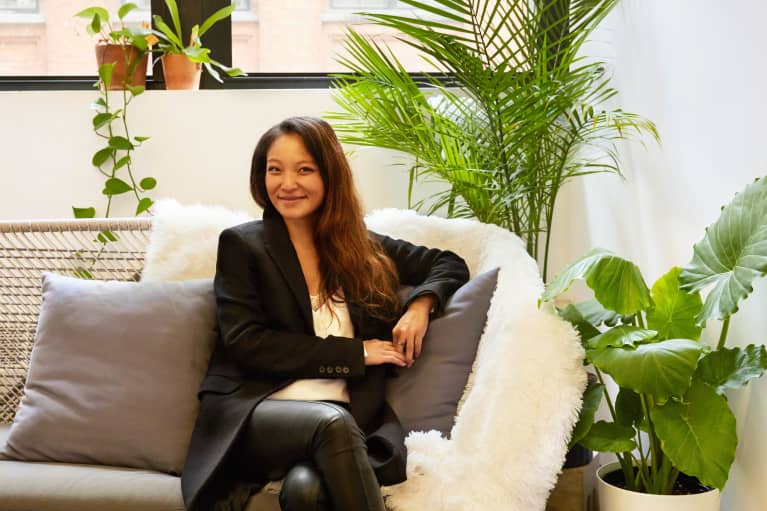 I've worked in high-pressure jobs as a creative director for over a decade and if there's anything I've learned in that time, it's to pay attention when I start to feel off-center, anxious, and ungrounded, or things start to unravel. Practices such as yoga, acupuncture, and healthy cooking usually help me restore a sense of ease and balance, but they aren't the easiest to do at the drop of a hat in the middle of a busy workday, so I'm always looking for fast, effective practices I can do on-the-go.
As luck would have it, the last time life dealt me a super stressful time at work, it also gave me an amazing and accessible new tool: breathwork.
My first experience with breathwork was profound (but not in the way I expected).
It was during a particularly busy time on the office when I first heard about breathwork from a few separate friends. They had started using it for everything from steadying emotions to easing anxiety and panic attacks and couldn't stop raving about it. It got me curious about what made the practice so special, so when I found out that sought-after breathwork teacher Gwen Dittmar was soon going to be stopping by my office, I jumped at the opportunity to take a class with her.
Walking into the session, I wasn't entirely sure what to expect. Though I knew a bit about the breath and its connection to the body from my experiences with yoga and meditation, I didn't realize its true power until Gwen showed it to me.
Gwen's energy immediately put me at ease: She was calm and warm, strong and perceptive, and she created an environment of safety and openness. She began by guiding a small group of us through an intention-setting exercise and then into a practice where we imagined our breath moving through different parts of the body. Her cues helped me bring more awareness to where I was holding tension so that I could release it.
I was surprised by how much manipulating my breath could affect my body. Throughout the session I felt light and tingly, yet grounded. I was very conscious of my body and the way the floor felt. My headache and the stiffness in my neck from sleeping poorly the night before started to disappear. But most importantly, my brain fog and anxiety from the deadlines I had that day melted away—replaced by a confidence that I had the power to achieve what I needed to (and more) with ease.
By the end of the 45 minutes, I felt clear, creatively enriched, and more grounded than I had in a long time. I was inspired to chat with Gwen afterward, and she told me that she works with a lot of busy professionals in high-powered careers who lean on breathwork for those exact same benefits.
Now, breathwork is one of my favorite tools to bust out in the middle of a busy workday.
After that first foray into breathwork, I made a point to attend more classes at studios around NYC. I tried out different breath techniques such as holotropic breathwork, shamanic breathwork, and transformational breathwork and found that each one had a very different effect on me. While I got a lot out of these classes, the cost of them quickly started to add up, as did the time spent commuting to and from them. It was also sometimes difficult to find classes that met at a time that fit my schedule.
So when I saw that Gwen's mindbodygreen class, The Ultimate Guide to Breathwork, came out, I was excited to start utilizing it anywhere, anytime I started to feel out of balance.
Now, whenever I'm feeling overwhelmed by deadlines and meetings at work, I look for a quiet spot in the mbg office where I can practice the techniques Gwen has taught me. A few minutes is usually all it takes to quell the distractions and get clarity from the daily noise. When my session is up, I can breathe easy knowing that the ability to be present, productive, and creative is always within me.