The Unexpected Way This Natural Beauty Advocate Eased Her Daughter's Eczema
mbg Contributor
By Leigh Weingus
mbg Contributor
Leigh Weingus is a New York City based freelance journalist writing about health, wellness, feminism, entertainment, personal finance, and more. She received her bachelor's in English and Communication from the University of California, Davis.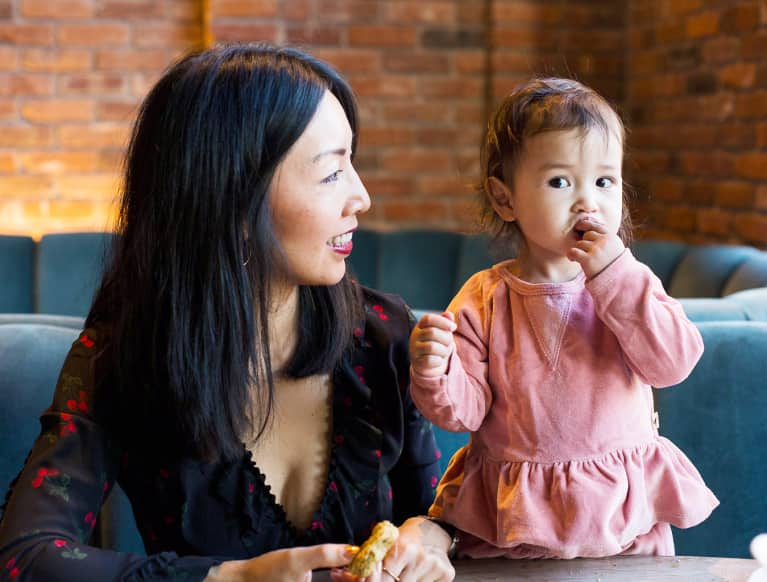 Our editors have independently chosen the products listed on this page. If you purchase something mentioned in this article, we may
earn a small commission
.
As the founder of the natural body-care and fragrance company Ellis Brooklyn, author of the skin care and makeup-focused book Skin Deep, and New York Times beauty columnist, Bee Shapiro has a wealth of knowledge in the skin care department. So when her daughter, Sky, developed eczema as an infant, Shapiro wasn't too concerned about finding a solution.
"Eczema looks like dry skin at the beginning, so I thought, Oh, I'm just not moisturizing her enough; I need to get better moisturizers," Shapiro tells mbg of initially discovering her daughter's dry patches. But when her normal moisturizing routine didn't work, Shapiro started taking a deeper dive into natural eczema remedies.
The natural remedies Shapiro tried.
Sky's eczema was bad—she had patches on her tiny wrists, ankles, the backs of her knees, and even the tops of her thighs. As Shapiro stood by heartbroken watching her daughter struggle to sleep through the night, she searched high and low for a solution. "I tried everything from natural brands to straight-up coconut oil, and none of it worked well," she says. "I will say that some things did work better than others; sunflower seed oil is really, really great. It's a good, light barrier, and it helps seal in moisture."
And while Sky's eczema may have eased up at moments, at a certain point Shapiro felt like she was banging her head against the wall. "Because I'm a beauty editor, I was like, why can't I solve this or make it better? It was disturbing her sleep," Shapiro says. "She couldn't sleep in her winter sleep sack because she was too hot."
Here's what actually worked.
When she was 6 months old, Sky got an infection. And at that point, Shapiro decided she was going to take the "whatever works" route, despite her dedication to natural skin care. "I had been so serious and philosophical about it, but once I had to slather serious antibacterial ointment on her skin, I decided enough was enough. So right out of the bath I put on a layer of Aquaphor, and it helps so much. I know several other mommies who did the same thing, and it also worked for them."
Of course, Aquaphor wasn't the be-all-end-all—Shapiro hit a few other stumbling blocks on Sky's eczema journey. "Essential oils were actually a big problem—they may be natural, but they're also fragrant," she explains. "If your baby is totally fine with other things, that's great! But that's not for a kid who has eczema or any other serious issues. People love to see the word 'natural,' but that doesn't mean it needs to be on your baby."
Another problem Shapiro often ran into was the prevalence of sulfates. "One of the cleansers I tried was a bath oil, which I thought must be hydrating, but you can actually add sulfates to an oil," she explains. "They're everywhere!"
How Shapiro manages her daughter's eczema now.
These days, Shapiro has a process she swears by when it comes to keeping Sky's eczema under control. While she acknowledges that it may not work for everyone, it's what has worked for her.
Use a sulfate-free baby cleanser at bath time.
Apply a layer of Aquaphor post-bath.
Apply a layer of Mustela Stelatopia Daily Baby Cream twice per day.
Make sure your home is humid enough by using a humidifier in each room. To manage eczema, humidity should be between 30 and 60 percent. You can measure humidity with a humidity monitor.
While Sky still suffers from eczema, Shapiro is happy to report that at 21 months, Sky is a lot more comfortable. "Luckily, the majority of kids grow out of it by age 3, but in the winter she still has it pretty badly on one ankle," says Shapiro. "Thankfully, it's nothing like it was before!"
Want to learn more about Shapiro's journey? Here's her advice on making your dreams come true.