This Kitchen Organization Trick Can Help You Waste Way Less Food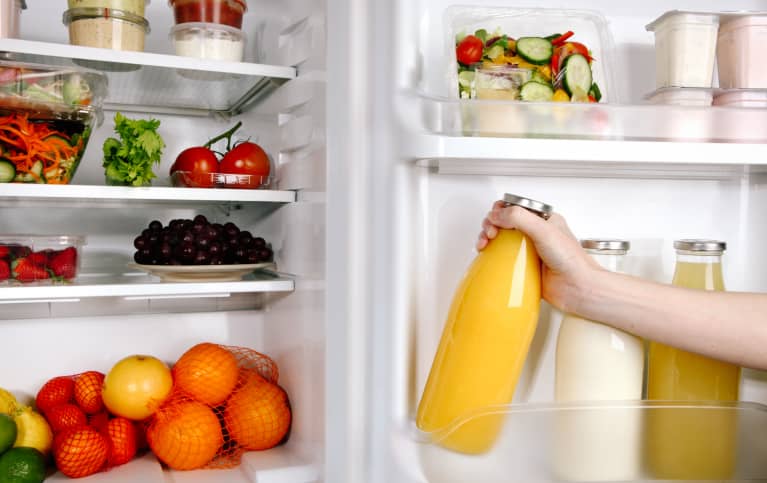 As someone who is all too aware of the damage that food waste does to the environment (and my wallet), I'm always on the hunt for ways to tighten up my kitchen routine and make less trash.
So during a recent meeting with Ben Simon of Imperfect Produce, a company that saves and redistributes "ugly" produce that might otherwise not be used, my ears perked up when he started talking about how he avoids waste in his own kitchen. The co-founder is a proponent of what's known as the Eat This First shelf: "Any time I'm opening the fridge, I'm thinking, 'Is there anything I see here that only has a few days left?' I can put that on this shelf and go back to it," he said.
How do you set up an "Eat This First" shelf?
I'd heard of this approach before but never formally put it into practice in my fridge. Figuring it was worth a shot, I reached out to Angel Veza, a food waste expert and director of hospitality advisory for First Principle Group, to learn more. Veza, who has designed food waste reduction strategies for restaurants and major companies like Google, is a fan of the practice and thinks it's similar to the "first in, first out" rule that you'll see in professional kitchens.
"Whatever went in first needs to be eaten first. So when you bring in new products, you put them at the top of your fridge and move the older food down." Eventually, food reaches the bottom shelf, or the Eat This First shelf. (The bottom shelf is the best place for older food because it tends to be the coldest spot in the fridge!) Veza even recommends hanging a sign that designates this spot as official Eat This First land; that way you'll be prompted to take from it every time you open your fridge.
Food on this bottom shelf should be arranged strategically. "How you store food is a big deal in terms of maintaining its shelf life," Veza cautions. Be sure to separate your fruits and veggies since fruit's gases will cause other produce to deteriorate quicker, and help your herbs and asparagus last longer by chopping off the stems and storing them upright in a jar filled with water as if they were a bouquet of flowers.
How can I use everything up in time?