The Unlikely Way This Brooklyn Design Studio Is Fighting The Water Crisis
mbg Sustainability Editor
By Emma Loewe
mbg Sustainability Editor
Emma Loewe is the Sustainability Editor at mindbodygreen and the author of "The Spirit Almanac: A Modern Guide To Ancient Self Care."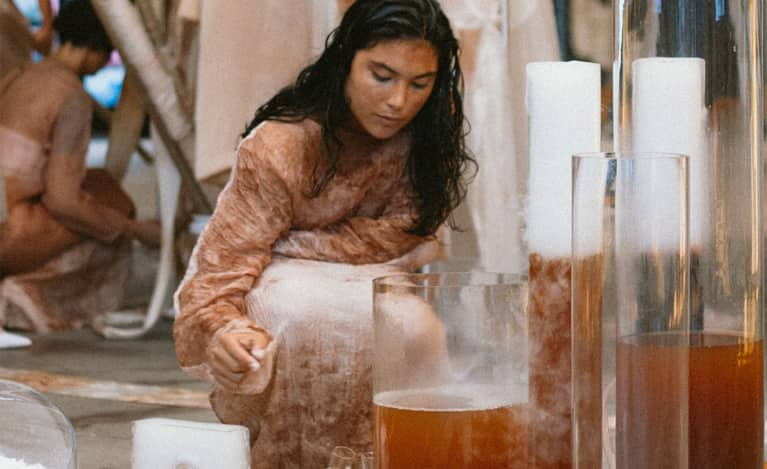 For such a simple substance, water has shaped our world in complex and colossal ways. We've fought over who has access to it, felt what happens when there is too much or too little of it, and seen the crises that come up when it's contaminated. The allocation of this natural resource has turned into a deeply political issue, and access to clean water is far from guaranteed around the world.
"Through the California droughts; through the pollution in Flint, Michigan; through the stormwater surges and contamination of Houston's water after Hurricane Harvey; through the disabling of the water supply in Puerto Rico following Hurricane Maria—through all of these kinds of events, people following the news have the opportunity to see that the availability of freshwater is not a given and is deeply wedded to the institutions society has built up," Christiana Zenner, Ph.D., an author and professor of water ethics at Fordham University, told mbg earlier this year.
Clearly the way that we care for and distribute water has to change, but how? It feels like an impossible issue to tackle with the science, technology, and policy currently at our disposal. That's why Sheetal Shah thinks that it's time to pull another sector further into the fold.
"Sometimes it's difficult for scientists to put their agenda forward and put it into action—but designers can package things in ways that are utilitarian and useful for society," Sah, who manages programming at Brooklyn-based architecture and design research center A/D/O, tells me. "Good design is fundamental to everything we have."
A/D/O is in the midst of a yearlong research project that asks how designers can help solve the global drinking water crisis. Instead of pulling designers into the later stages of water conservation projects, introducing them from the very beginning has led to some creative solutions: a drinking water fountain (for humans and dogs) that attaches to public fire hydrants in NYC, a water tank equipped for the roof of a skyscraper that filters rainwater into the building below.
Designing a functional and aesthetically beautiful solution is one part of the puzzle, and getting people excited about it is the next.
Maria Elena Pombo, the founder of Fragmentario, a natural dye company, partnered with A/D/O to host a workshop that illustrates water quality in a whole new way. Like so many things, the process of natural dyeing (think tie-dyeing for adults: submerging fabrics in water and materials like avocado pits and onion stems for a coloring that is vibrant and more environmentally friendly than chemical dying) changes with even the slightest differences in water quality. This fall, Pombo also put on a fashion show to help visualize this idea further—each garment was dyed using avocado seeds, but the water used for each was different. The result is a line of soft, ethereal pink pieces, each with its own unique hue.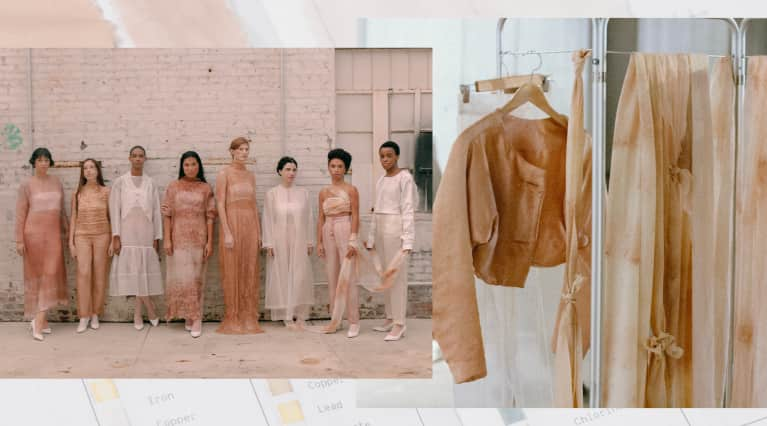 By connecting textile designers like Mari with architects, scientists, and artists and inviting the public in, too, A/D/O is demonstrating that when we break out of our silos, some beautiful collaborations can happen. Ultimately, the hope is that these partnerships inspire everyday people to take a little more interest in where their water comes from.
"Water is our most precious commodity, and we really need to start appreciating it," says Sah. "We need to bring ourselves closer to the source of our water and stop taking it for granted."
To do so, Zenner recommends starting with some simple questions: Where does your water come from? How is it regulated? Who is entitled to it? A little curiosity goes a long way, and by forging this connection to the source of your water, you might become more likely to conserve it in your day-to-day life.