How A Solo Vacation Helped Me Heal Old Wounds When Nothing Else Could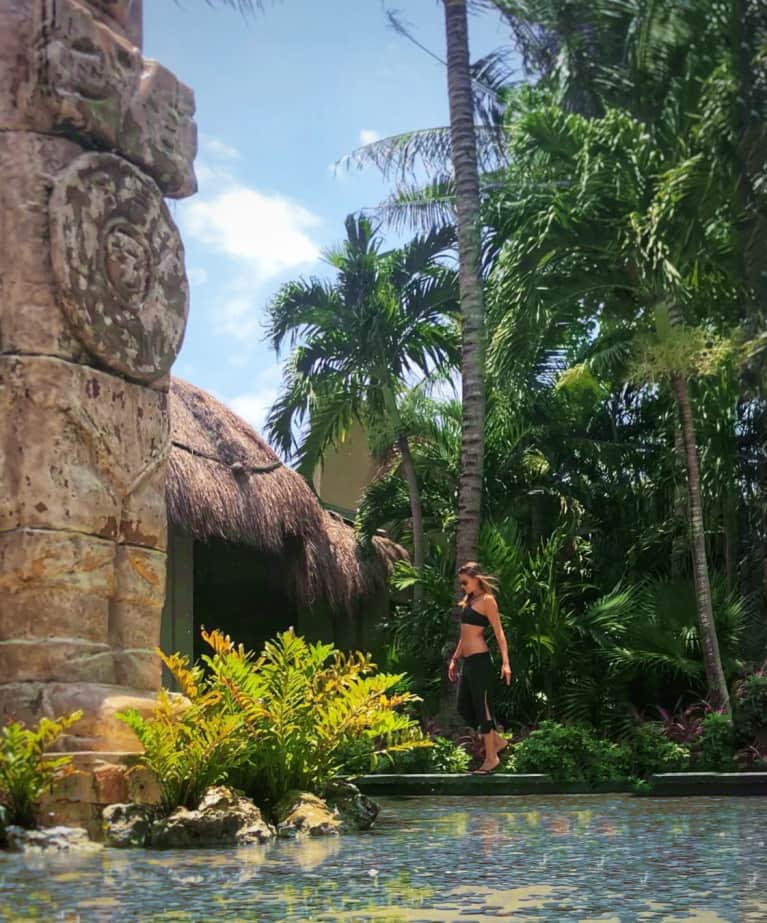 This summer, mbg is celebrating travel that really goes the distance. Our new Transformative Travel series will spotlight how to forge meaningful connections on the road and carry life-changing insights back home as souvenirs. Today, we're hearing from yogi Sara Quiriconi about the recent trip that changed her perspective on healing.
I needed it.
The space, the air, the time, the sun, and the pristine beaches of the Riviera Maya.
"Mrs. Quiriconi, are you checking one or two bags for this flight?"
I replied, "Just one for today" as I placed my large bag on the scale at Miami International Airport. In truth, I was checking more baggage than one Boeing 777 could carry.
It was the first real vacation I had taken in over four years. While I travel frequently, it's usually for work and doesn't really feel like much of a break. This time, I was seeking solace and solitude to write my upcoming book, which is part autobiography. You can read my bio or just take it from me that my past hasn't been easy—alcohol addictions, eating disorders, and a cancer diagnosis have made way for a lot of tears, pain, and mental health issues I still grapple with.
This eight-day trip to Playa del Carmen was designed by me and for me—a safe and peaceful time to write, reflect, and read through years of my old journals. In short, it was a trip back in time down a very dark past. I thought that going to a sunny paradise might balance out some of that heaviness.
Seatbelt fastened, ready for takeoff, I departed Miami ready for the sunshine and the beach. But I couldn't have anticipated what was waiting for me on the other end.
The clouds will follow you before they pass.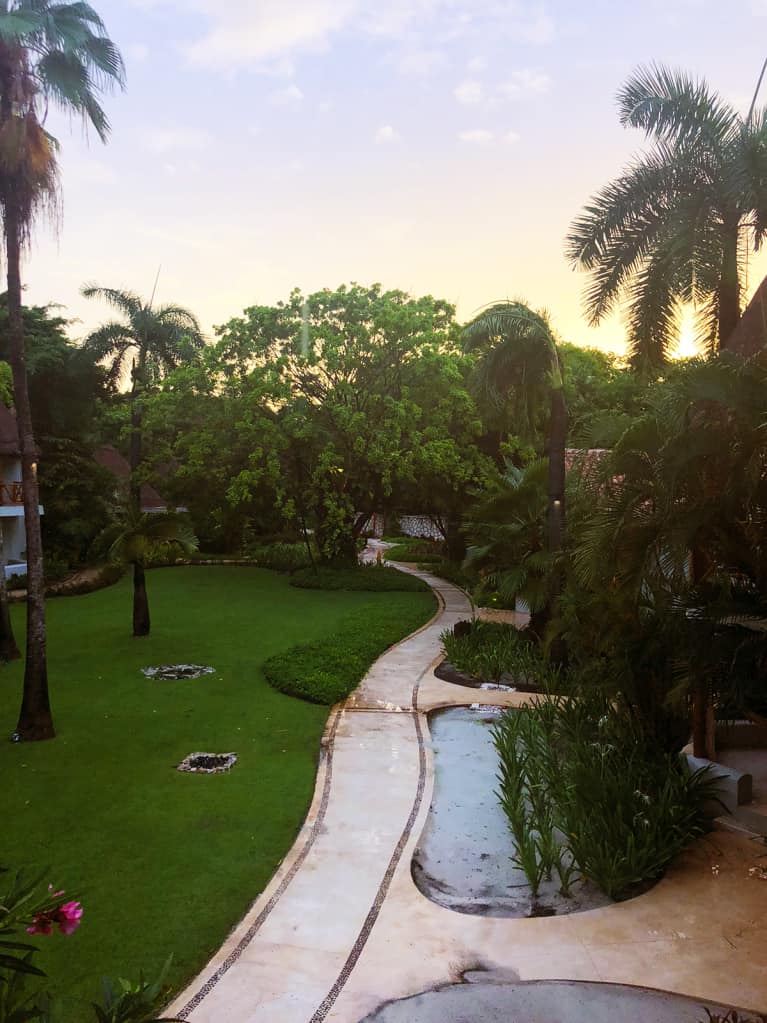 I landed, and it poured. Not the kind of "I'll take a rain jacket out and be fine" kind of rain. More like the heavy downpour, stay-in-your-casa kind of storm. But that meant I had the next seven full days ahead of me to be free, write as I had planned, and hope for some sunlight to pop out! (Definitely wishful thinking on my part.) This offered me the introspective time and energy to delve into those deep, darker areas of my past. I spent the next five days ducking in and out of the downpours, heading out with a giant umbrella during gentle breaks to grab some food. Other than that, I just enjoyed having a dry bed, splaying out alone, crying in my own words, and smiling when I could at the transformations I have been able to achieve in this lifetime.
When you're ready to learn from the darkness, the light will appear.
Then, this crazy thing happened: There's a moment I touch on in my book when I begin to create my own light and step toward positive changes in my well-being and lifestyle. I stopped drinking and acting on my eating disorder and was getting over PTSD from cancer treatment. I began to practice yoga, eat healthier, create a mind-body connection, and develop a purpose once again.
And on the day I started to write about that journey, the sun came out, revealing the Riviera Maya I had dreamed of.
Talk about a reminder that your past will follow you like a dark storm cloud. It will linger, leaving you feeling alone. However, when you're ready to learn from the darkness, the light will appear.
Most things in life are temporary, thank goodness. The clouds can pass in a matter of a few hours or a few days (or a few minutes if you live in Miami). However, for the lingering storms, the ones we need to learn to live or cope with, the light is still there. We just need to dig a bit deeper to create our own sources of happiness, laughter, and love.
Connection over everything.
Once the sun was out, we all went out to play. It felt like the whole town fled to the pool and beach to soak in the rays they had been robbed of over the past few days. In between going over my notes, I enjoyed a few conversations with tourists and locals alike—seeking connection, sharing what I was typing away at up until then. It was then that I realized that connecting with others who are different from you is one of the keys to finding this source of light.
Talking with other families and laughing at the dads tossing their kids into the pool like a catapult, just like my dad used to with me, I started to miss my own family. I knew then I was ready to return home. It's the sign of a good trip when you leave feeling fulfilled and moved in some way yet ready to go back to the place and people you call home.
Maybe this transformation was less about the location but more about the personal journey of a solo gal discovering and uncovering her past and history, emerging ready to share that vulnerability and space with others. When we get stuck on a hamster wheel of day-in and day-out, and we're constantly focused on the go-go-go of what's next; there isn't a pause, a space, or the time to properly heal from some of our old wounds.
Next up, check out how a trip to Hawaii changed how one family viewed food, sustainability, and community.