I'm A Functional-Medicine Expert: Here's How I Stay Healthy When I Travel
Functional Medicine Practitioner
By William Cole, D.C., IFMCP
Functional Medicine Practitioner
Dr. Will Cole, D.C., IFMCP, is a leading functional medicine expert who specializes in clinically investigating underlying factors of chronic disease and customizing a functional medicine approach for thyroid issues, autoimmune conditions, hormonal imbalances, digestive disorders, and brain problems. Cole is also the bestselling author of Ketotarian and The Inflammation Spectrum.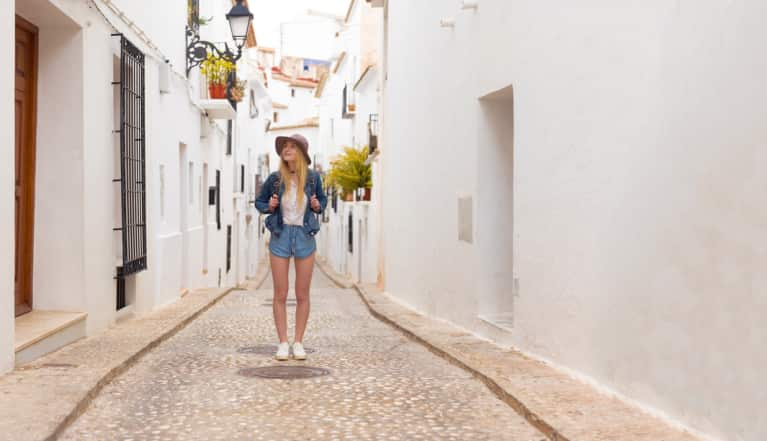 Going on vacation and having time to Zen out is not only fun—it's totally necessary for optimal health. Unfortunately, the whole getting-there part can be long, stressful, and expose you to a lot of germs, which can seriously throw off your wellness game.
As a functional-medicine expert I get the opportunity to travel frequently throughout the year for different speaking engagements. I've learned to make health a lifestyle—not just something I practice when I'm at home in my comfort zone—so below are some of my favorite travel-friendly wellness practices. They'll help keep you at optimal health so you can vacation with ease and not stress about your next trip!
1. Supplement with magnesium.
I always make sure to travel with magnesium. The pressure from air travel can really mess up your gut and lead to gas and constipation. I like to mix it with water and chug it right before I get on my flight. And since magnesium also helps relax your muscles and promote better sleep, it's great for helping fight jet lag once you've arrived at your destination or back home.
Unhealthy food choices can often stem from poor planning or a lack of options. Most airports and cities have a Starbucks, and lucky us that the coffee giant has made great strides to carry healthy snack options such as kale chips and dried fruit! Before arriving at your destination, research your restaurant options. Also, check to see if where you're staying has a fridge or kitchen, because it's great to have healthy snacks on hand, especially if your options for dining are limited
3. Use a saline spray when flying.
Airplanes have notoriously dry air, which can leave you feeling dehydrated. But did you know a dry environment can contribute to drying out the mucous membranes in your nose as well? Keeping these hydrated is important because they help to filter out viruses and bacteria. During every flight I use saline spray in each nostril—a few times for longer flights.
4. Take advantage of the spa.
Whenever I'm staying somewhere with a sauna I make sure to use it every evening to help de-stress, reduce inflammation, and sweat out toxins.
5. Pack your own airplane food.
A lot of people don't know this but you can actually bring coolers of food through security! You still can't bring liquids (just bring an empty refillable water bottle) but you can pack an entire healthy lunch or dinner that you can enjoy right on the plane! No more having to search through airport stores or vending machines for a nutritious snack. Some of my favorite ideas are:
Homemade nori tuna wraps
Hard-boiled eggs
Carrots and celery
Raw almonds or homemade granola
Tea bags to steep in my water bottle at room temperature or hot water on the plane
Collagen powder to mix in water
6. Explore through movement.
One of my favorite things about traveling is experiencing the local history, culture, and sights of the area—whether you're traveling internationally or just a couple hours from home. There are so many tour options out there—like by boat or bus—but some of my most treasured memories are of exploring on foot or by bike. You can see a lot more of your destination that way, and it's usually through the eyes of a local. Plus, this allows you to still get your heart rate up and get your exercise in without having to set aside time to hit the gym during your vacation if your time is more limited.
7. Balance out with adaptogens.
There's no way around it: Traveling creates some disruption to your schedule and can throw you off and drain you. Bringing powdered adaptogens like ashwagahanda, holy basil, and cordyceps with you is a great way to keep your hormones balanced, your brain clear, and your energy high. Adding these to your reusable water bottle or sprinkled on top of food at restaurants can help you get in everything you need to stay on top of your game during your trip.
Traveling can be hard on our immune system. And since about 80 percent of your immune system is stored in your gut, it's important to make sure it's healthy. I always bring probiotics with me to boost my microbiome health while I'm on vacation.
9. Juice your way through security.
Did you know you can actually freeze juices and bring them through security? Just place them in a clear ziplock bag to get in your healthy greens throughout your trip.
10. Meditate through the chaos.
Delays, missed flights, planning, and the constant go, go, go can be a major source of stress. Mindfulness is more important than ever when you're traveling. Use long lines, waiting, or impatient people as opportunities to practice resilience and breath awareness. Thankfully there are lots of apps out there that make it easy to bring your meditation practice with you.
11. Boost your immune system with fungi.
Stress and jet lag can really put a damper on your immune system. Before going on a trip I like to give my immune system a boost to handle the effects of travel by including more adaptogenic mushrooms in my diet. Chaga and turkey tail are two of my favorites for their particular immune system–balancing properties. I like to get these in powder form to add to my green tea. Plus, they're travel-friendly, so it's easy to bring them along on my trip to add to drinks and on top of food along with the rest of my adaptogenic herbs!
Ready for your next vacation? Here are some seriously inspiring hikes and the snacks to bring with you when you go.