How A Cancer Diagnosis Taught Me To Be Mindful
mbg Contributor
By Sara Weinreb
mbg Contributor
Sara Weinreb is the host of the Medium Well podcast and curator of the weekly email, Sara... lately.. She has a bachelor's degree from Tulane University.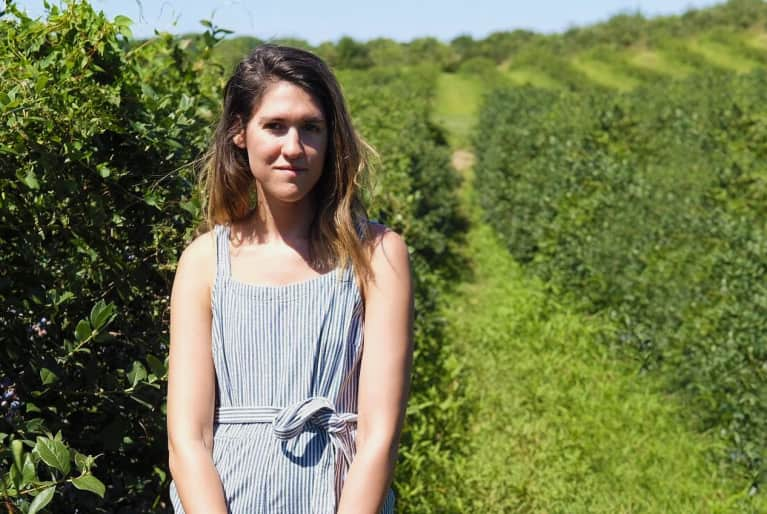 I've always prided myself on being a hustler. I love to have a bunch of things on my plate and slay through all of them with blatant disregard for personal boundaries. I had a desktop background on my laptop that read "hustle all day, every day." It was my mantra, and I embodied it.
In fact, in my first three jobs I was constantly hearing the same thing from my bosses: "You work too hard." and "Slow down or you will burn out." For me, this was the holy grail of compliments—I was killing it. I was working hard and proving my worth, which made me feel like a badass. Every time I heard those words (and trust me, it was frequently), I wore them as a badge of honor. You can imagine how this translated when I left my job two years ago to start my own company.
As a solopreneur, I hustled even more—there appeared to be no alternative if I wanted to succeed. Plus, it was what I was good at.
I live in New York City after all, where it seems that if you want to survive and make it big, you hustle—where you will be swallowed up alive, passed over for important opportunities or press mentions, and just not taken seriously if you aren't working as hard as everyone else, staying in the office well past dinner.
Simultaneously, I knew that being constantly stressed out and overbooked wasn't serving me. I sought out the help of a health coach three years ago to learn about mindfulness and taking care of myself. I practiced yoga on and off in spurts, recognizing how much better I felt when I was on my mat, and then not making time when my schedule seemed to take over (and when, arguably, I needed my mat the most). I dabbled in healthy eating, trying paleo and whole30 with success and then going back to eating doughnuts on the road. I thought meditation could and would somewhat counterbalance the hustling. And on some level it did—my stress was mitigated on a small level and I was learning to breathe through challenging situations. But I hadn't slowed down and truly learned how to take time off or practice deep self-care.
And then four months ago I was diagnosed with mycosis fungoides, a rare form of cutaneous T-cell lymphoma. Manageable? Completely. Curable? No, ma'am. I am 29 with a very treatable and manageable but chronic cancer.
When you find out you have a condition that will be with you for the rest of your life (that happens to be the C word), that is unlikely to kill you but needs management and care for the long run, you stop and think. You slow down. You practice gratitude for what is good in your life. You wonder how you're really spending your time and whether it's serving you physically and emotionally. And while I would never go so far as to say I'd brought this on myself, I certainly don't think my lack of self-care and boundaries helped create a conducive environment for health in my body.
Hustling finally caught up with me, and it isn't something I can immediately fix.
You see, my diagnosis isn't something I can take on headfirst like I did with my work for all those years. I can't fight the beast and be over with it like I had with so many battles in the workplace. I'm in this for the long haul. My background as a hustler has no place here. Instead, my diagnosis has forced me to slow down and set boundaries for myself, which will hopefully allow me to stay healthy my whole, very long, life.
So I've started a process of unwinding, taking breaks, not working so much on the weekend. I meditate daily and do breathing exercises when I am feeling anxious or stressed. I started reading! I never took time before to sit and read a book. I now focus on spending more time with friends and less time on my computer. Some days I take the mornings off, and on the weekends sometimes I don't work at all. I read tons of articles and listen to podcasts on healthy eating and living, mindfulness, and how to take control of your own medical journey. And then I share what I've learned about wellness and self-care with others. I eat healthy, clean, unprocessed foods that will ensure my body stays happy and in equilibrium. I may or may not have become obsessed with superfoods and adaptogens (which I am not sure have done anything for me but I continue to keep adding to my smoothies). And I realized the importance of building a life and existence that focuses on beauty, gratitude, and joy and not just recognition from others that I work hard.
I've learned that it's not selfish to take time off and take care of yourself; it's imperative to be successful.
I now consider myself a recovering hustler. And while I'm still in the process of learning how to truly practice self-care and what works for me, I realize burning the candle at both ends is not part of that process. As an entrepreneur and business consultant, I think it's important I bring that to my customers and clients as well—supporting people stuck in the hustle. I've learned that you can't show up in your business, or life, in the ways that will be most beneficial to yourself, your loved ones, or your clients if you aren't in good health physically and mentally. And then what's the point of hustling after all?