This Just In: The Best Home Organizing & Styling Advice We've Heard All Year
mbg Sustainability Editor
By Emma Loewe
mbg Sustainability Editor
Emma Loewe is the Sustainability Editor at mindbodygreen and the author of "The Spirit Almanac: A Modern Guide To Ancient Self Care."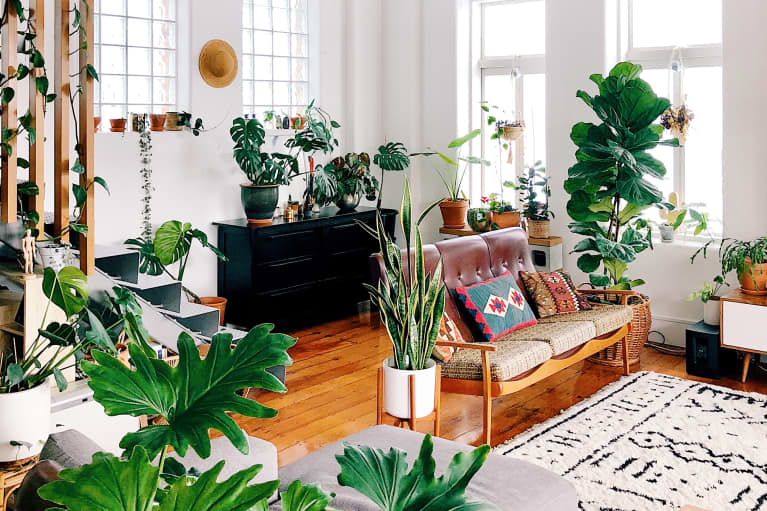 Our editors have independently chosen the products listed on this page. If you purchase something mentioned in this article, we may
earn a small commission
.
Is there any feeling better than coming home after a long day? The background of our self-care nights and the stage for our meal preps, home is more of a fixture in our wellness journeys than we give it credit for. Here are some of our favorite ways to make coming home feel a little more like a hug in 2019, straight from mbg's Holistic Home Tour series.
On the secret to keeping plants alive:
"Many people don't bother with wiping off and dusting the leaves of their indoor plants; however, it's actually a very important part of the care routine. If you have indoor plants to purify the air, dust accumulating on the leaves will really slow this down! The plants will also look dull and sad without a wipe-down. I'll do this around once a month."
—Ron Goh, modern studio in Auckland, New Zealand
"Always develop a relationship with your plants; you're more likely to take care of them that way! Touch their leaves, feel the soil, notice their vibrancy—you'll be able to discern if a plant is not thriving if you take the time to truly see it."
On being mindful of your surroundings:
"First, put a stop to the flow of unnecessary goods from coming into your home. From there, consider every item: Does it serve more than one purpose? Do you actually use and enjoy it? Does it fit easily in your home when not in use and perhaps even add to the décor? Donate the items you don't want and need. By giving them another home, you're giving them another life, so it isn't as much of a goodbye. Think of it as making room for new adventures and experiences."
—Whitney Leigh Morris, tiny cottage in Venice, California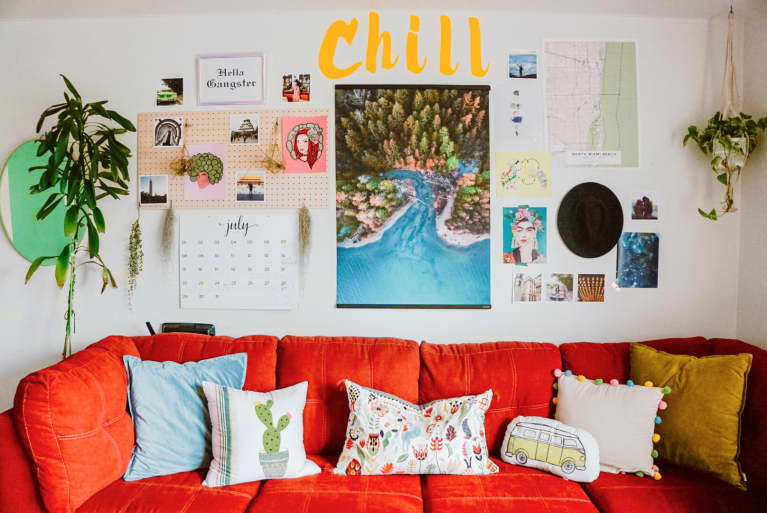 On the perfect wall arrangement:
"My gallery wall is filled with reminders of special moments, times with friends, and adventures—and some art that we love! My advice would be to create one that speaks to you. Don't get caught up in trends—fill it with things that YOU love!"
—Antonia Renteria, colorful home in Misawa, Japan
"I actually rearrange something every day according to feng shui. I like to be in harmony with my surroundings, so if something doesn't feel right to me that day, I move it. Styling and decorating are my passions outside of my nursing career, so I've found it's actually rather relaxing to me to do these things."
—Sarah Caligiuri, boho apartment in San Diego, California
On making your home's lighting downright magical:
"We have a disco ball that moves around the room a lot. I like placing it directly in sunlight to cast sparkly lights across the walls and ceiling. But my not-so-secret light weapon is Rainbow Window Film. It's an easy-to-stick-on film that you can apply to your windows to casts rainbows all across the room when the sun hits. You can find one for less than $20 on Amazon."
—Kimberly Wynn, sparkly home in Edmonton, Alberta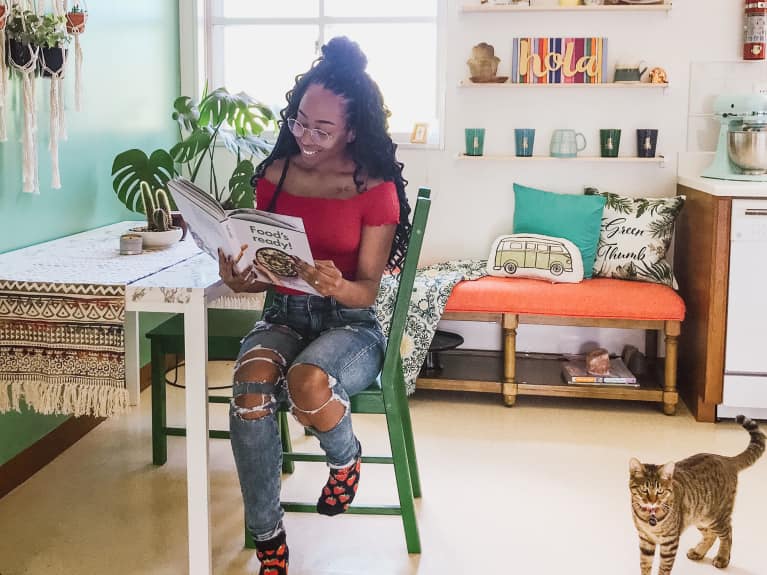 "I'll always keep a block color scheme (the mixing of two shades that are opposite on the color wheel) in mind when mixing patterns as a resting point and to help break up the clash of patterns. If I can add a common texture to my color block, even better!"
—Brandi Love, maximalist home in Queensland, Australia
"I prefer soft tones like the gray hues you can find in pebbles. Combining them with ochre and deep greens and dark blues creates a really cohesive look that's inspired by nature. But when it comes to color, I believe you should absolutely do what feels right for you. Love more of an eclectic look? Go for it!"
—Rena Noordermeer, artistic studio in Assendelft, Amsterdam
On keeping things tidy in a small space:
"You need to maximize storage options by doing things like using bins and crates under the bed, and make sure everything has its own place. Since it's very difficult to hide anything at all in so little square footage, we've also tried to make sure that most of our utilitarian items (brooms, storage containers, etc.) are also nice to look at!"
—Julie Pointer Adams, beachy cottage in Santa Barbara, California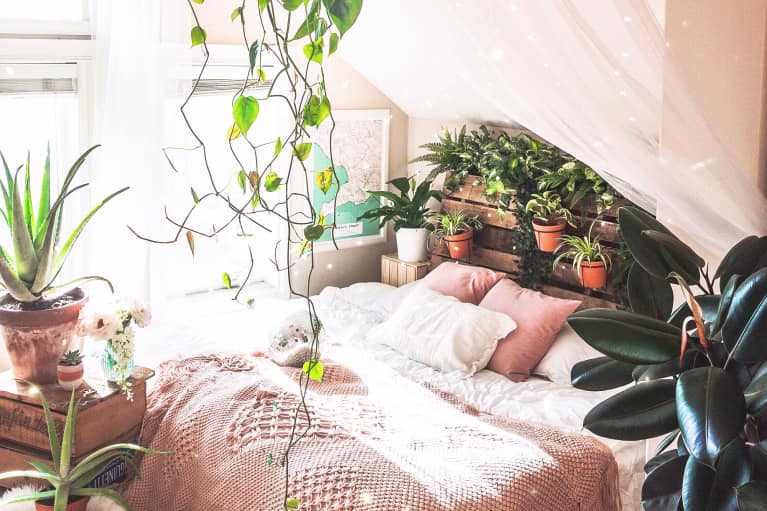 On filling your home with the best sounds and smells:
On making home a sanctuary:
"I think in today's busy world, we often don't place enough importance on our own homes. My space nourishes my mind, and it's my favorite place to be. Every home has the potential to be a sanctuary from the stress of our everyday lives."
— Judy Aldridge, art-filled home in Dallas, Texas