A Hospice Doctor's Message To Anyone Dealing With Loss Right Now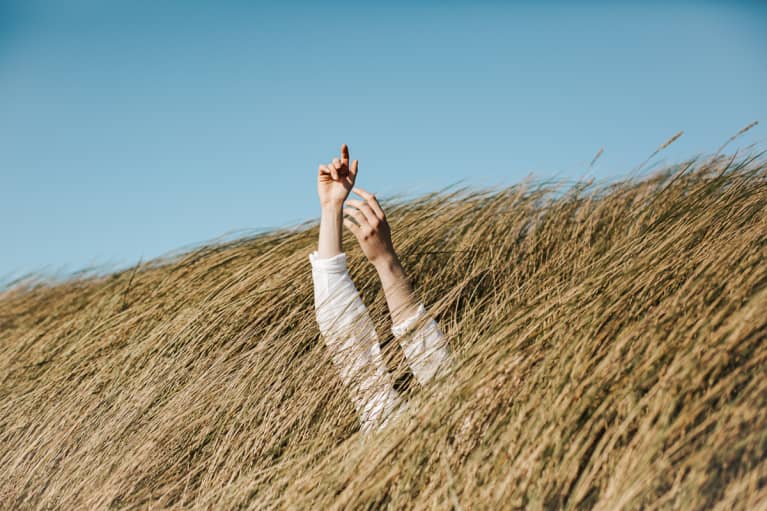 Our editors have independently chosen the products listed on this page. If you purchase something mentioned in this article, we may
earn a small commission
.
In times of illness, we are drawn closer to those in need and endure tragedy through gestures of compassion and concern. The global calamity of the coronavirus has not just brought death—it has also separated us from each other and from those we love.
We are disconnected, helpless, and fearful that our dying loved ones are not only suffering but also distant and alone. Grieving family members say the news of loss has become even more devastating since they're unable to hold hands with their loved ones or provide a familiar presence in their final days.
To truly understand the dying process requires listening to those facing the end of life. As a hospice doctor, who's spent decades at the bedside of dying patients, I have come to realize no matter how physically alone patients are, few of them die entirely alone.
What end of life actually looks like.
End of life is more than a medical treatise, and dying is more than the physical suffering we observe. When medicine can no longer defy illness, nature assumes its rightful place, and dying becomes what it has always been: a human experience. It's not just the closing of a life but a vantage point that draws people inward.
Toward the end of life, people usually recall the best parts of living. For some this occurs consciously through conversation; for others it comes unconsciously through dreams. The dying process includes altering levels of alertness and progressively deeper sleep. These states are distinct from confusional events. The dying describe, with clarity and insight, a peaceful end of life that includes comforting subjective experiences, such as vivid pre-death dreams.
According to recent studies documenting experiences of the dying, the majority of patients reported seeing faces of predeceased loved ones, not tubes or monitors. These observations are more than clinical lore and have been noted throughout history and across cultures. These experiences don't deny the reality of death. Instead, they affirm the joys of the dying person's life. They return them to what and whom they loved the most.
The dying rarely talk of existential insights, exuberant pronouncements, or epiphanies. Instead, they talk of love.
Hospice chaplain Kerry Egan writes, "Mostly, [the dying] talk about their families: about their mothers and fathers, their sons and daughters. They talk about the love they felt, and the love they gave... This crucible of love is where we start to ask those big spiritual questions, and ultimately where they end."
I am reminded of this when elderly patients experience the return of the mother or father they lost in childhood. When children speak of dead pets that have come back to comfort them. When women cradle babies long lost to their touch. They visualize a world where our relationships define our purpose and true accomplishment.
For Beverly—an 89-year-old patient dying of chronic obstructive lung disease—her end of life experience reconnected her with past sources of love. Her childhood had been dominated by a distant and abusive mother, but at death's door, she experienced unconditional love from her father. She saw herself reliving a childhood ritual—hand in hand, she joyfully joined her dad on his mail delivery route. As Beverly neared death, all that mattered was the warmth of her father's love. It took her from present to past and back again.
After a lifetime of torment, some people find peace and solace from a salutary dream on their last night. Jack, for example, a patient who was tormented by PTSD since the war. Finally near death, his distressing dreams stopped. In their place, Jack described final peace, as he was now able to rest in his foxhole and let others stand guard.
As a doctor, I do not need to be able to explain these events or interfere medically. Instead, I have learned to show reverence for the strength of the human spirit in its quest to heal what is harmed or broken.
Why death doesn't feel lonely.
While we may envision ventilators and ICUs, the dying experience love, presence, and even touch of predeceased loved ones. They revisit the memories of being held and cherished, the apotheosis of a life rather than its demise.
They teach us that the best parts of having lived are never truly lost. The lesson seems clear: The totality of our human experience can never be defined by or reduced to its last moments.
This may be small consolation to those left behind—whose grief would indeed have been lessened by their ability to hold their dying loved one's hand—but it may ease their pain. Knowing that dying is more than the suffering we observe, and it may not be as isolating as they fear.
Where one form of presence may be lacking, another emerges and compensates for the isolation of illness. Where medicine can no longer mend a broken heart, other less-known processes often step in to do so.
Ultimately, how we witness or imagine the death of a loved one greatly affects our bereavement. While there are no words to lessen or detach us from the realities of loss, those of us who work at the bedside of the dying can attest that patients do experience love, meaning, and even grace in their final moments.
The dying often experience a summation of their life's best moments, feeling more connected than alone. Today, we also take comfort in knowing that strangers behind gowns and masks place themselves at the bedside. They substitute for family and friends who cannot be there.
Perhaps, during these dark moments, we are again reminded that it is in times of need that we are often at our best. We are bound together by our common humanity and never truly alone.