This Week Is All About Speaking Up & Giving Back. Here's Your Horoscope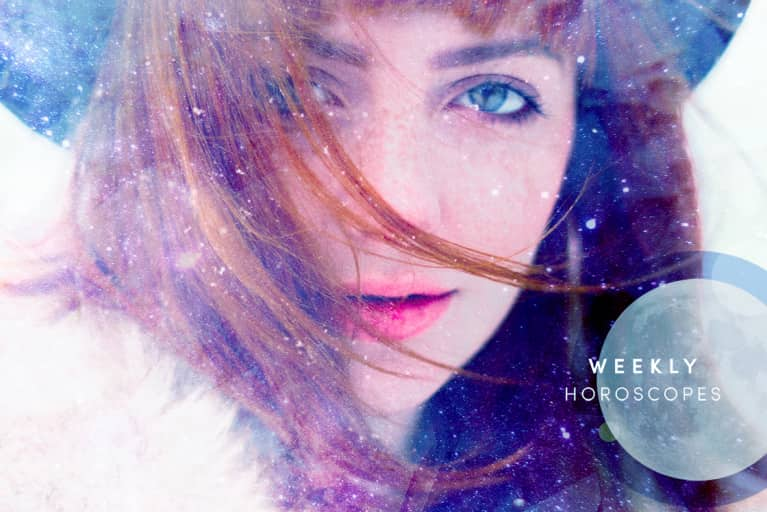 November 20, 2017 — 10:00 AM
This Tuesday, we'll enter Sagittarius season.
Ready to refresh your perspective on, basically, everything? On Tuesday, the Sun exits Scorpio's hidden bordello and makes its annual sojourn into worldly, wonder-filled Sagittarius until December 21. Have you been hibernating alone or with a sexy plus-one for the past month? Come out, come out, wherever you are! And when you do, buy yourself a bus ticket, overseas flight, or a tank of gas for a road trip. "Anywhere but home" always seems like the ideal destination for Sagittarius Season. When GPS coordinates are set at "mi casa," open the doors to out-of-town guests and a diversified friend group. 'Tis the astrological season for multicultural mingling!
We have to note that Scorpio Season 2017 did NOT march to its usual, undercover beat. On October 10, Jupiter—the live-out-loud planet that governs Sagittarius—began its once-per-decade roll through Scorpio. Within days of this transit (which lasts until November 8, 2018), the lid was pried off the chamber of secrets, particularly in Scorpio-ruled matters of sex and power. The abusive commingling of the two may be a tale as old as time, but game-changing Jupiter in Scorpio is calling for a different future. We're certain that the liberating Sun-Jupiter conjunction of the past month lent courage to the victims who spoke out against their influential abusers or shared painful stories with the #MeToo hashtag.
Equally unprecedented? The world is believing the victims instead of blaming them. While it's true that power, wealth, and privilege play into the story, we are happy to see the deeply woven fibers of "toxic masculinity" unraveling. (Read: The idea that being a "real man" means dominating other genders.) On December 19, karmic Saturn will return to Capricorn, the sign that rules masculinity, for the first time since February 1991. This three-year cycle will call for the evolution of men and ask us to reevaluate what it means to be a powerful man in modern-day society. What ancient traits need to be preserved, and which ones could use an extreme makeover? We know SO many great men who will cheer for a change right along with us. After all, a system of inequality hurts everyone. And with the Sun in broad-minded, philosophical Sagittarius for the coming four weeks, the dialogue is going to get interesting.
On Thursday, Thanksgiving Day, the moon will go from Capricorn to Aquarius.
Thursday is Thanksgiving in the United States, and this year's celebrations begin on a traditional note, then take a sharp turn toward the unconventional. Until 3:14 p.m. EST, the moon will lounge in Capricorn, steeping celebrations in a traditional vibe. Dig around for that family recipe—the one that a relative wrote out by hand on a gravy-stained piece of paper. Set up a laptop with a rotating slideshow of photos, ask the elders to share tales from the family archives and some words of wisdom. And of course, let your inner circle know what you're most thankful for!
Midafternoon, the energy turns outward as the moon heads into idealistic Aquarius. If you signed up for an evening shift serving food at a shelter or passing out warm clothes, the experience will feel extra meaningful with these humanitarian moonbeams overhead. And while we all love a good feast, there are many versions of the Thanksgiving tale—some far less pretty than others. Aquarius is the sign of social justice, and this lunar energy may draw some people away from the table and off to a protest—or at least to your computer to make a donation to an important activist organization. On a personal note, the cool-headed Aquarius energy can tamp down any brewing family feuds—something many will be praying for after last year's divisive, postelection Thanksgiving. If conversations DO turn to politics (and they might under these skies), this cosmic forecast can help us broach them from a place of curiosity and openness instead of righteous rage and reactiveness. Phewwwwww.
Looking for some more Astro insight? Look into what your sign says about your leadership style and relationships.