Your Weekly Horoscope Is Here. What's In The Stars For You?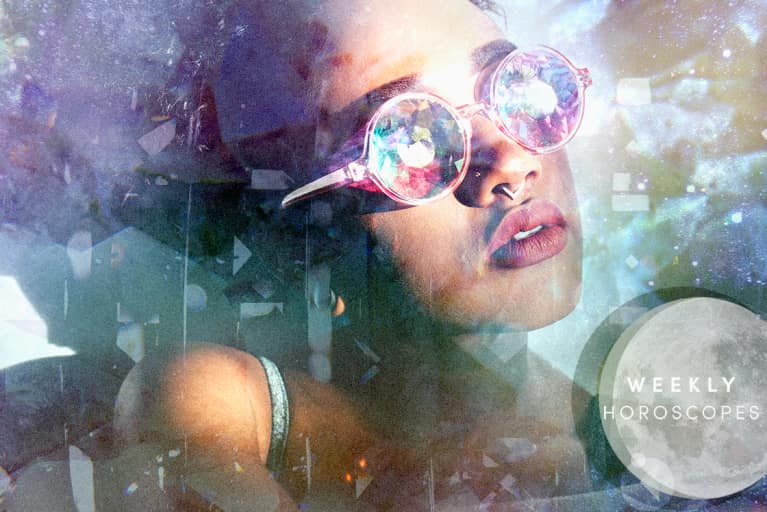 January 1, 2018 — 9:40 AM
A full moon is coming our way Monday.
Vintage Veuve isn't the only thing getting uncorked this New Year's Day. With a full supermoon in warm-fuzzy Cancer, Monday, January 1, is going to be full of feels. Emotions could bubble up and spill over like a well-shaken bottle. If it's love in the air, there couldn't be a touchier-feelier moment. But if you're grouchy and hung over, cancel the visit to your critical sister's house and screen the call from your uncle with Stone Age political views. Tempering emotions is NOT a hallmark of this full moon.
Feeling obligated to attend a party? Don't! Cancer is the zodiac's homebody, so this is the perfect day to stay in fleece pajamas for a pancake lunch or to huddle somewhere cozy (ideally with a fireplace) and enjoy your innermost circle of friends and family. While you're lounging and recovering from NYE, pay attention to who pops into your mind. These heart-melting moonbeams can set the stage for closer connections in the two weeks that follow, especially if you let people know you're thinking about them.
Before the January 16 new moon, opt for in-person hangouts instead of connecting via screens (at least if you live close enough to grab coffee). No matter how much "reality" we add to the VR equation, face to face just can't be replaced. Now, who wants their first amazing hug of 2018?
On Tuesday, Uranus moves out of retrograde.
On Tuesday, January 2, revolutionary Uranus wakes up from a five-month nap that began in the sign of Aries on August 3. While the side-spinning planet was retrograde, some people may have experienced a personal power outage. Now, the current starts crackling again, so get ready for change. High-minded Uranus taps us into our ideals so we can keep the world on the right side of progress. But it can also be a shock jock, rocking the boat for rebellion's sake instead of an actual cause.
Starting Tuesday, we can reconnect to our high-minded visions and regain connection to the communities that support us—without sacrificing our individuality. Since March 11, 2011, Uranus has been plowing through "me first" Aries. While this surely spawned the selfie craze, it also served up some scary autocrats and violent renegades. (To wit, the last time Uranus was in Aries, Hitler rose to power.) But this self-authorized cycle has had plenty of upsides. Technology (Uranus' domain) has advanced at an unprecedented rate, and the "sharing economy" has allowed self-employed freelancers and entrepreneurs to plant new flags. (Hello, Lyft and TaskRabbit!) This radical, unpredictable cycle is wrapping up in 2018, but its effects will be long felt.
On May 15, Uranus will begin plowing earthy Taurus' field until 2026 (save a short jaunt back into Aries from November 6, 2018, until March 7, 2019). Before Uranus moves on in May, put sharp focus on finessing your personal "brand." Like it or not, we are always sending out a message. And in this era when our phone's GPS clocks our every move, we must be more conscious of our words and actions. With innovative Aries powering genius Uranus for the coming five months, humans have a chance to create something wholly original—maybe some keen solutions for the chaos of the past seven years. In autonomous Aries Uranus reminds us that change begins with individual action. To catalyze that process, check out Guillaume "Prof. G" Wolf's You Are a Message: Meditations for the Creative Entrepreneur. In his words, "Having a big vision for yourself and your brand is important. But instead of just thinking about numbers, try thinking about how you can change people's lives."
On Saturday, Mars and Jupiter are conjunct in Scorpio.
The weekend could be outright alchemical thanks to Saturday's rare conjunction between Mars and Jupiter—both in Scorpio. Still figuring out your resolutions? This dynamic duet brings penetrating insights, extreme willpower, and the energy to act upon our deepest convictions. Big ideas spring to life, and we'll be inspired to give them our all. The wholehearted devotion of Scorpionic energy can help us move mountains in a remarkably short period of time. The pitfall would be playing too small or underestimating our legit capabilities. Nope, this is not the time for modesty or extreme caution. Jupiter the gambler and Mars the warrior call for epic leaps—or plunges! With both planets in subterranean Scorpio, the magic might best be mined by going deeper into our existing opportunities and relationships. Don't overlook the obvious just because the surface looks dry and barren.
Psst...we're in Capricorn season until January 19. Learn what this sign's energy could mean for you (and your love life) here.