Your Weekly Horoscope Is Here. What's In The Stars For You?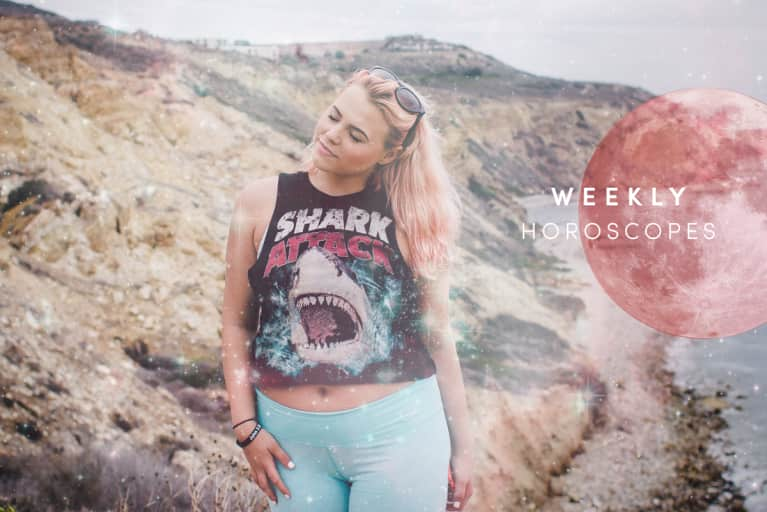 December 11, 2017 — 9:30 AM
On Tuesday, the Sun hits Mercury retrograde in Sagittarius.
On Tuesday, December 12, the bright Sun beams onto Mercury retrograde at the same degree of candid Sagittarius. People may think they're just "calling it like I see it," but that bluster could cause major meltdowns. In 2017, opinion and fact seem to be interchangeable, but Truth with a capital "T" could come to light under this cosmic coupling, since the Sun illuminates empirical data that's been obscured or even covertly hidden away. Got something to confess? Better start singing like a canary—before someone else puts a spin on your story. Even if you have a sordid tale, firsthand accounts are always preferable to juicy morsels through the grapevine.
On Friday, Venus and Mercury retrograde in Sagittarius.
On Friday, it's amorous, glamorous Venus who meshes with Mercury retrograde in the Sagittarius realm. Honesty is definitely the best policy in the game of love—but put a fur cozy on that truth hammer, why don't you? Venus is diplomatic and loving, and its presence reminds us that the truth doesn't have to hurt if it's delivered gracefully. Set the right atmosphere for your dialogue, perhaps discussing over a delicious meal or in a calming and comfortable environment.
The Venus-Mercury retro merger can bring happy times, too, like a reunion with an old love interest. Couples might find Friday an ideal time to slip off for a little pre-holiday getaway. An overnight "just the two of us" trip can fill your tanks and make it easier to navigate family dynamics later in the month. Sagittarius rules publishing, so writers and media-makers may get a burst of creative steam near the weekend. Tuck away with the muse for a spell and work on your magnum opus!
On Saturday, the Sun crosses paths with Uranus.
Eureka! This Saturday, December 16, the Sagittarius Sun syncs up with innovative Uranus in Aries, bringing out the thought leaders in us all. With a little due diligence, some dynamic dreams can come to life this weekend! An electric current will crackle through social interactions, and we can make some exciting new connections while we're out decking the halls. Just make sure your surge protector is in place. Uranus remains retrograde until January 2, which could send us on some wild goose chases…or worse, in pursuit of a misguided-yet-charismatic Svengali. Before declaring anyone "my new guru," run the background checks, or better yet, absorb their teachings but remain independent. (AKA be your own guru.) Both the Sun and Uranus are self-authorized energies, and together they remind us that we are powerful as individuals. Uranus is team-spirited by nature, however, so remember that there can also be strength in numbers, especially when you're collectively working toward the same game-changing goal.
Check out what the rest of December has in store for you here.