Your Weekly Horoscope Calls For LOTS Of Fun, Play & Celebration
mbg Contributors
By The AstroTwins
mbg Contributors
Ophira and Tali Edut, known as the AstroTwins, are professional astrologers based out of New York and Seattle. Their work has been featured in The New York Times, Elle Magazine, Vogue and Good Morning America and they are the authors AstroStyle, Love Zodiac, Shoestrology, and Momstrology.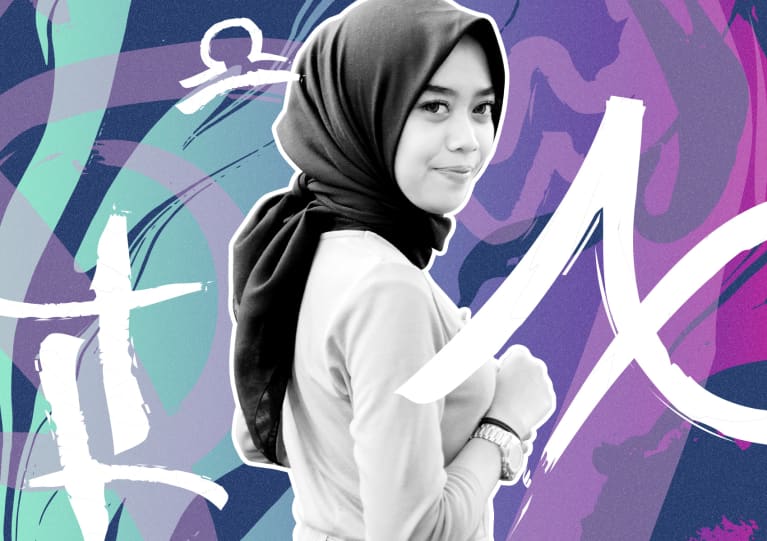 This week is all about stepping out into the spotlight and embracing every side of your personality, according to the AstroTwins.
On Tuesday, the Sun and Venus will meet up in Leo to push us out of our shells.
There's no such thing as too much swagger this Tuesday, August 13. Not when the ego-boosting Sun and convivial Venus are mashed up in Leo, launching a charm offensive! Why say things plainly when you can drop a poetic verse or a flowery, extended metaphor into the dialogue? Creatives will flourish under this cosmic conjunction: Take a chance! Share your work on social media or shop it around to agents. This is one of those days to banish your inner Plain Jane to the timeout chair and let your fiercest self out to play. Even if you're faking it till you make it, treat Tuesday like a bonus Halloween and have fun playing a character of your choosing. Since Venus is the planet of amour—and both heavenly bodies are in passionate, theatrical Leo—role-playing could spice up summer loving. Meet bae as your alter ego and let the fun begin!
Thursday's Aquarius full moon pushes us to embrace our own inner weirdness.
If Tuesday's performances don't rev up your playful streak, just wait until Thursday's celestial street theater! The only Aquarius full moon of 2019 amps up the colorful nature of the day to Level: Double Rainbow. Take a sharp detour away from anything "normcore" and embrace your own inner weirdness. Here's the beautiful paradox of Aquarius energy: It rules both individuality AND collaboration. How can you bring your unique skills to share with a collective? Keep that in mind and your dream team could assemble within two weeks of this full moon. This tech-savvy full moon could bring powerful synergies in the virtual realm. Log in and find your soul tribe, or sign up for a class that sharpens your skills in something like coding or digital marketing. Activism heats up under the power-to-the-people influence of this humanitarian lunar lift. Whether this involves global change or a little community cleanup, there is strength in numbers. No good deed is too small, but hey, why not see how far you can extend your reach?
Mars exits Leo on Sunday, and things should calm down for a while.
The Shakespearean drama dies down this Sunday, as Mars checks out of Leo's bordellos and fills the vacancy at Virgo's boho-chic retreat center until October 4. While Mars has been touring Leo since July 1, the spirit of grandiosity was in the air. Nothing wrong with keeping the bar raised high, of course. But in sensible Virgo, the red planet helps you set more realistic expectations. That said, Virgo is also the zodiac's perfectionist. You may want things done "just so" over the coming seven weeks, so restrain yourself if you start fixating and spinning your wheels. (Mars can make one obsessive.) When you need to detach from anything worrisome, embrace the spirit of service. "Random" acts of kindness will set the stage for the relationship-building phase of Mars in Libra that begins on October 4. For now, just give for giving's sake and watch the miraculous unfold.
While you're at it, gather up the environmentally friendly cleaning products. High-octane Mars can kick off an Extreme Cleaning mission that's long overdue. Systematize, simplify, and set your spirit free! Anything green lands on Virgo's favorites list, from the money you save in your bank account to the sustainable businesses you support with your hard-earned dollars to the food on your plate—so add more plant-based fare to your diet, as well. Your body AND the planet with thank you!