The Green Tonic That's Helped Balance My Hormones & Heal My Thyroid
mbg Food Contributor
By Elissa Goodman
mbg Food Contributor
Elissa Goodman is a cleanse expert based in Los Angeles, California, certified in integrative nutrition through the American University of Complementary Medicine. She holds a bachelor's in advertising and marketing from Arizona State and a bachelor's in business from the University of Arizona.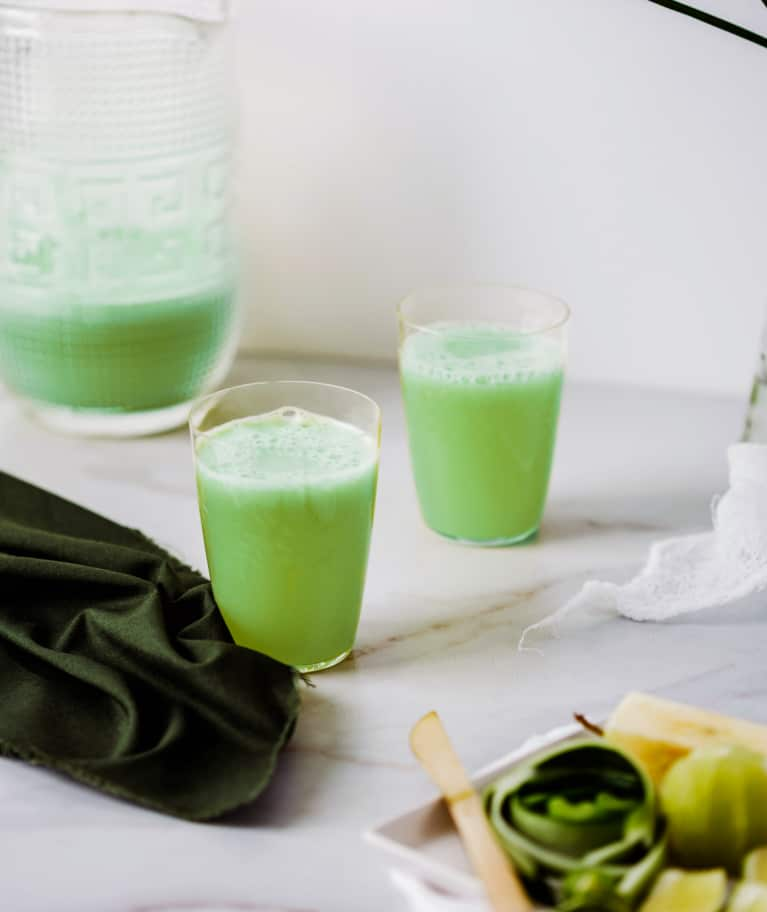 Our editors have independently chosen the products listed on this page. If you purchase something mentioned in this article, we may
earn a small commission
.
For nearly 21 years, I suffered from hypothyroidism and Hashimoto's, an autoimmune disorder that affects the thyroid. They went undiagnosed for years, and the symptoms manifested themselves in my body through the forms of weight gain, hair loss, hormone imbalances, anxiety, depression, infertility, and more. It was a time of uncertainty and struggle that many women with thyroid conditions go through. But I knew that if I could heal from cancer, I could heal from anything.
My story is more common than you may think. It's estimated that one in eight women will develop a thyroid disorder at some point in their lifetime, and 60 percent of people with the condition are unaware that they even have it. Also, Hashimoto's is the fastest growing autoimmune condition today.
Once I learned what the root cause of my health issue was, I got serious about healing. I came up with the recipe for this tonic about two years ago, and I credit it with playing a major role in my ability to heal. It's packed with some of my favorite nutrient-dense and thyroid-supportive powerhouses. Here's what's inside:
The spirulina gives the juice its green color, and adds vital micronutrients and antioxidants that have restorative and protective effects on the thyroid. It also aids in the removal of heavy metals, such as mercury and copper from the thyroid, liver, reproductive system, intestinal tract, and brain.
Barley Juice Extract Powder
The barley juice extract's game changing ability when it comes to thyroid health lies in its high micronutrient content and ability to alkalize the body.
The Vitamin C from the lemon juice not only boosts immunity, but acts as an anti-inflammatory.
As far as micronutrients go, zinc is essential for proper thyroid functioning. It strengthens the thyroid, and is necessary for production and regulation of thyroid hormones. It can also help to reduce inflammation.
While they may seem pretty different, gut and thyroid health do have an effect on one another. L-glutamine is a powerful amino acid that helps to protect and rebuild the intestinal lining. Some thyroid disorders can also cause uncomfortable symptoms in the gut, and l-glutamine can help with that.
I also like to add the ginger, turmeric, flax and probiotics for some extra anti-inflammatory and gut boosting benefits!
Daily Thyroid and Hormone Balancing Tonic Recipe
Hand-squeeze lemon juice.
Add remaining ingredients and shake to combine. Drink immediately.