An At-Home Energy Cleanse For Chinese New Year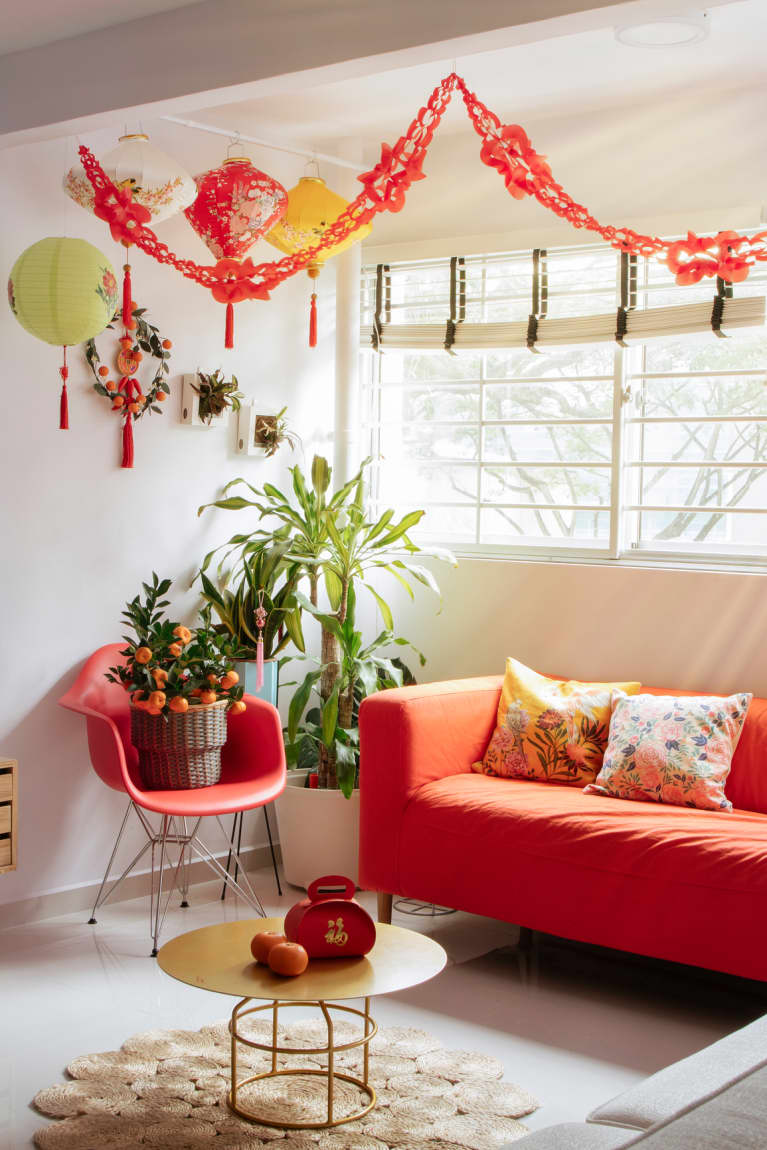 Chinese New Year is all about shifting into a fresh energy. Always falling on the Aquarius new moon, it's a powerful time to set intentions and start anew. In feng shui, it's a time to prepare our homes so they welcome a prosperous year. Whether you're after luck, love, or something else entirely, there's likely a shift you can make at home to invite that particular energy.
Consider yourself warned: Making simple feng shui tweaks in your home can be addicting! Just ask my husband, who puts up with me every year as I shift my entire house around to spark a new energy. I recently invited my friend, Wong Bo, a 34th-generation Shaolin monk, to my house to assess it before the year of the dog. I thought I was in for high praise. Instead, he told me I had much, much more work to do in cleansing the trinkets from my space. But that's what I love about Chinese New Year: It doesn't feel rushed or frantic. With the conventional calendar year, I often find that I'm not totally ready to shift into a refreshed mindset so soon after the holiday season. Since the Chinese New Year comes a little while later, it gives me time to cleanse and reset my mind and space.
Here are a few adjustments I'm making to prep my home for earth dog year. Try them out in your space and prepare for an influx of abundant energy:
1. Bring some life into your space.
In feng shui philosophy, different plants symbolize different energies. Depending on what energy you want to bring in, you might choose to brighten up your space with one of the following:
Narcissus: Thought to bring good luck.
Jade plant: Much like the crystal, jade plant is believed to bring abundance.
Pussy willow branches: Inspire new beginnings.
Chrysanthemums: Believed to bring longevity.
2. Attract good fortune with metal.
Metal is an element you'll want to focus on this year. Incorporating more of it into your space is said to bring you good fortune, wealth, and prosperity. Don some silver or gold jewelry, wear clothes that have metallic hues, connect with metallic gemstones (like pyrite, hematite, etc.), and create a crystal wealth bowl for your home. To make your bowl, simply fill a dish with crystals like pyrite, which have the colors of metal, and Chinese coins.
3. Take care of everything you've been putting off.
Holding on to anxiety over problems you haven't fixed is so last year. Leave the easy fixes in the past by tackling them right now—not tomorrow, not the next day. Before we get too far into the Chinese New Year, take care of the issues nagging you in the back of your mind. Pay off those bills, make an appointment to check in with your doctor or dentist, and declutter your home so it's not filled with reminders of the year that's passed.
4. Spruce it up with citrus.
In feng shui, oranges and mandarins represent abundance and happiness. Keeping a bowl of these sweet offerings in your living room, kitchen, or entryway is a great way to infuse your space with bountiful energy.
5. If it's broken or chipped, repair it.
Don't bring the energy of broken items into the new year. Instead, fix them up or donate them if they're in decent enough shape.
6. Prepare a feast of feng shui goodies.
According to feng shui, certain foods are thought to be symbolic of different energies. For the new year, I've been told that it's common to indulge in foods like long noodles for a long life, dumplings for abundance, and chicken and fish for prosperity.
With enhanced feng shui, your home will feel uplifted, harmonious, and cleansed. What better way to bring on 2018?
Tempted to give your whole home a feng-shui-approved revamp? Start with your bedroom.