How I Healed My Acne-Prone Skin, Again
mbg Contributor
By Kristin Mitchell
mbg Contributor
Kristin Dee is a yoga teacher, podcaster, writer, and executive assistant. She has her bachelor's in marketing from the University of Denver.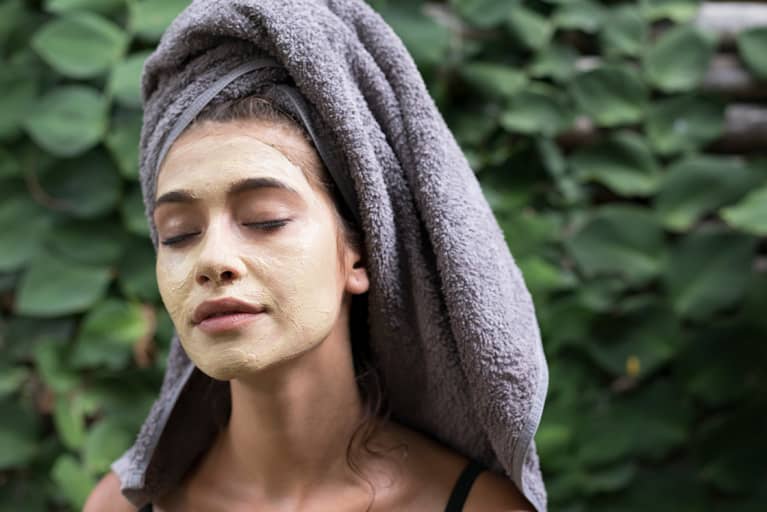 For the majority of the year, I have pretty low-maintenance skin, which is something I'm definitely grateful for. But every year as the seasons change and winter arrives, I always, always break out. This used to stress me out, which made the breakout way worse, but now I see acne as a message from my body, and it's made all the difference.
Breakouts are usually a sign that something in your body (a process or a system) is a little off. And let me tell you—choosing to look at acne as a message instead of an obstacle has helped my healing process, both physically and psychologically. Come winter, I know I have to listen and experiment with new techniques until I find the blend of remedies that gets my skin back on track. And believe it or not, I find this detective work kind of fun!
Since acne is typically a symptom of a larger imbalance, I use a blend of different holistic remedies to meet the body at multiple touchpoints. Here are the techniques that worked for me this winter.
I take ingestible remedies to support my liver.
Our skin has a very close relationship with our liver; they are our bodies' largest detoxifying agents. So if I'm dealing with a breakout, it could be a sign that my liver is being overworked. A lot of factors can contribute to an overworked liver: excess cortisol from stress, toxins from the environment, or simply eating foods that don't jibe with your system. When it comes to ingestibles, I try to integrate one or two remedies to give my liver some extra support.
Here are a few liver remedies I love:
Drinking warm lemon water first thing after waking up
Drinking a detoxifying dandelion tea in the afternoon
Including spirulina in your smoothie or green drink to help the liver remove toxins
Using a floral remedy, like this Fresh Skin Tonic with herbs, to aid the liver and lymph system
I use topical remedies with calming ingredients.
When it comes to winter topical treatments, my best advice is to add extra moisture and be extra gentle. More often than not, winter skin does not need to be "treated"; it needs to be supported. Harsh winter temperatures and artificial heat strip our skin of its natural oils, which can leave it feeling dry and sensitive. My two secret ingredients of this season are calendula and CBD, along with a few calming staples.
These are my go-to topical remedies:
Using a CBD-infused facial oil to calm and heal breakouts
Using moisturizer with calendula for anti-inflammatory and antibacterial benefits
Swapping out harsh cleansers for a gentle soothing cleanser with calendula or oat
Using tea tree oil on a Q-tip as a spot treatment for extra-irritated areas
Using facial sprays with aloe or lavender to keep your skin hydrated throughout the day
I started visualizing my clear skin.
After learning more about visualization this year, I was inspired to try it as a tactic to restore my skin. Using the mind to heal physical ailments has not only proved to be effective, but it also helps take the seriousness out of the situation. After all, it really is just a pimple.
Try this visualization technique:
Settle into a comfortable, supported seat
Close your eyes and spend a minute or two watching your breath or scanning your attention through your body
Once you find your calm, bring your attention to your face
Visualize a suction cup moving across your pores pulling out redness, irritation, and any gunk
Spend extra time on congested or irritated areas until you've mentally cleared your entire face
Visualize a buffer moving across your face leaving clear, even-toned skin in its path
After just one week of consistently working with a blend of these remedies each day, I noticed fewer new breakouts. After two weeks, the frequency of my breakouts continued to decrease, and I could see the areas where my skin was healing. After three weeks of even fewer breakouts, it was clear that my skin was in full-on healing mode. And now, a month later, my skin is nearly back to its healthy self.
The truth of the matter is if you live life and endure any type of stress, your skin will probably break out. Instead of taking it so seriously, I encourage you to use your acne as an opportunity to listen, play, and figure out which alchemy of remedies works best for you.