How To Add A Little Extra Magic To Your Home's Holiday Decorations
mbg Sustainability Editor
By Emma Loewe
mbg Sustainability Editor
Emma Loewe is the Sustainability Editor at mindbodygreen and the author of "The Spirit Almanac: A Modern Guide To Ancient Self Care."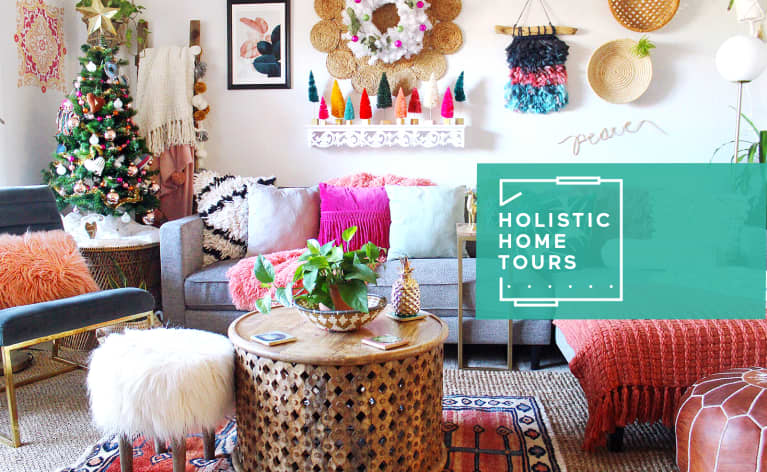 Our editors have independently chosen the products listed on this page. If you purchase something mentioned in this article, we may
earn a small commission
.
Sarah Caligiuri's home embodies the bright California landscape that surrounds. Filled with relics and reminders of trips around the world, the San Diego apartment is Sarah's respite after long days as a hospital nurse. We asked her our burning questions about creating a boho space that feels cohesive and cool and snagged some of her tips on using pops of bright color to decorate for the holidays.
What's the oldest thing in your home? Newest?
Our vintage glasses and vases, from both of my grandmas and great-grandma, are the oldest. The newest would be our comfy black velvet dining chairs from Overstock. We sanded down and stained our dining table about a year ago, but the wood chairs we had to go with it were not very comfortable. When I saw these velvet ones, I knew I had to order them! I love the modern, chic vibe they bring to our tiny eating nook.
What noises can be heard in your home?
Music, always… Everything from Harry Belafonte and Fleetwood Mac to the Indian flute and Tibetan bowls. We seriously love all kinds depending on our mood and time of day. For smells, we usually burn incense and light Palo Santo and sage and have essential oils diffusing (lemongrass, eucalyptus, lavender are some of my favorites). We also like to have AURA and Peace Guru natural candles (both of which are local to San Diego) lit and fresh flowers around throughout the year. Always pine during the winter holidays!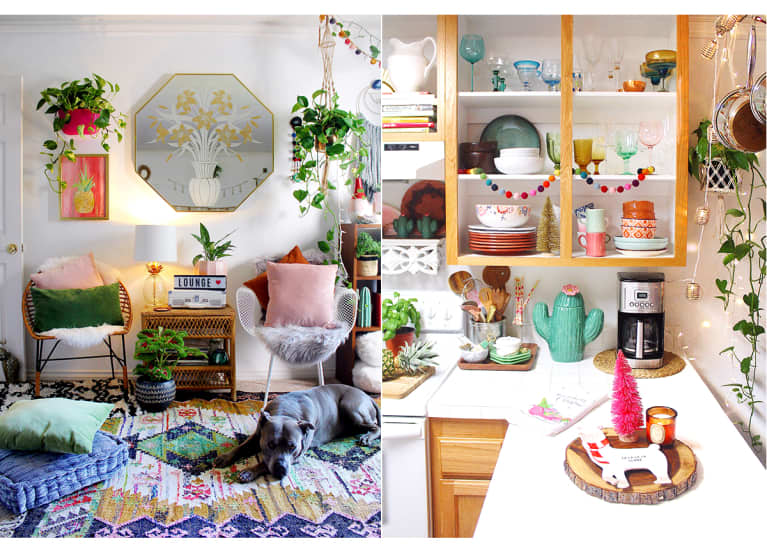 Do you do anything else special to decorate your home for the holidays?
Styling for the seasons is a must! It can be simple: You can change out the throw pillows, add natural elements like pumpkins or pine/eucalyptus depending on the time of year, and incorporating seasonal colors in the blankets, bedding, or art you put on display.
Christmas is my favorite holiday to decorate for because I can add extra magic to each corner. I like to scatter charm everywhere in our home with colorful touches like rainbow bottle brush forest trees, string lights, garland, tinsel, cute dish towels, fun mugs, and hanging stars.
What's the most sentimental thing hanging on your walls, and what's the story behind it?
Art from all the amazing artisans that I have connected with through Instagram and a few pieces from my mother-in-law, brother, and his fiancé, who are all incredible artists. Most of my art has some earthy, natural vibe. I love my tropical leaf print that hangs in our room (I took it on our trip in Uluwatu, Bali).
Where do you go for design inspiration?
I believe in the healing power of good design.
What's the best money you've ever spent at home?
It's hard to pick just one thing! I truly love everything I buy, but if I had to choose, it would be plants. Besides being gorgeous statement pieces, they truly elevate my mood and make you happy. As of now, I have approximately 85 plants—and there's room for more!
Love all your rugs! What do you look for when buying a new one?
Since we rent and our carpet is cheap, I cover the majority of the floors with rugs. They instantly change the look of a room, and they don't have to be expensive! I love Moroccan and Turkish styles and mostly gravitate toward colorful ones but also a few simple, neutral ones for balance. I get most of mine from Rugs USA, Home Goods, World Market, and small shops from IG (The Ethical Home, Well Woven). Poufs, oversize pillows, and comfy faux fur stools add extra seating and create an inviting, bungalow feel.
How does your home relax you? How does it motivate you?
I actually rearrange something every day according to feng shui. I like to be in harmony with my surroundings, so if something doesn't feel right to me that day, I move it. Styling and decorating are my passions outside of my nursing career, so I've found it's actually rather relaxing to me to do these things.
My home motivates me because color, creativity, good energy, and things made with love recharge my spirit.
How does your home promote self-care?
The pressures of the outside world, combined with the hustle and bustle of working in a hospital, means that my space needs to be my personal refuge. I love spending time at home because it clears my mind and rejuvenates me. My advice for designing a sanctuary? Don't be afraid to take a chance—be bold with colors, plants, and mixing patterns. If you like it, no matter what the trend is currently, use it. You might be surprised by how good it makes you feel.