Yes, Redesigning Your Home Can Be An Act Of Self-Care: Here's How It's Done
mbg Sustainability Editor
By Emma Loewe
mbg Sustainability Editor
Emma Loewe is the Sustainability Editor at mindbodygreen and the author of "The Spirit Almanac: A Modern Guide To Ancient Self Care."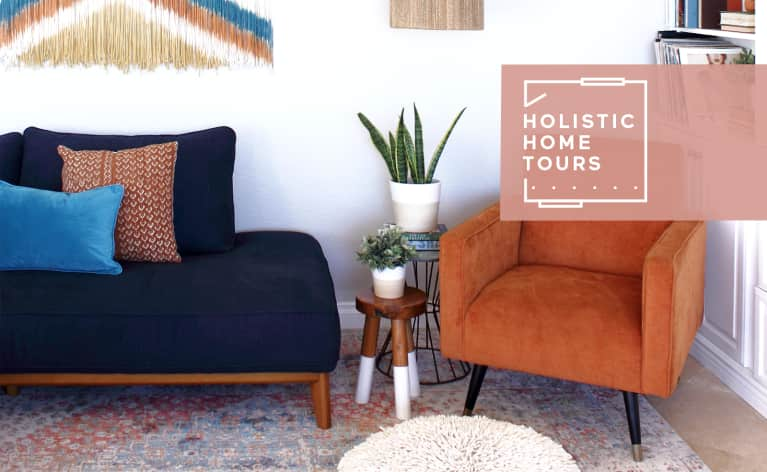 Melanie Raver's idea of practicing self-care? Personalizing her young family's San Diego home, one room at a time. The interior decorator finds joy in simple DIY projects that transform the space she is currently sharing with her husband and three girls—until the family moves into a 200-square-foot Vintage Airstream for a yearlong adventure across the United States, that is. Here's her take on decorating with young kids, the easiest ways to transform a space quickly, and why you should be reserving at least one "seasonal wall" at home.
How has your home's decor changed since you had kids?
I really don't think my home has changed much—I have always believed that you could have a highly styled home that's still functional for a family. Spaces like built-in cabinetry and clusters of covered baskets are key to hiding all the toys and making cleanup easier. I have also made a point to design my girls' rooms as if they were spaces I would enjoy as well. If anything, my décor has become a little more fun and playful…the girls bring it out in me!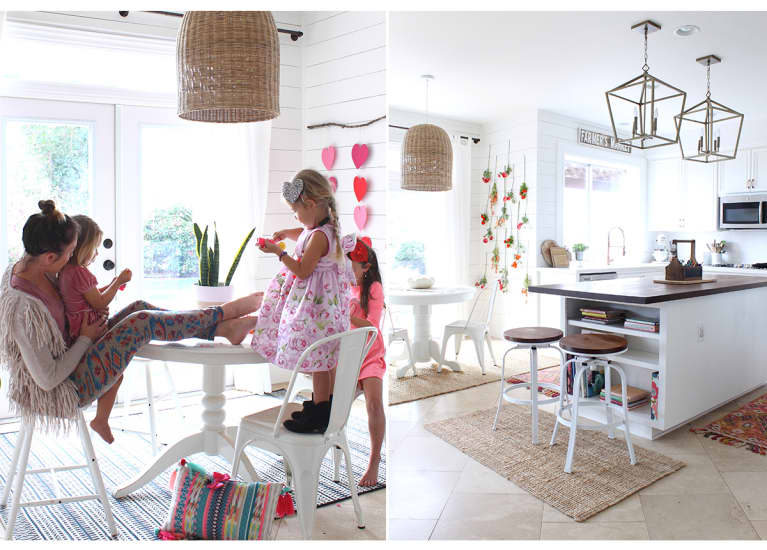 What's the oldest thing in your home? Newest?
I'm all about items that have character and a story. The oldest thing in my home is a rocking chair, which was my great-grandparents' from the early 1900s. This rocker was used by my dad's grandmother, my dad's mother, my mother, and now all of my three kiddos use it. Talk about legit vintage. The newest thing in my home is the sofa in our family room, just delivered last week. It is a dark-blue midcentury modern sectional—and I have waited seven years to get a new sofa, so this is huge!
What noises can be heard in your home? What smells?
You can always hear music blasting from our record player. My parents just gave me all my vinyl from when I was in high school and I'm still building up my collection. (The family is usually playing Taylor Swift, Led Zeppelin, Michael Jackson, or Nirvana.) I'm a huge fan of essential oils, so usually you can smell lavender if I want the kids to chill out, thieves if we are fighting germs, or valor from Young Living to help the kids focus.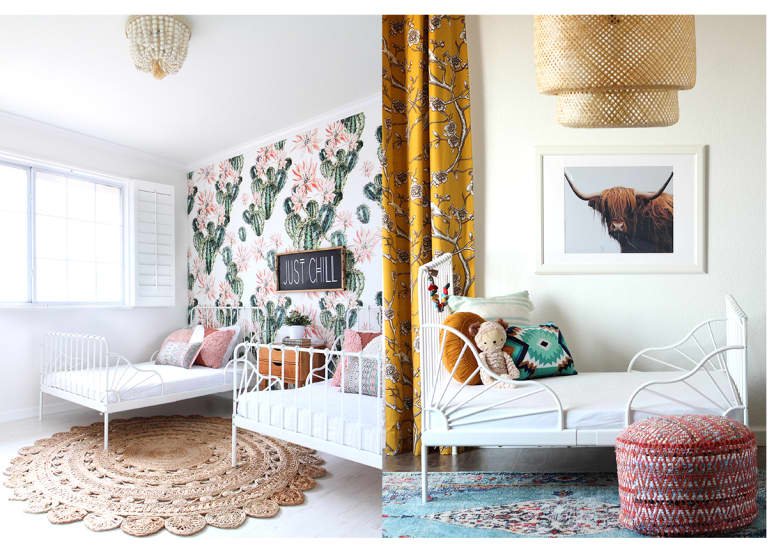 What's the most sentimental thing hanging on your walls, and what's the story behind it?
My kids are always painting or drawing, so I have a small gallery wall with their framed artwork. I can easily switch it out, so their art is constantly on rotation.
I saw that you're into DIY projects! What are some simple ones you've done recently and would recommend to anyone?
We recently made a "mat" for our master shower out of cedar, and, wow, what a difference this made to the entire vibe of the space. We desperately need to retile the base of our shower floor—it has cracking grout and is basically a hot mess—so my husband and I designed a bath mat that covers the ugly shower tile and smells like a forest every time we shower.
How does your home change with the seasons?
I like adding small touches of the season in small groupings. I have a shiplap wood wall in my kitchen nook that's a perfect place for seasonal décor. For fall I filled it with autumnal flowers, come Christmas I will decorate with wreaths, and for Valentine's Day I always decorate it with paper hearts. I'm also obsessed with using garlands for decorating walls, fireplace, doors, etc.—it's super fun and easy to do with the kids.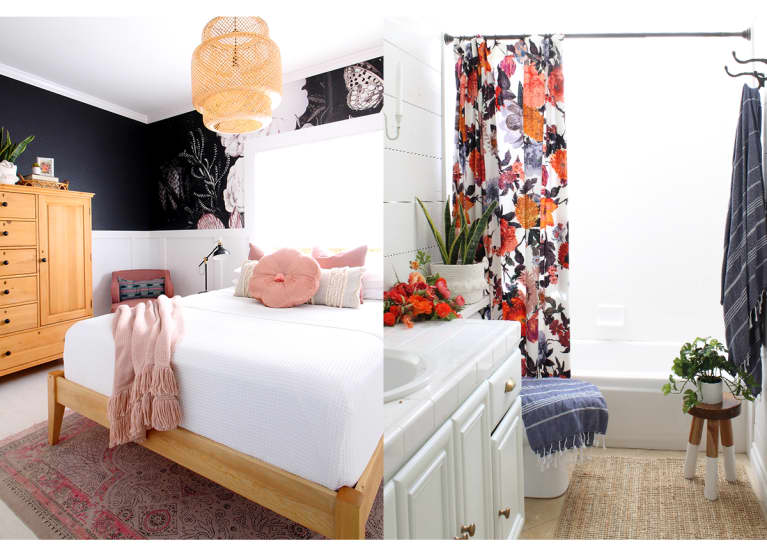 How does your home reflect your personality?
I'm pretty minimalist and laid-back, but I also like to embrace adventure and take risks; I think my home reflects that. I like to make a solid base of minimal, timeless finishes, and from there I can add small touches of color and pattern. I also love taking a good design risk and pushing the boundaries.
How does your home promote self-care and support your health/ wellness?
As my youngest grew out of her babyhood stage, I started having more time to devote to self-care and fostering my passion for interior design. I started an Instagram account to showcase my journey navigating through motherhood by redesigning one room of my home at a time. Documenting and sharing my journey has been all about me taking risks, and moving outside of my role of mother and wife. I've found self-care through design, and there's been nothing better for my health than making my home feel inspired, creative, encouraging, and full of joy.