The Desert-Inspired Home That Makes Vintage Furniture Look Oh-So-Cool
Danielle and Philip are the founders of Oklahoma-based vintage shop Jo and June, and the home they share with their dog Yadi, cat Bella, and chicken Pepper is a beautiful mix of Old World pieces and vibrant, modern touches. Crystals, fossils, plants, and desert landscapes make the tranquil, nature-infused space a feast for the eyes, and inviting craft spaces turn it into a creative's dream. Read on for Danielle's advice on finding vintage furniture that won't break the bank, balancing the old and the new, and crafting a room that promotes relaxation from the minute you walk in.
How does your home reflect your personality?
I love fiercely, have a quirky personality, and care deeply for my friends. In this sense, I feel my home reflects me. It is filled with plants that require water, fertilizer, and sunlight; it is styled with unique pieces that I love; and it has a few quirky pieces that push the envelope.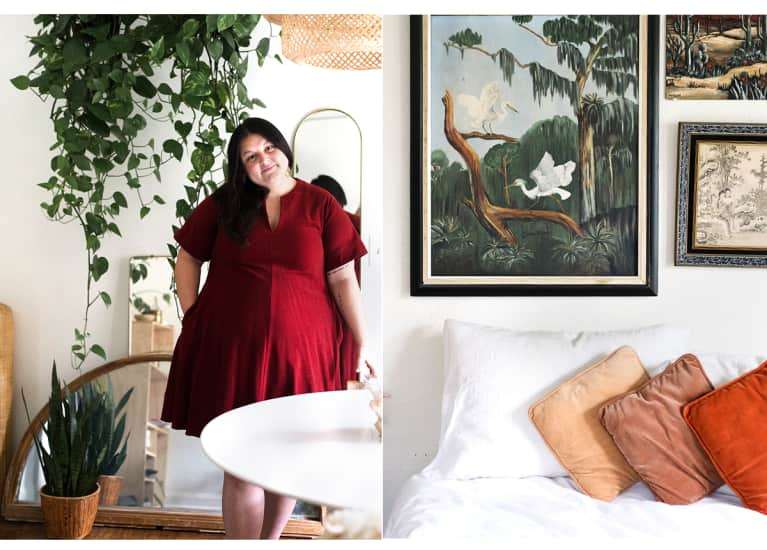 What's the oldest thing in your home? Newest?
The oldest thing in our home would probably be anything from my crystal and fossil collection; newest would have to be a handmade pink concrete Lazy Susan.
What noises can be heard in your home? What smells?
When I close my eyes, I hear the tip-tapping of our pup walking around the house, my favorite band The Killers, and the dishwasher! My husband is always lighting incense, so at any given time you could smell Palo Santo wood or Tibetan rope incense, and coffee brewing.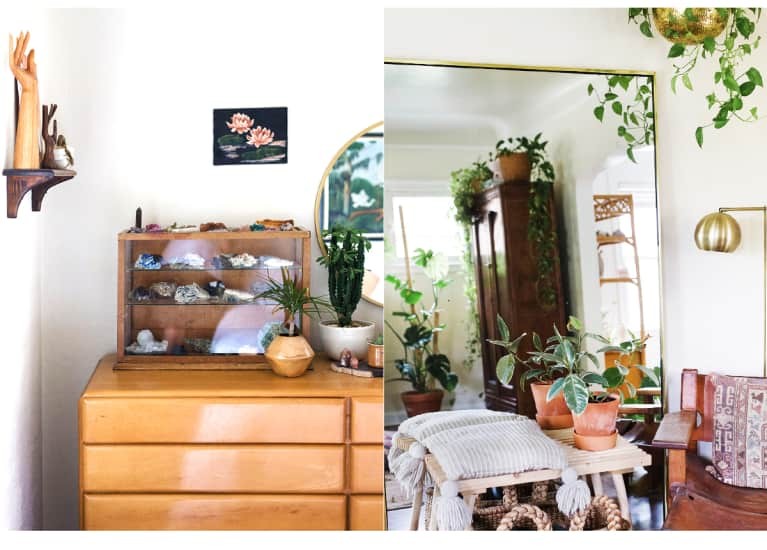 What is the best money you've ever spent on home décor?
When we first opened our vintage shop, Jo & June Vintage, we did vintage markets. We came across a really rad leather sling chair and ottoman from another vendor. We adored it, but it was priced at over $500, and we had never spent that much on anything in our home. We were able to do a little trading and negotiating, and I think, cash-wise, we paid $300 and traded goods for the rest. Over time, we would post pictures of it, and someone reached out and told us it is called a Spanish Chair made by designer Børge Mogensen and worth over $5,000! Regardless, I love it and the statement it makes.
What do you love most about vintage furniture?
Oh gosh, where do I start? Vintage furniture has been something I have been passionate about for as long as I can remember. When I was younger, I decorated my room with hand-me-downs and garage sale finds. The way a vintage piece that has a past life can be reincarnated 50 to 100 years later into someone's home—that's almost sacred to me.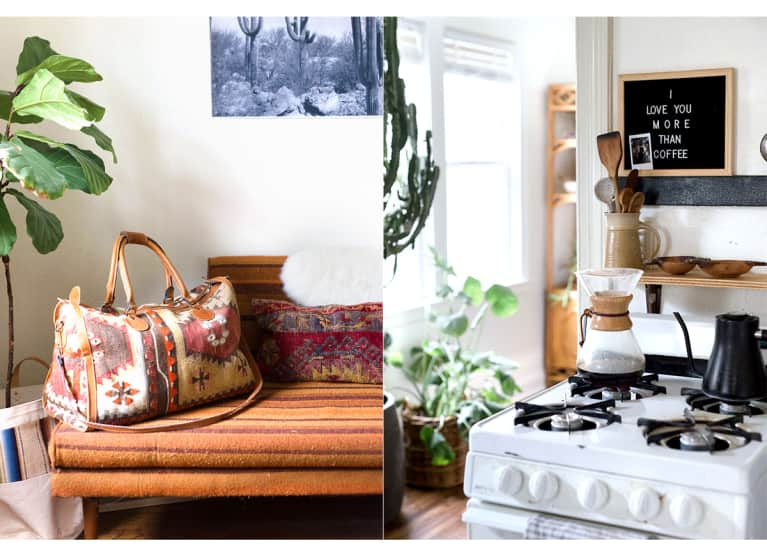 Any tricks for people looking to get a good deal when shopping vintage?
Know what you want, and don't compromise. I promise new, cheap reproductions are nowhere close to the real, original thing. Search search, search. Scour flea markets, vintage shops, online marketplaces, and antiques malls. When haggling, always remember that you catch more flies with honey. And if you've tried everything to get the price down for the piece you love and have been searching for and the seller won't budge, just pay their price. You may never find one again!
How does your home relax you?
I have tried to keep things pretty neutral with little pops of color here and there, which is very relaxing to me. The moment I enter, I feel like I can shed my skin from all the woes of the day and enter a peaceful state of mind.
How does your home promote self-care?
I'm a big advocate of self-care and relaxation. When I'm home, you can find me doing yoga/relaxation techniques, painting, writing/reading, and napping.
How does your home support your health and wellness?
I recently went vegan and have been inspired to prepare more meals at home and be more conscious of what I am putting in my body. In our little kitchen, we spend time preparing yummy, healthy cuisine to eat at our dining table (and let's be real, on the couch too). Our home is the center of our lifestyle and is an integral part of our health, happiness, and heart.
Want to add some of these dreamy touches to your own space? Here's how.